Today, we Take Five with
Matt Ballard
AHS Alumni and recently appointed Orleans County Historian, filling the position vacated by Bill Lattin when he retired in December.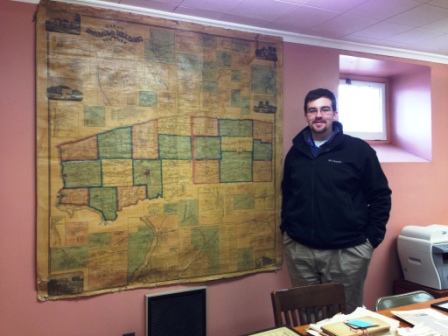 Matt in his office at Central Hall, located on the corner of Park and Platt Streets
Matt graduated from Albion High School in 2006 and studied one year at GCC before earning his B.S. in History from SUNY Brockport. When he originally started college, he hoped to teach in the high school setting but quickly decided against it. In 2012, Matt completed his studies at UB, earning a Master of Library Science degree.
Matt is engaged to his high school sweetheart, Christine Pittman (AHS Class of 2007), who is starting medical school in January of 2016. Matt lives in Albion and has spent the last five years working at Hilbert College in Hamburg, New York as a part-time Librarian, a job he started while in graduate school. During the summers he spent his time working at St. Joseph's Church as a buildings and grounds laborer and even spent a couple summers working as a mason's apprentice before settling into a position as Interim Director at The Cobblestone Museum in Childs, NY. On the topic of his career history, Matt says, "on a side note, apparently I was quite good at masonry work, enough to cause one mason to remark, "…if the whole library thing doesn't work out, give me a call." Fortunately I've never had to make the call!"
Genealogy has always been a hobby of Matt's, so he boasts that working rarely ever feels like work. When nicer weather comes around, you can often find Matt riding his recumbent tricycle around the county taking photographs. Additionally, he recently joined the University of Rochester Wind Symphony where he plays tuba, although, he says, "I do not play as much as I used to (or like to)".
So, now on with our interview with Matt Ballard:
1.  Tell us about your appointment to the position of Orleans County Historian and your position as Interim Director for the Cobblestone Museum.
I never really pursued the County Historian position, it just fell into my lap (in a good way). Bill Lattin mentioned to me during the summer of 2014 that he was planning to retire and I think he felt as though I would be a good choice to fill the vacancy moving forward. He has been a huge supporter, which I think helped the process along. As for now, I plan to continue in my role as Interim Director at The Cobblestone Museum. The two positions are so similar that they almost meld into one. Being one of the larger historical institutions in the county, the Cobblestone has served as the de facto Orleans County museum. Our collections represent the county as a whole and cover a wide span of time from the mid-19th century up into the mid-20th century. Even our buildings, several which were moved from Kendall, Medina, and Gaines, represent the county as a whole. As Interim Director of the Cobblestone, it is impossible to discuss cobblestone masonry without discussing the history of Orleans County and, as historian, it is impossible to leave cobblestone masonry out of the history of our region.
I believe that my interest in history was something that was cultivated by my parents, whether they think so or not. They always encouraged me to be inquisitive and promoted family above all. As a kid, I attended St. Mary's Assumption Church, which was always a close, family-like community in the old Polish end of Albion. The parish always promoted the Polish heritage through celebrations and services and knowing my own connections drove me to seek out more information. That's what sparked my interest in my family history, which is why I think local history has always been interesting to me.
2. What are some of your goals as County Historian – where would you like to see this position evolve to? 
I have HUGE shoes to fill as County Historian – I can only hope I have 35 years to give to the county. As a librarian, I'm definitely a champion of access and I believe that over the coming year I will be able to increase the community's access to the information held within the Department of History. Thanks to the Computer Services team at the county I'm already on track to having the necessary supplies to get the department up online. The Historian's office is full of hidden items that have gone untouched for years. It is only beneficial for the community to have the entire collection of records, photographs, documents, and artifacts organized and inventoried. I hope that much of what is there can be digitized or placed online for public consumption. Of course I will continue the tradition of a weekly column, summer cemetery tours, and school programs. The Albion Central School District has engaged the Historian quite heavily to promote local history through events and programs and I would like to see that grow further. I do hope to develop a bi-annual history publication aimed at giving students (high school and college), educators, and history enthusiasts the opportunity to write pieces on local history. I would also like to offer students the opportunity to intern or volunteer with the department to get a feel for the field of public history. The position of Historian is one that has the potential for development and growth. The County Legislature is gaining a clearer understanding of what the Historian does and what they would like to see the Historian do, including the promotion of historic preservation and heritage tourism within the area.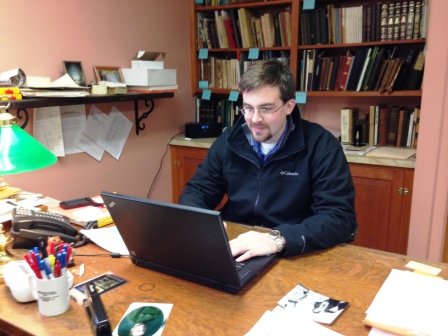 3.  What do you find most fascinating about Orleans County? Is there a particular area of our history that you find most interesting, if so, why?
It's not necessarily a particular piece of history that makes Orleans County interesting, but the fact that so much history is packed into such a small, rural community. The community has produced so many successful people that have traveled across the country and the world, leaving a lasting legacy. The 2014 exhibition at The Cobblestone Museum on pioneer medicine and pharmaceutical development was an eye-opening experience for me. Silas M. Burroughs of Medina is probably one of the greatest unsung heroes of Orleans County, forming the multinational pharmaceutical corporation Burroughs, Wellcome & Co. in London, England, which still exists today as GlaxoSmithKline. The mentor to Eli Lilly, Henry Lawrence, is buried in Knowlesville, the wife of Johnson & Johnson founder Robert Wood Johnson was raised in Holley, and the research departments at companies such as Pfizer were founded thanks to the hard work of Albion native Francis E. Stewart. George Pullman established himself as a railroad magnate, Joseph Glidden of Clarendon made a small fortune by perfecting barbed wire, Charlie Howard established Santa Claus as we know him today, and the Clarendon native Carl Akeley is regarded as one of the most prolific taxidermists ever. Orleans County is home to the first established settlement of Norwegian immigrants to the United States, is situated in a region famous for cobblestone masonry, and centered in the "Burned Over District," famous for the development of diverse religious fervor in the 19th century – and this just scratches the surface! How many other counties can boast such a rich and impressive history?
4.  What do you remember most fondly as a student at Albion? Were there any particular teachers or experiences that helped motivate your education or career choices? If you had to choose one or two people who has the most influence on your life and the man you have become, whom would you choose, and why? 
Looking back, I think the Albion District has focused on producing quality citizens. When I say "quality citizens" I mean students who are aware, focused, committed, and passionate about their community. Thinking back, my fondest memories as a student in Albion involve my participation in community events and programs. Dedication to public service is something that the teachers at Albion instilled in me and other students. I recall Bill Dambra, Jeff Evoy, and Alec Sherman as being the most influential teachers in my decision to study history. Their energy, passion, and encouragement put me on this track from an early age.
In my personal life, my father, Robert Ballard (AHS Class of '72), has been a huge inspiration growing up and I would contribute much of what I have accomplished so far to what he instilled in me. Always a strong willed hard worker, he's devoted to community betterment and committed to his faith. Service to the community has always been an important part of his life and I believe that is why I choose to continue on with community service and engagement. He has always been a leader by example – a noble quality.
5.  Do you have any advice or words of wisdom for our current students and recent graduates? 
If you are passionate about something, pursue it. I've experienced enough in my young lifetime to understand that working on something you enjoy is far more fulfilling than something that simply pays well. Always remember to be patient. Your dream career won't just fall out of the sky as soon as you finish school. You have to work hard, be determined, and have the ability to realize that every decision you make will lead you to the next step in your life. We live in a community where many graduates leave, only to return after retirement, if at all. Orleans County is a wonderful place to live, built on a rich history, and is home to passionate and caring people. Don't leave if you don't have to!
Thank you, Matt, for participating in our Take Five Series. We wish you all the best in your new role as Orleans County Historian!