On Tuesday, August 2, 2016, the Albion HS Alumni Foundation held their second annual event to honor our scholarship donors and recipients. This year, the event was held at the home of Charlie and Kim Nesbitt. Four scholarships were selected to be honored and three of the students who received them and their families were able to attend. This annual event provides a unique opportunity for the donors, recipients, and members of the Foundation's Board of Directors to have one-on-one time meeting and talking to each other in a casual setting that fosters discussion, appreciation, and sharing of ideas and advice, as well as a chance to thank donors for their continued support and confidence in the Foundation's efforts to bring valuable scholarships to the students of Albion High School.
This year's honored guests and the scholarships they represented were:
David R. Long Agricultural Scholarship:  This scholarship was established in 2016 by the Long and Pritchard families to honor the late David Long.  Mr. Long, who graduated with the Albion High School class of 1961, had a distinguished career in promoting the field of agriculture.  The scholarship is awarded to an active member of the FFA who is pursuing higher education in agriculture or a related field. John and Loretta Long attended, representing the Long family. Thank you to the Long and Pritchard families for their generous support of the AHS Alumni Foundation's scholarship program.
Kelsee Soule:  Kelsee, the daughter of Jim and Laurie Soule, is the 2016 recipient of the David R. Long Agricultural Scholarship. Kelsee also received the John Panek Memorial Scholarship, this year. She is attending Morrisville State College for agriculture. She interned in her fall semester of high school with Panek Farms and in the spring with Poverty Hill Farms. Kelsee was VP of the FFA and captain of the varsity volleyball and softball teams. She will play softball at Morrisville. Congratulations, Kelsee.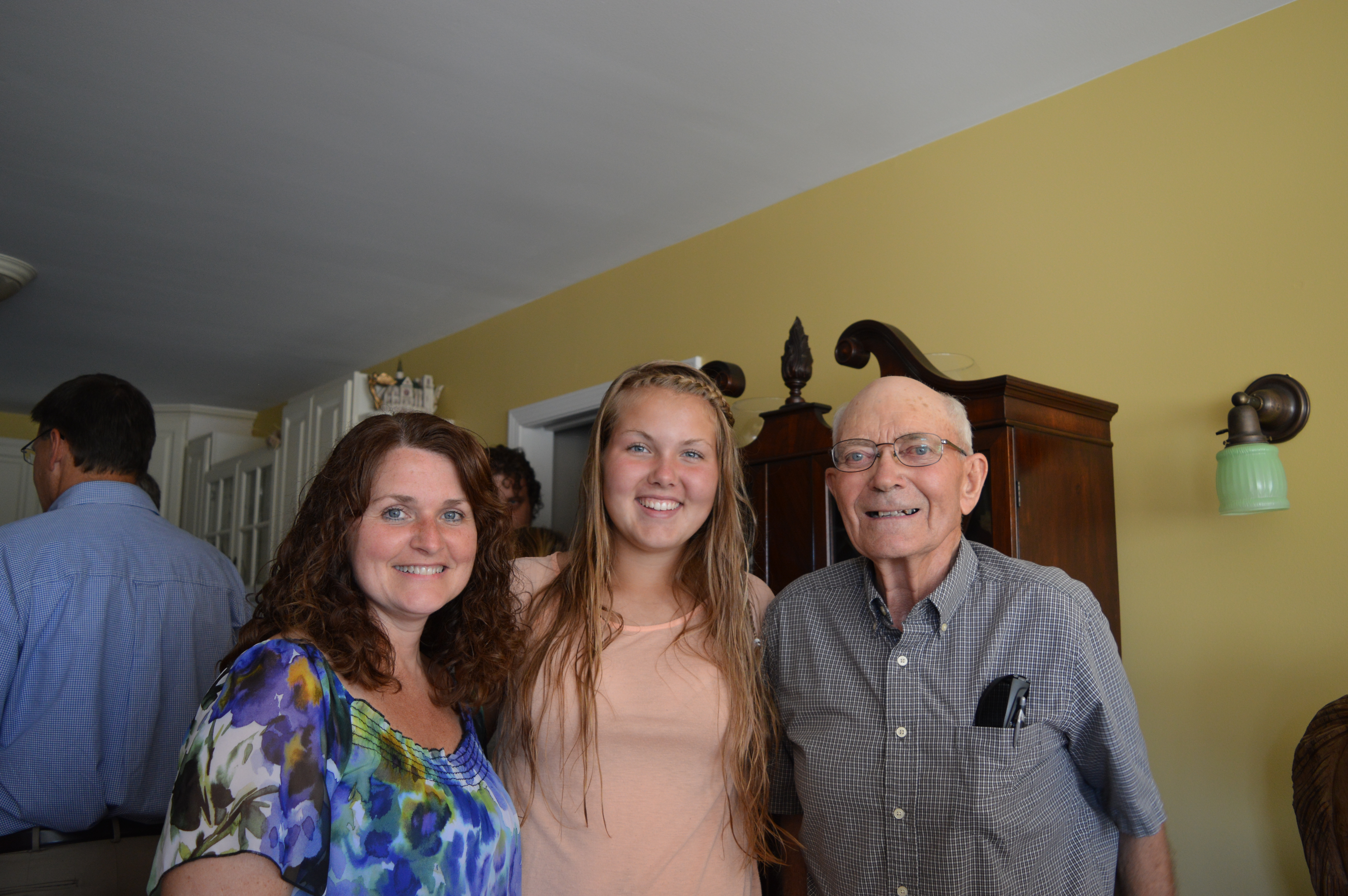 L-R: Laurie Soule, Kelsee Soule, and John Long
Glassner Family Scholarship:  This scholarship was established in 2015 by the family of the late Jake and Dorothy (Dottie) Glassner to honor their parents who gave and in return received so much from the Albion community.  Besides raising eight children in Albion,  their tireless efforts in local government, community and social services and service clubs were instrumental in making Albion a great place to live, work and play. Thank you to the Glassner family for the donations that make this scholarship possible.
Sarah Graham:  Sarah, daughter of Kevin Graham and Staci Graham, is the 2016 recipient of the Glassner Family Scholarship. Sarah is attending Daeman College in the fall, aspiring to be a physician's assistant. She was an intern for a semester working at Orleans Community Health with physician assistants. She was VP of the senior class, captain of the swim team, and involved in band and chorus. Congratulations, Sarah.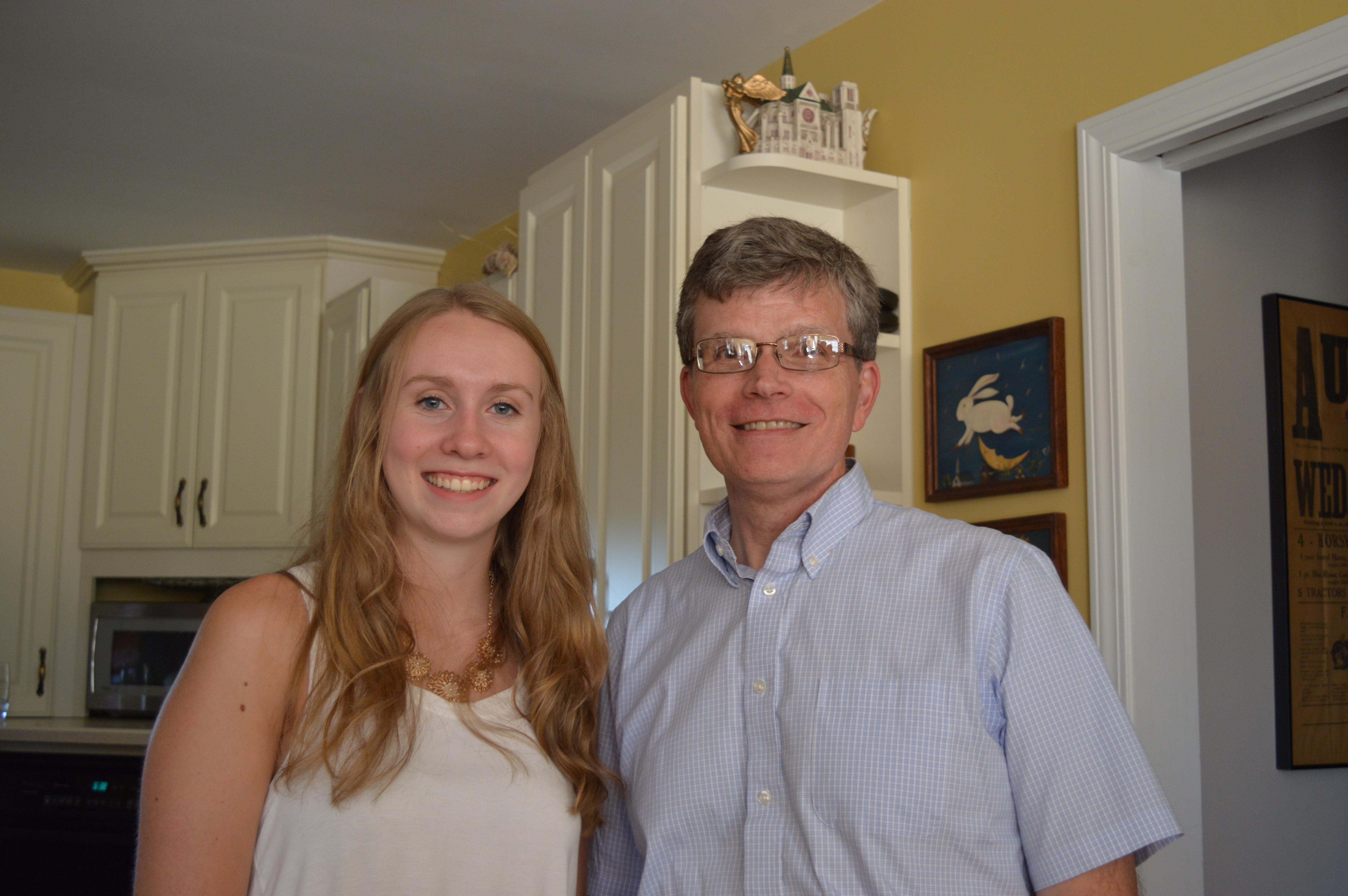 Sarah Graham and Chris Haines, President of the AHS Alumni Foundation
A.B. "Dick" Eddy "Service Above Self" Scholarship:  This scholarship is awarded in memory of Dick Eddy, a community leader, businessman, and Rotarian, who committed his life to the principle of Service above Self. Established in 2012 by the Rotary Club of Albion, this scholarship is awarded to a senior who has demonstrated a personal commitment to community service and leadership, and displays high potential for future accomplishment. Several members of the Albion Rotary Club, as well as Kim Remley and Anne Beaty (daughters of Dick Eddy) attended to represent this scholarship. This year's recipient of this scholarship was Elizabeth Goff, who was unable to attend. Thank you to Albion Rotarians and the Eddy family for your contributions to this scholarship.
Edward B. Archibald Memorial Scholarship:  This scholarship has been established by the Rotary Club of Albion in memory of Ed Archibald, a farmer, philanthropist, outdoorsman, and 70-year member of Rotary.  It is presented to a graduating senior pursuing a college education who shares Ed's love for sports, recreational activities, community service, and work experience. Members of the Albion Rotary Club also represented this scholarship, one of two scholarships available to AHS students as a result of the partnership between Albion Rotary and the AHS Alumni Foundation. Thank you to Albion Rotarians, the Archibald family, and all who contributed to make this scholarship possible.
Kyle Smith:  Kyle, the son of Adam and Betsy Krenning, is the 2016 recipient of the Edward B. Archibald Memorial Scholarship. Kyle is attending Ithaca College for business and marketing. He interned with the Orleans Economic Development Agency. He will play football at Ithaca. He was active in FFA and sports and was the captain and quarterback for the Albion Purple Eagles football team, receiving the Section VI sportsmanship award for football. Kyle also received the Coach Richard Diminuco Scholarship for Athletic Excellence. Congratulations, Kyle.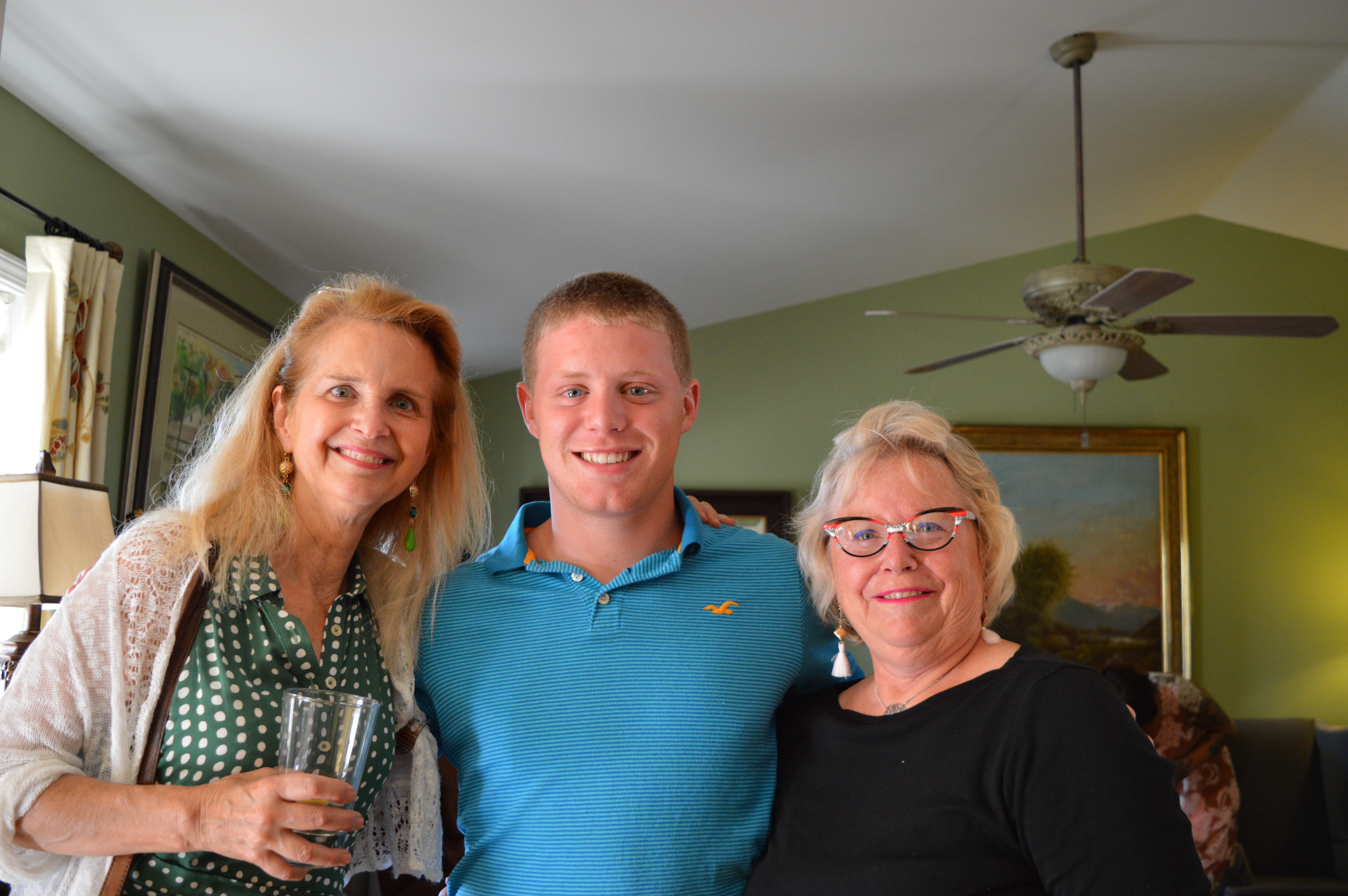 Anne (Eddy) Beaty, Kyle Smith, and Kim (Eddy) Remley represent the two Albion Rotary Club scholarships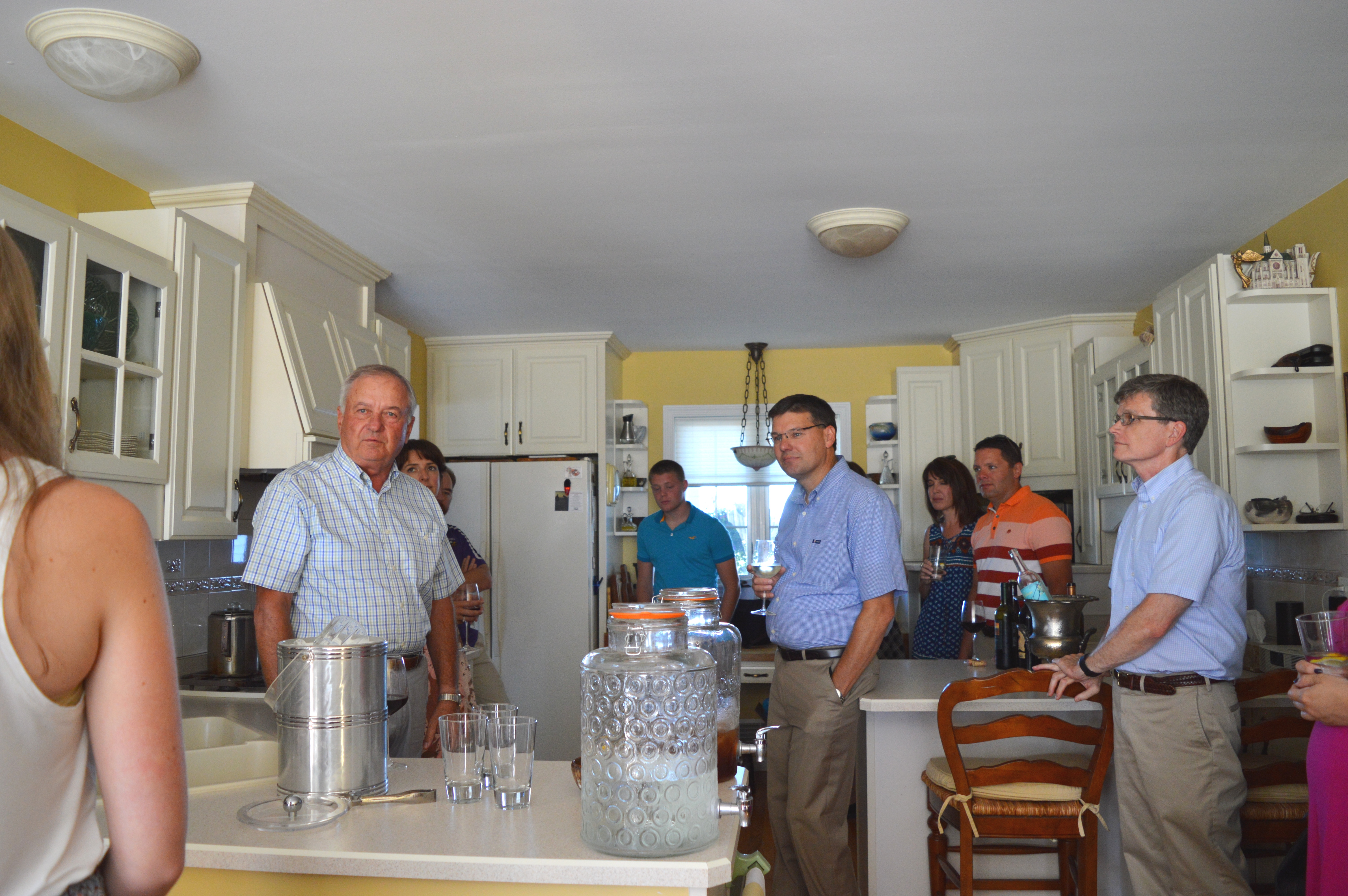 Charlie Nesbitt addressed the guests at his home during the reception
The AHS Alumni Foundation wishes the best of luck to the scholarship recipients in their studies and, eventually, with their careers. The Foundation Board of Directors believe these bright students each represent a good investment of the funds raised for these scholarships. The Foundation is pleased and proud that this event gave them an opportunity to personally thank the people responsible for the scholarships that will help ease the financial burdens that attending college can have.
Check out how you, too, can help make a difference for a lifetime in the lives of our AHS graduating seniors by contributing to our scholarship program or by establishing a new scholarship by clicking on the tab titled "SCHOLARSHIPS" on this web site.
Here are some more photos from this year's Thank You Reception: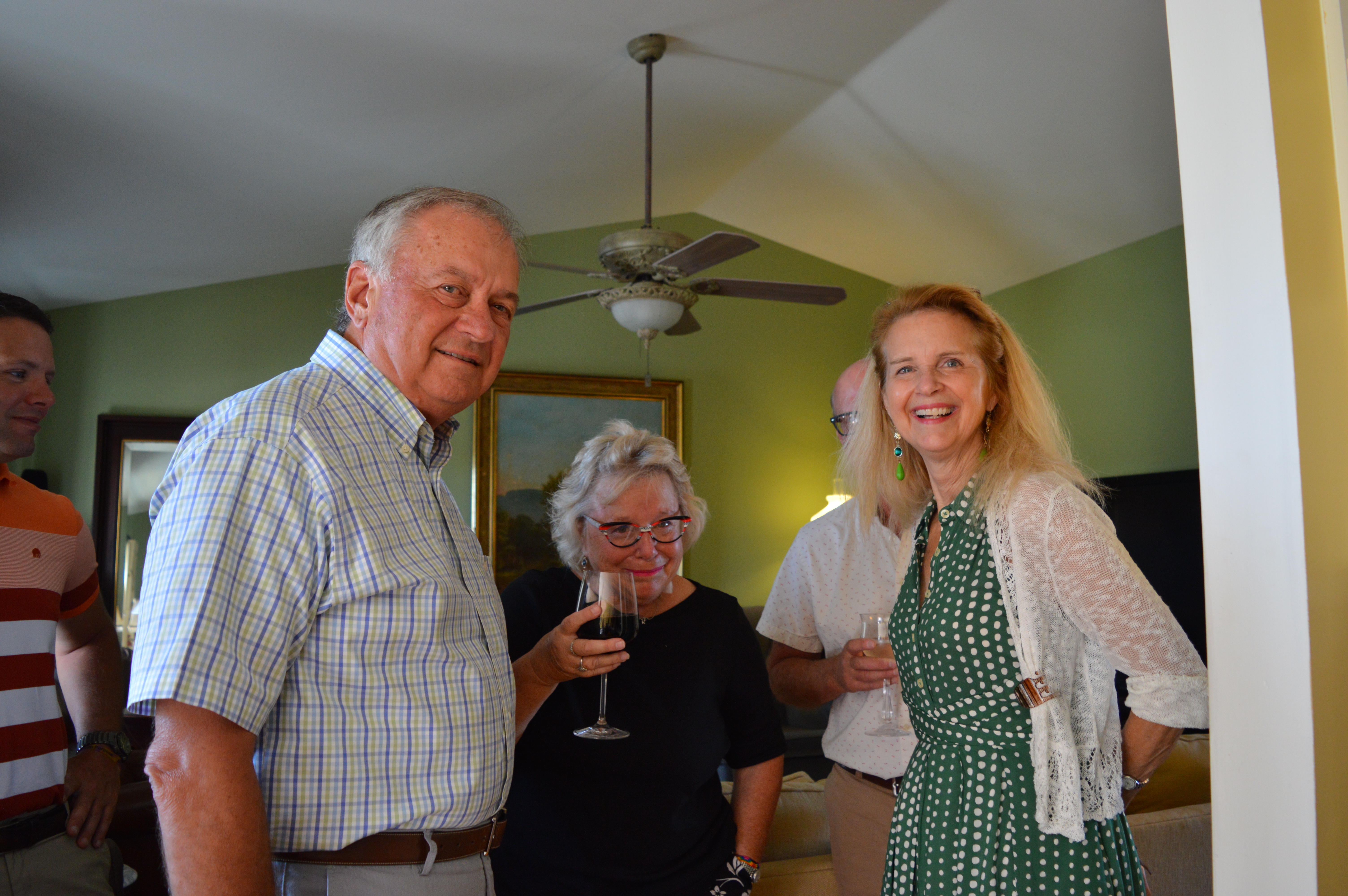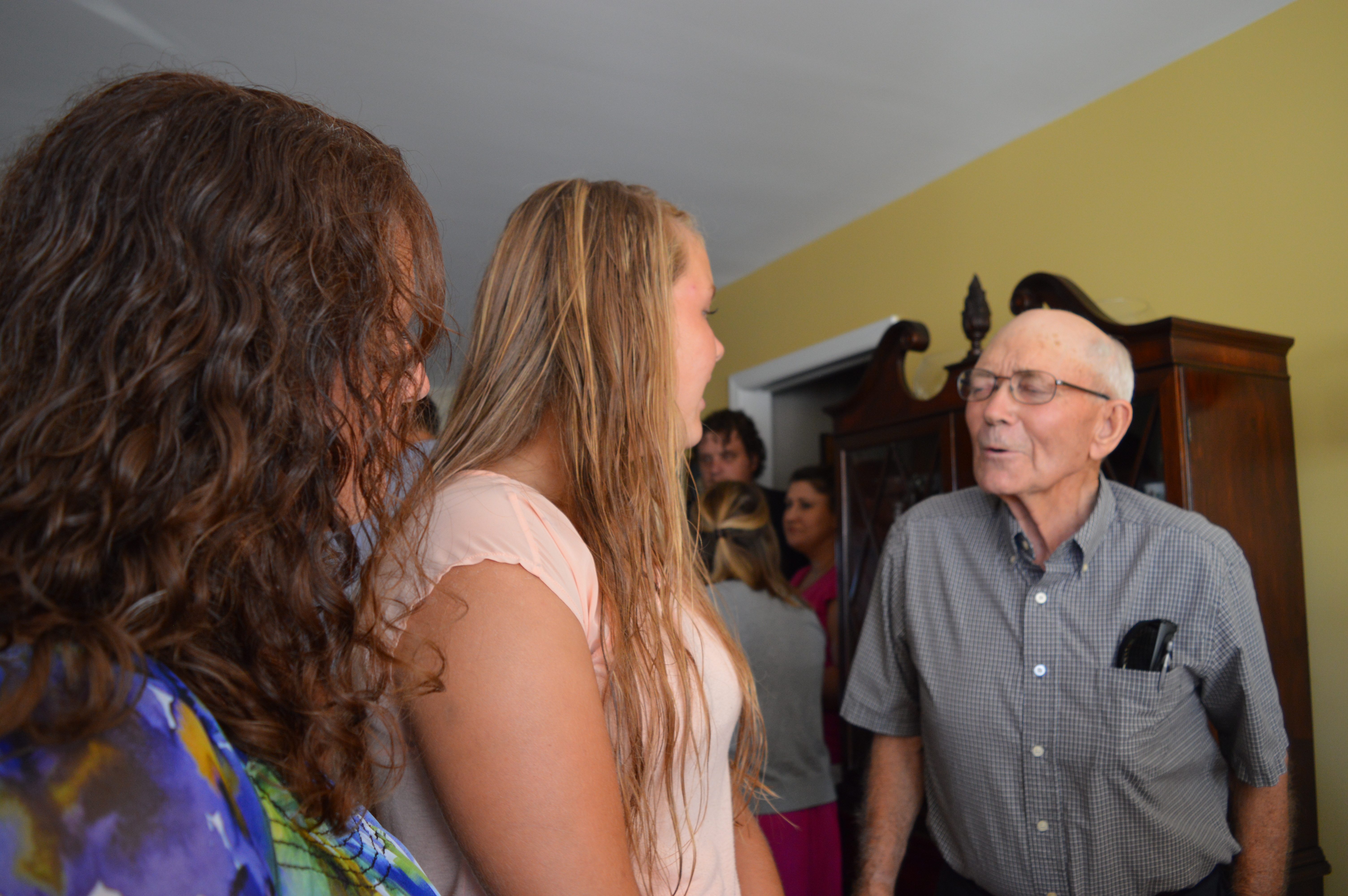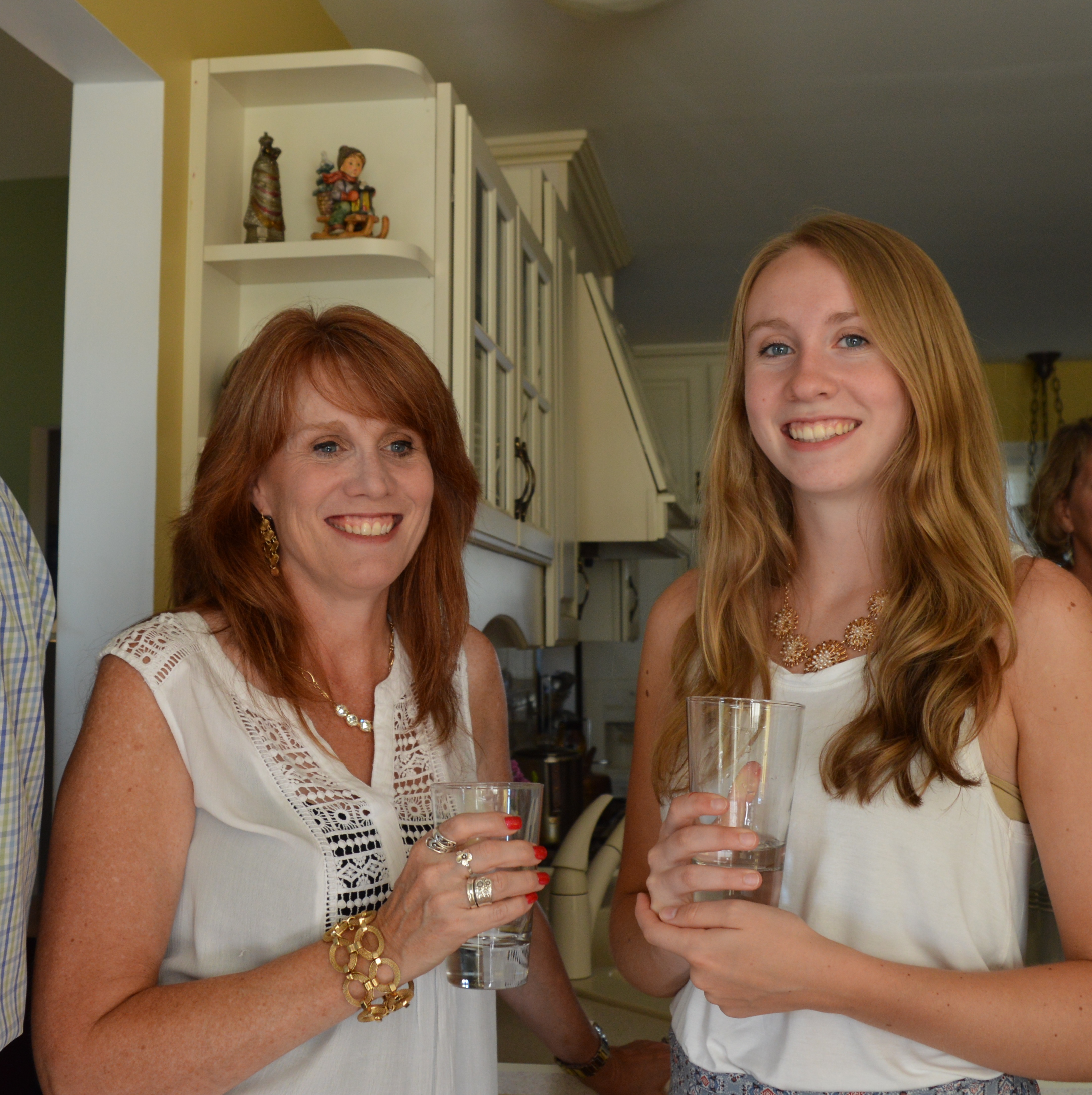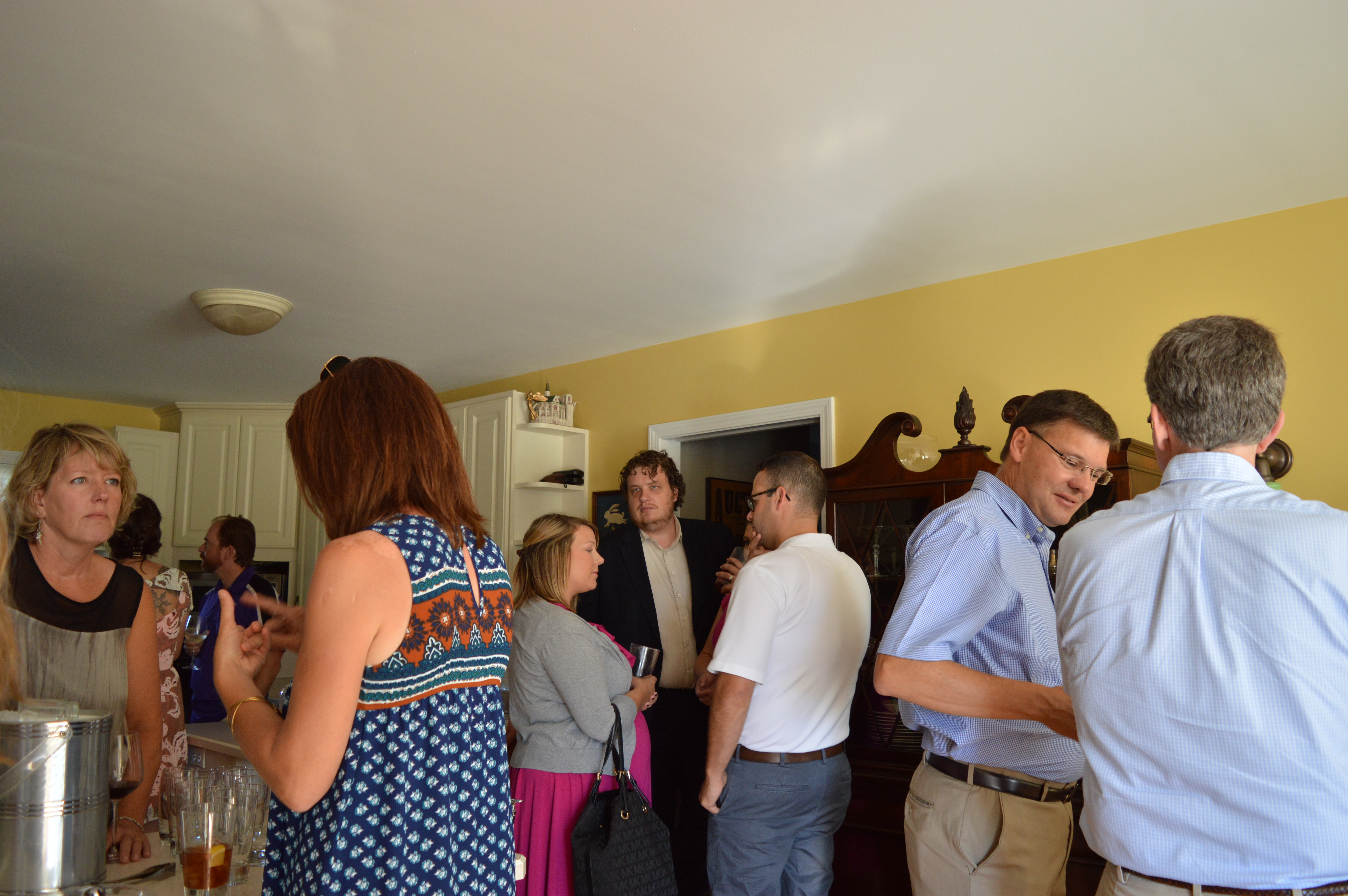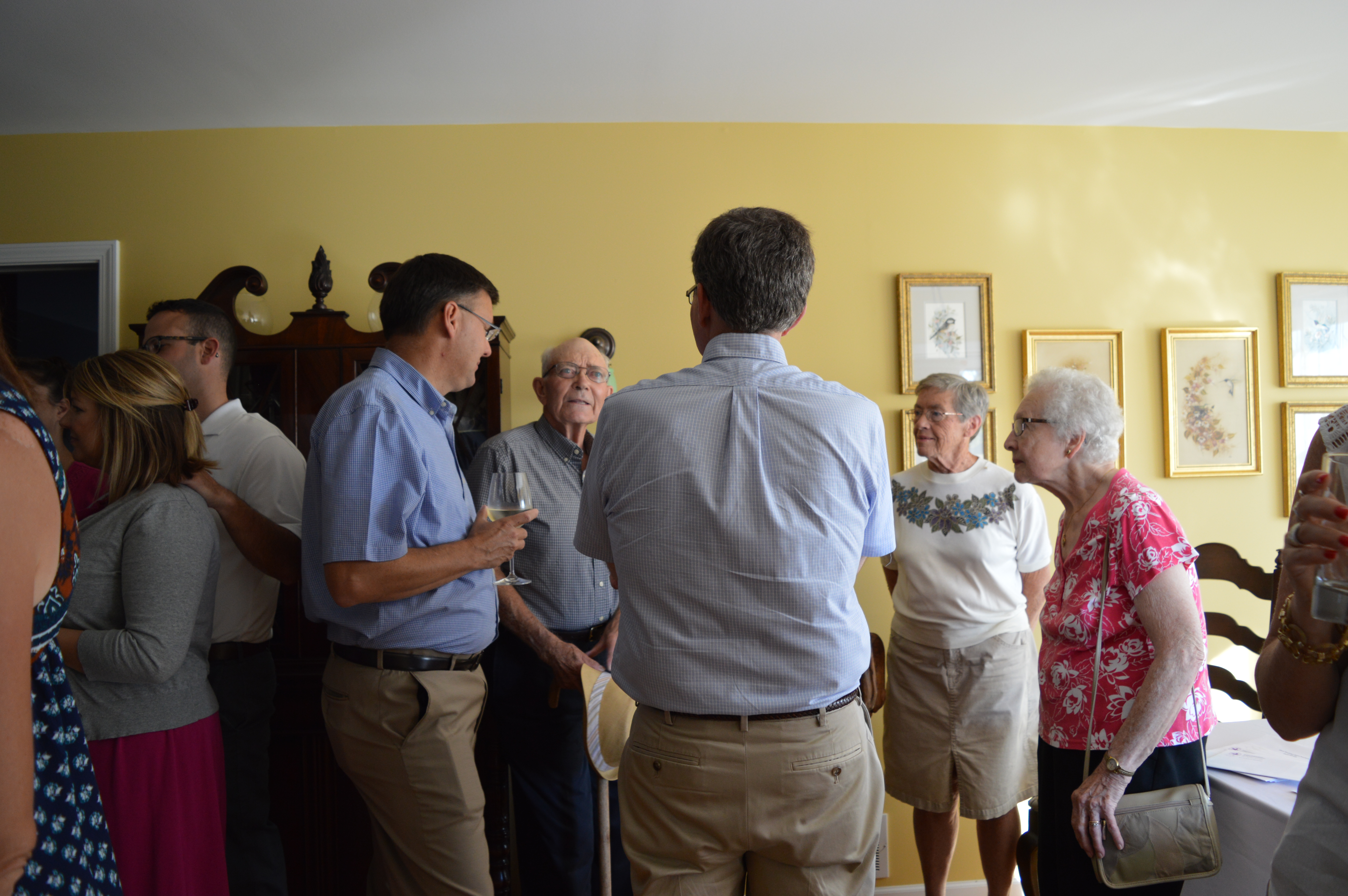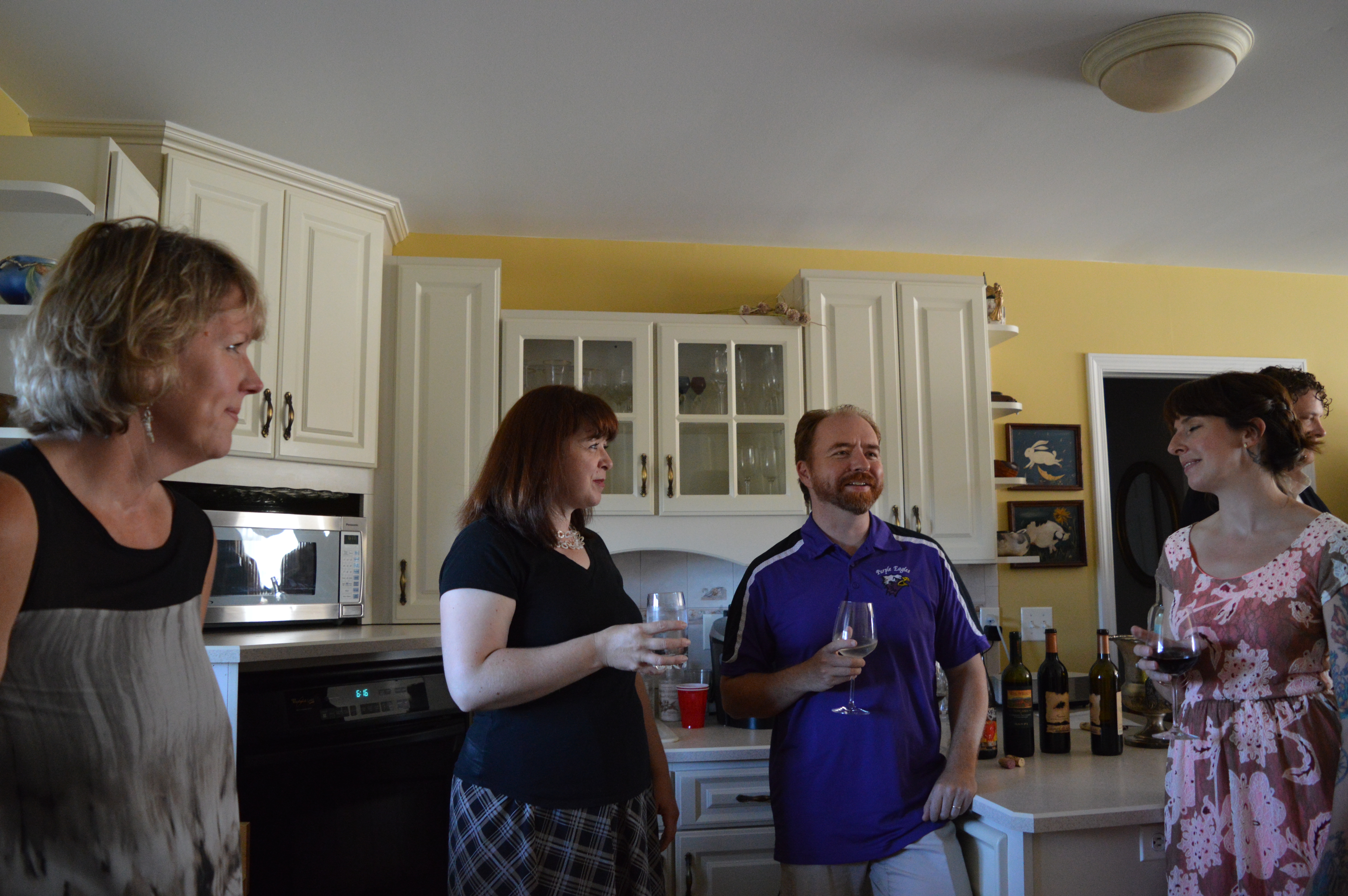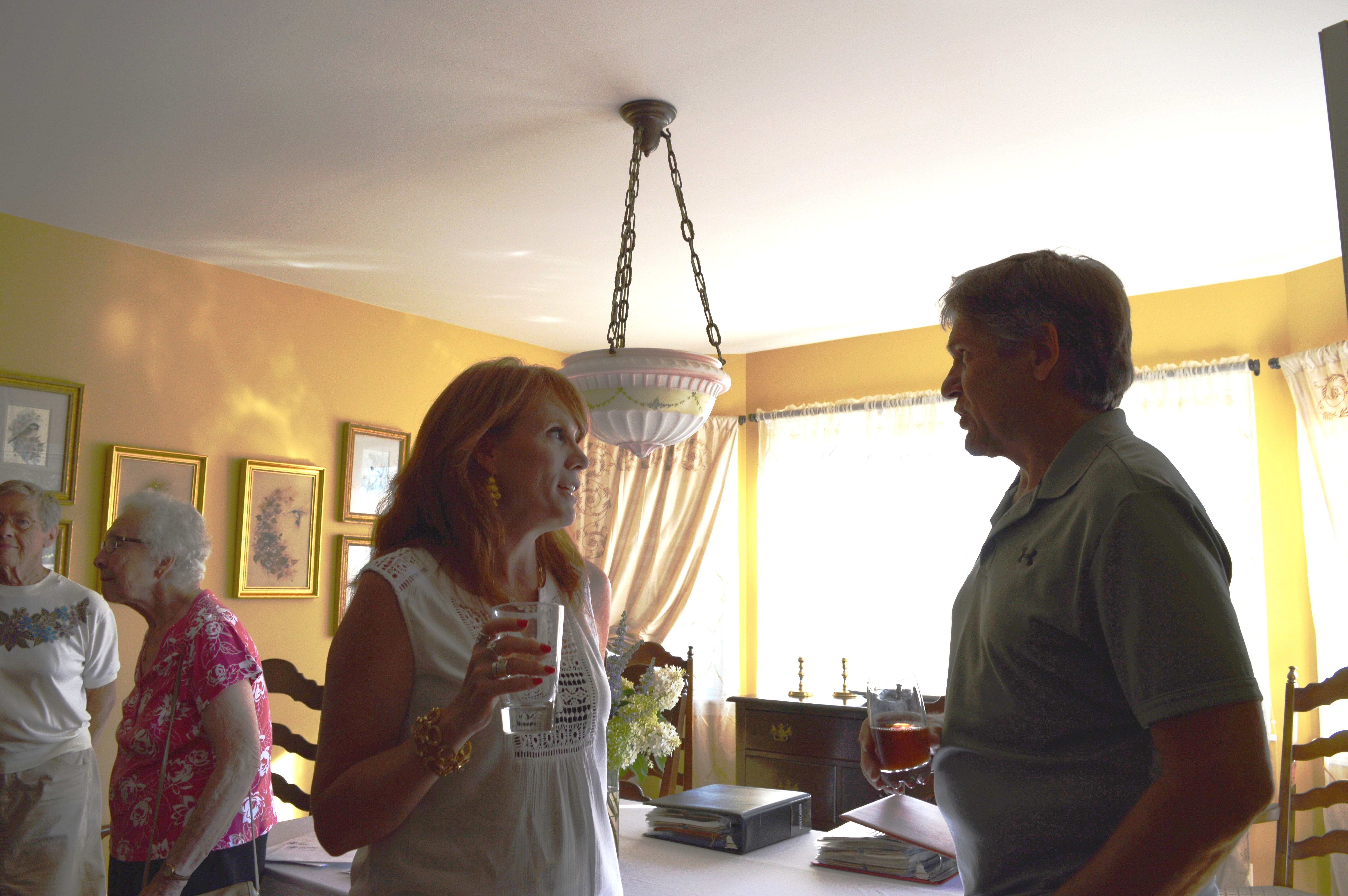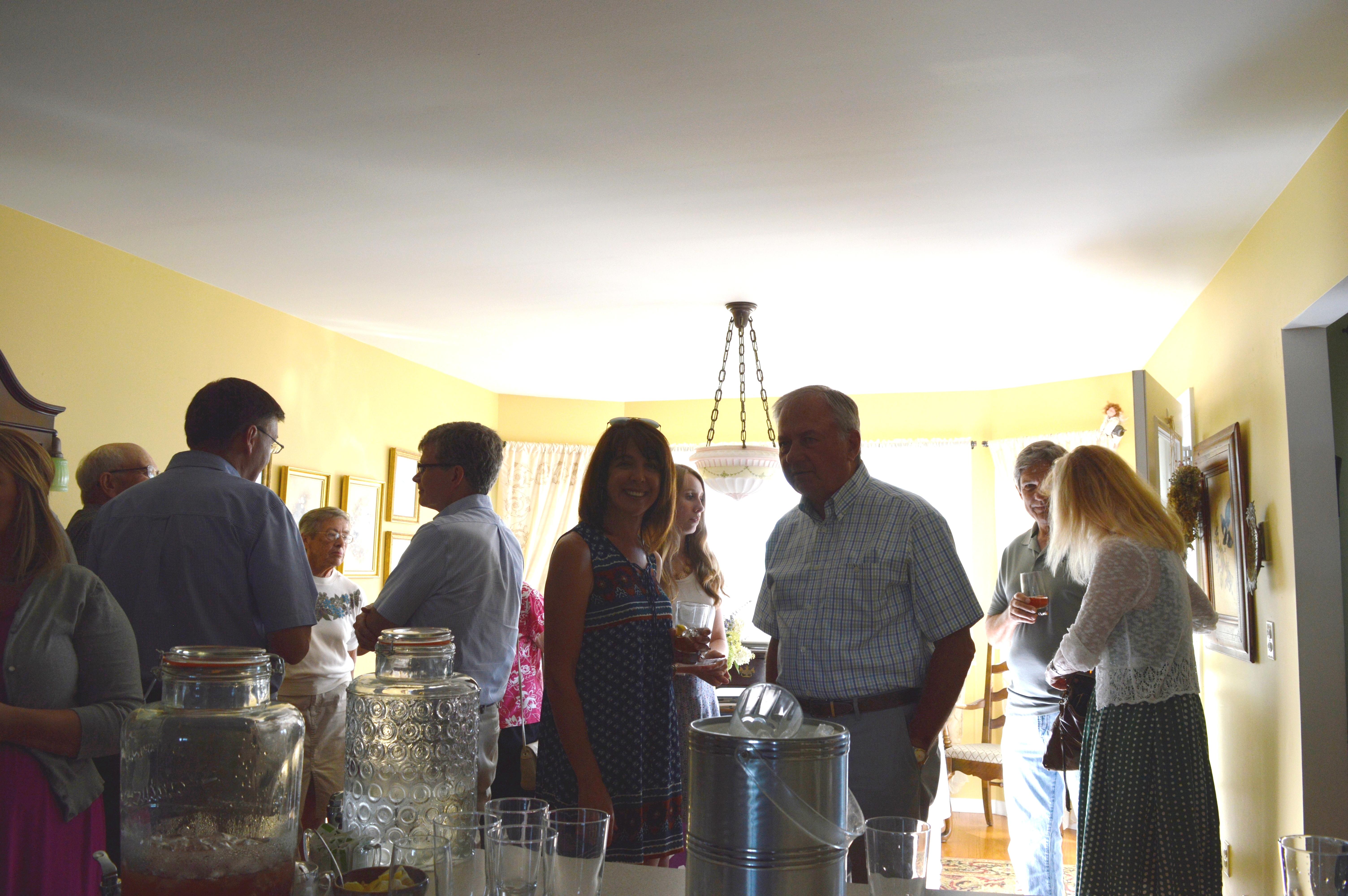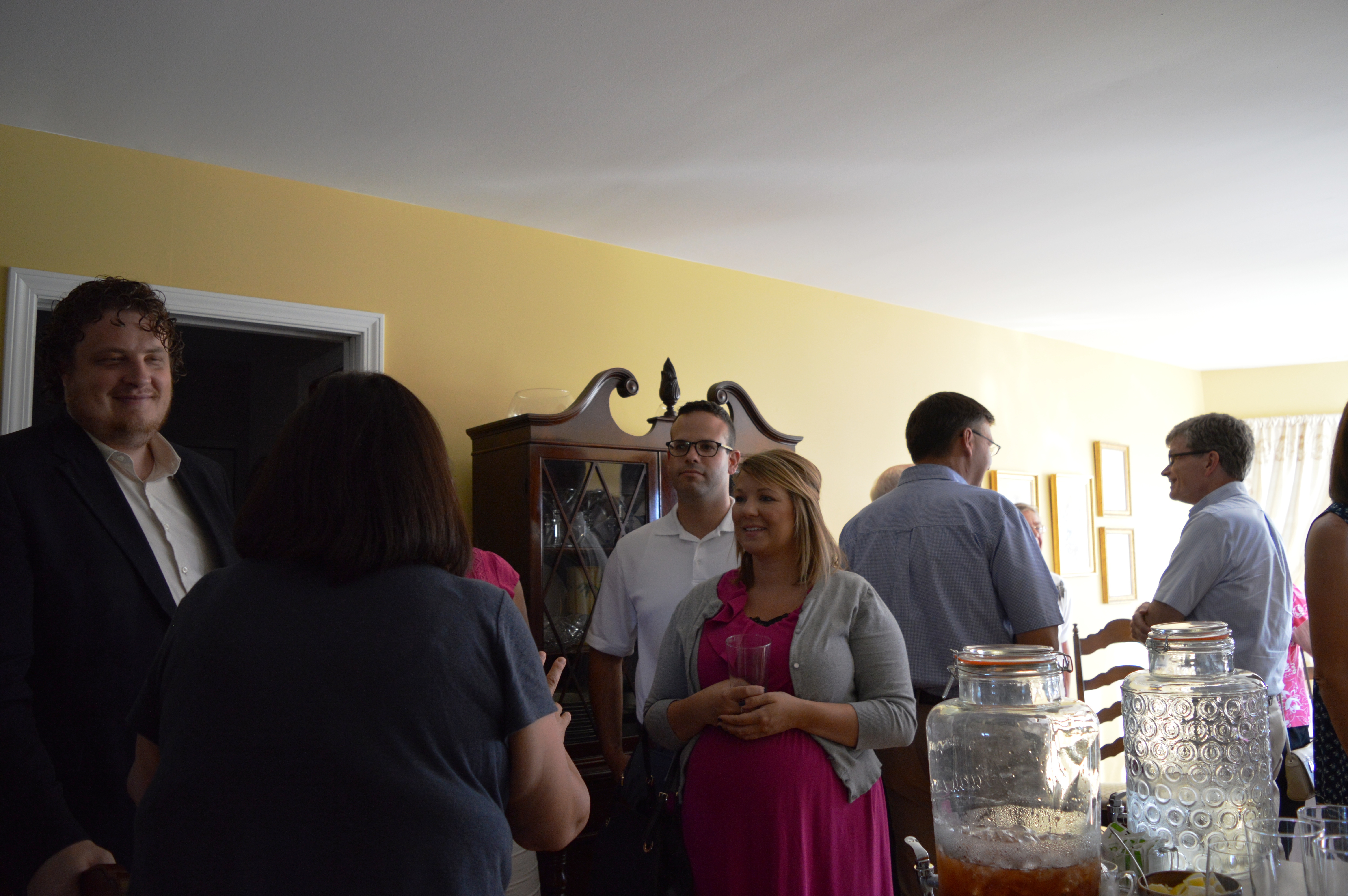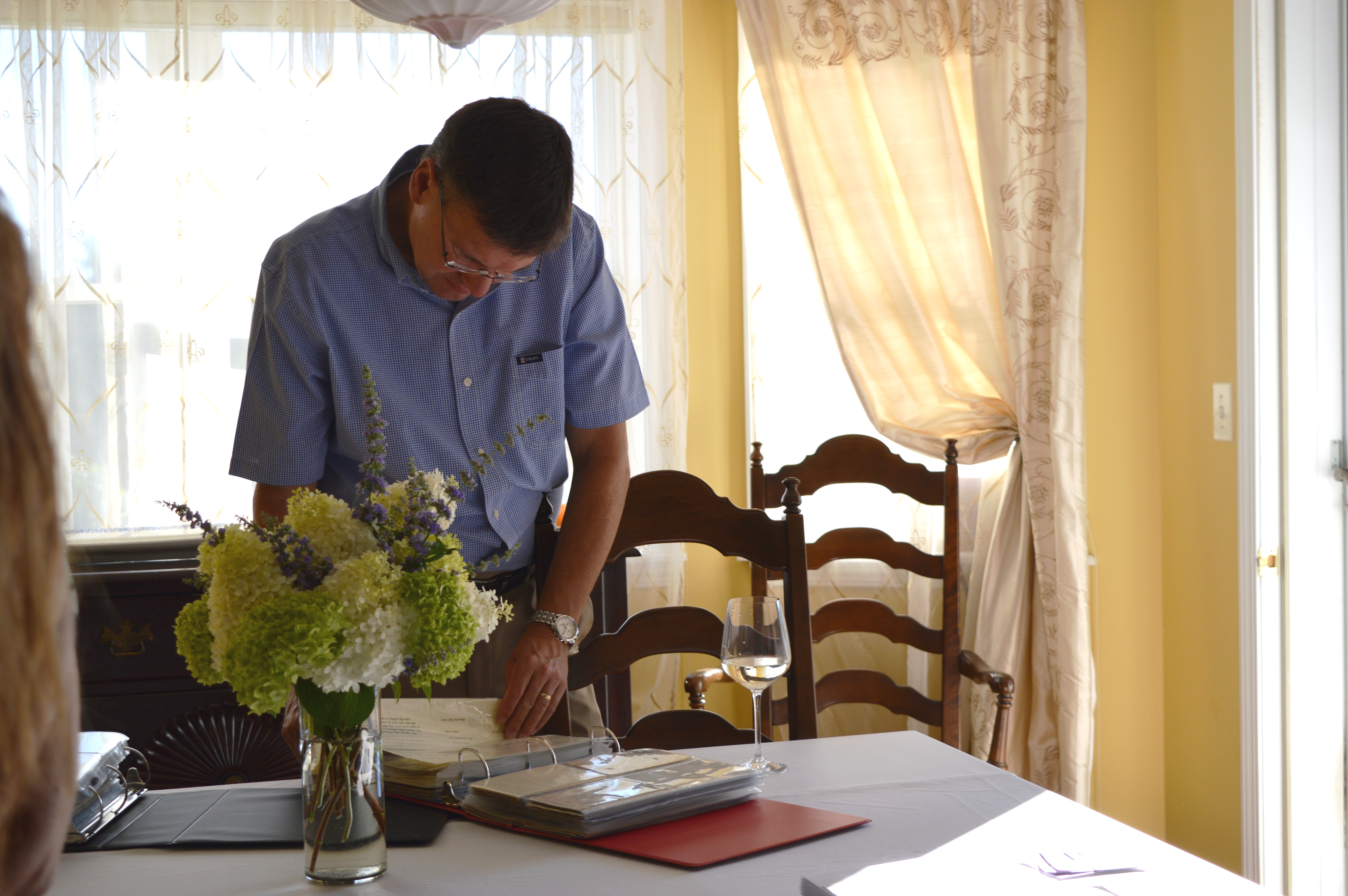 Charlie Nesbitt's extensive collection of Albion memorabilia was a huge hit with the guests. Here, Ed Fancher, AHS Alumni Foundation Treasurer, looks through one of the notebooks.