Friday night – September 25th – was the night of the big Homecoming game where our Albion Purple Eagles were pitted against the East Aurora / Holland Blue Devils! It was the climax of a week full of fun and memorable events for the students of Albion High School and the community! Here are some of the photos taken at the game to show how much Purple Eagle Pride was shining out for all to see!
The sky turned a gorgeous PURPLE and then GOLD in honor of our Eagle Pride: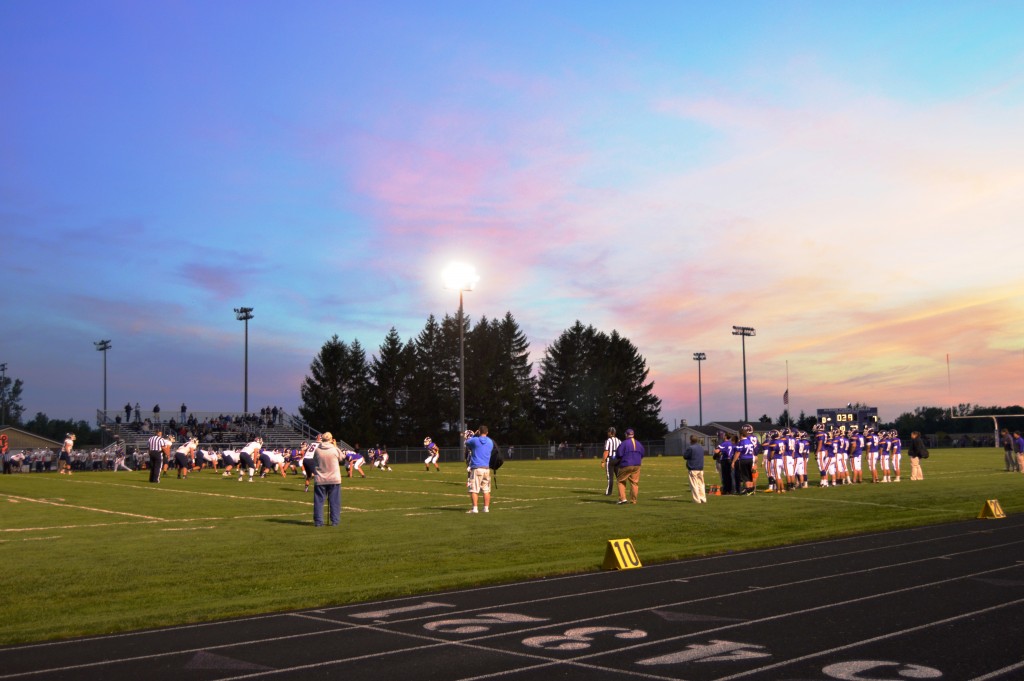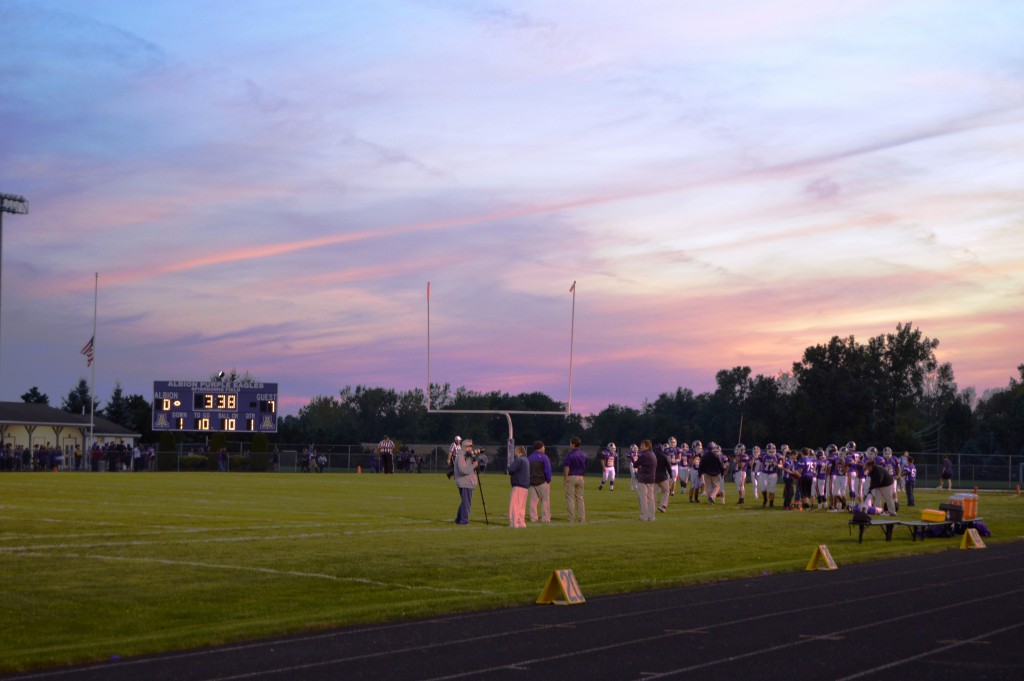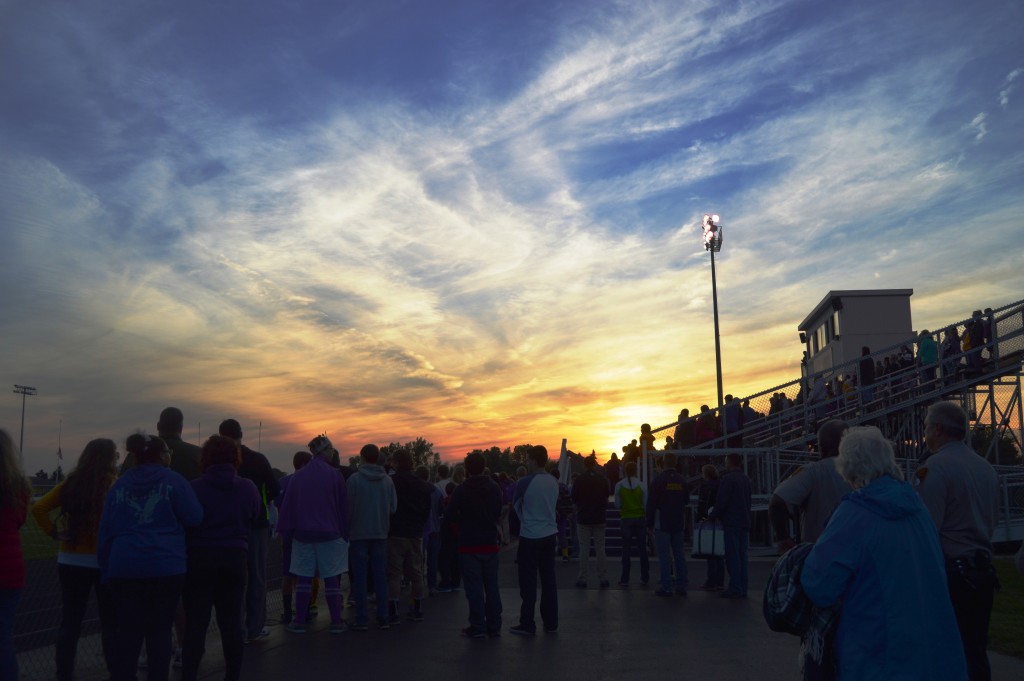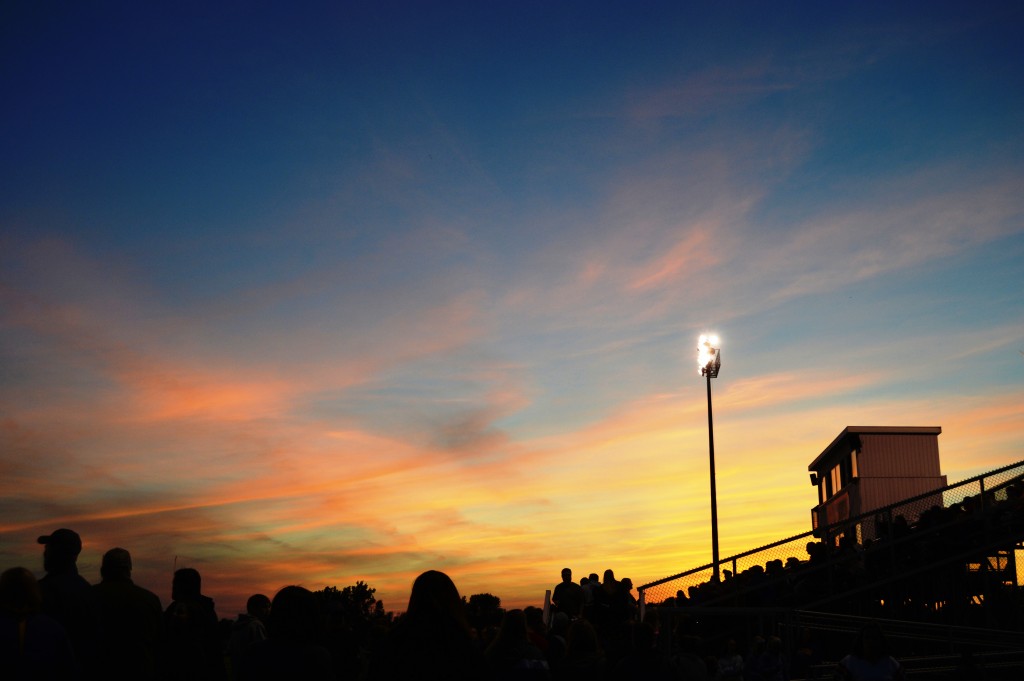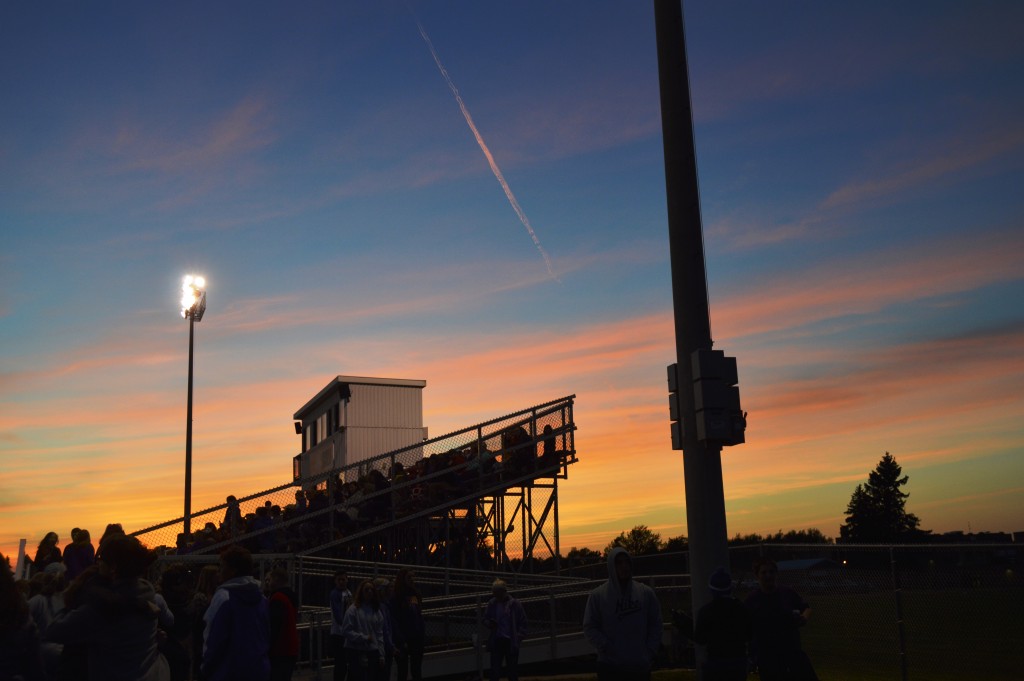 The AHS Alumni Foundation was there: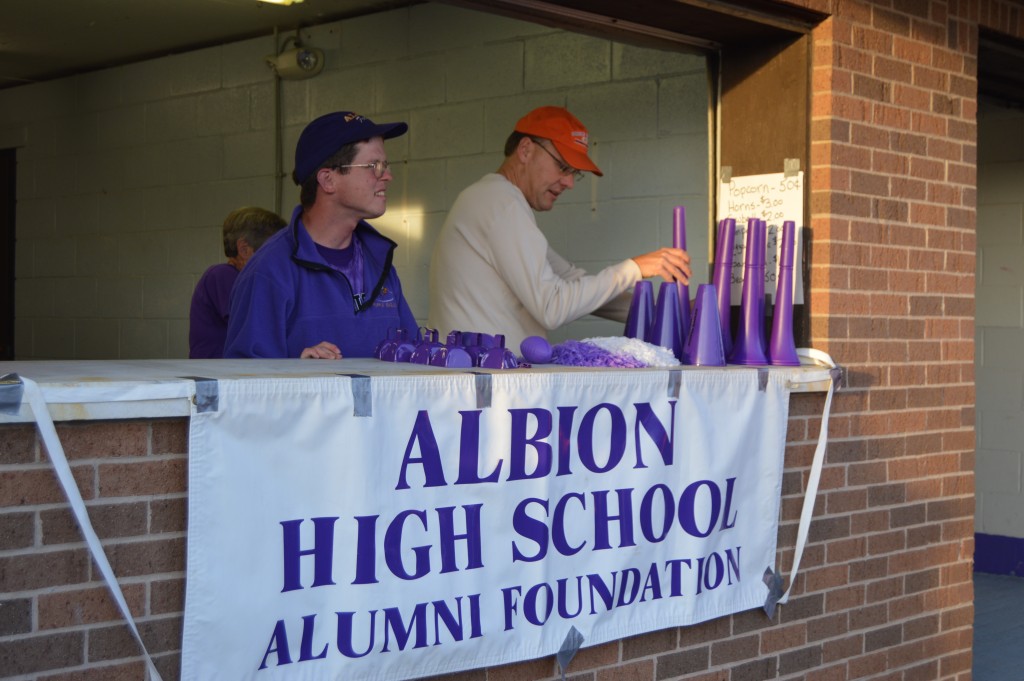 Here, Jonathan Doherty (class of 2003) and Ed Fancher (class of 1983) arrange bells, pom poms, megaphones, and horns to sell at our popcorn booth. The crowd loved the goodies – we sold out of the horns by half time and lots of popcorn left the booth! Proceeds from the booth sales goes to our general scholarship fund to help our students with college expenses!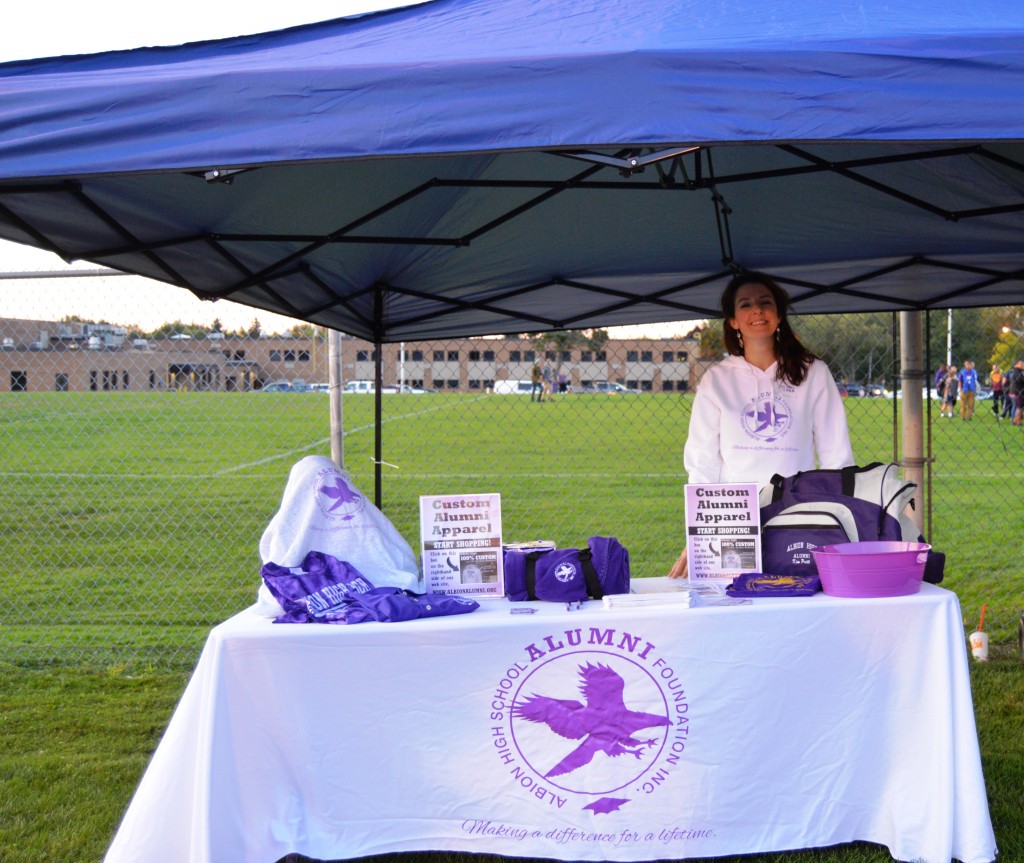 Marissa (Minier) Olles (class of 2000) shows off examples of the great Alumni apparel and gear that can be found on our MyLocker page. To get your own fully customizable (choose your style, colors, graphics and add your name, grad year, whatever) apparel and gear – there's LOTS to choose from – scroll down the right hand side of this web site and click on the MyLocker link. A portion of the proceeds benefit our scholarships, too!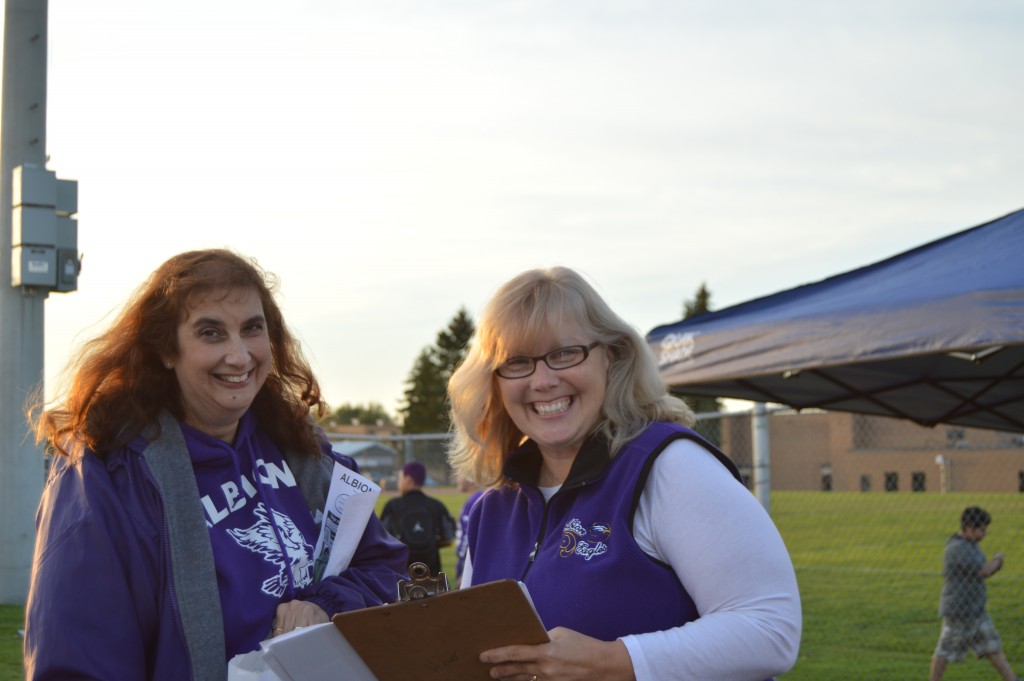 Laura Marek (right) (class of 1979) helps Albion alum Sue (Zicari) Dick (class of 1978) sign up for our annual drawing! This year, we gave away TWO prizes – winners could choose from a blanket or one of several apparel items available at the table.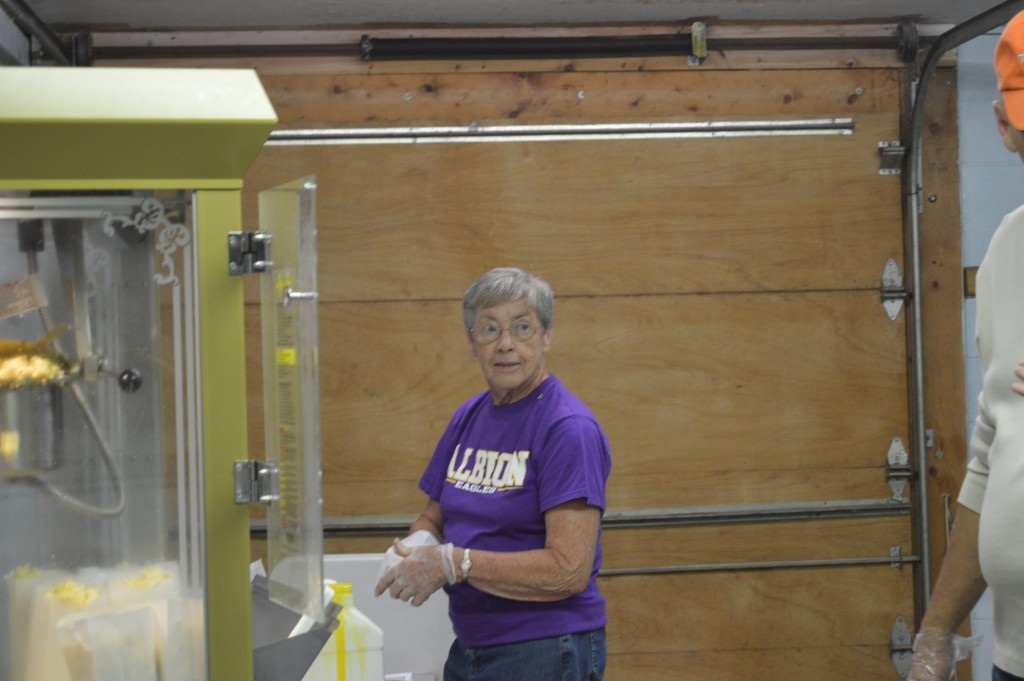 Jean Shervin (class of 1952) is busy making and bagging popcorn – a very popular item for the crowd!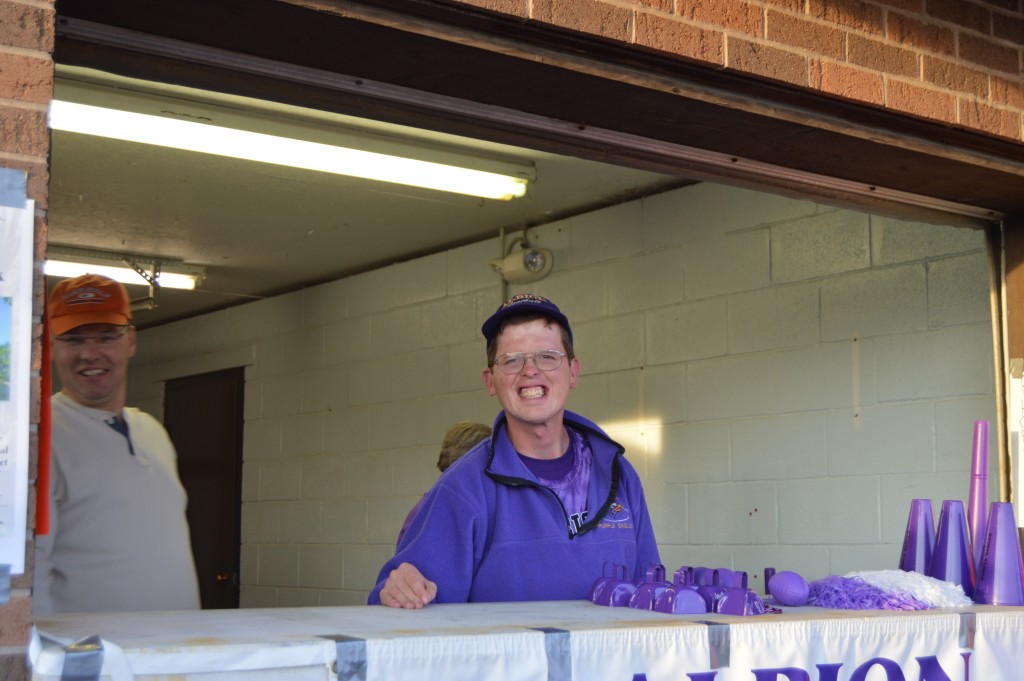 Jonathan Doherty (class of 2003) was available to help at the booth and share a big smile to all who stopped by!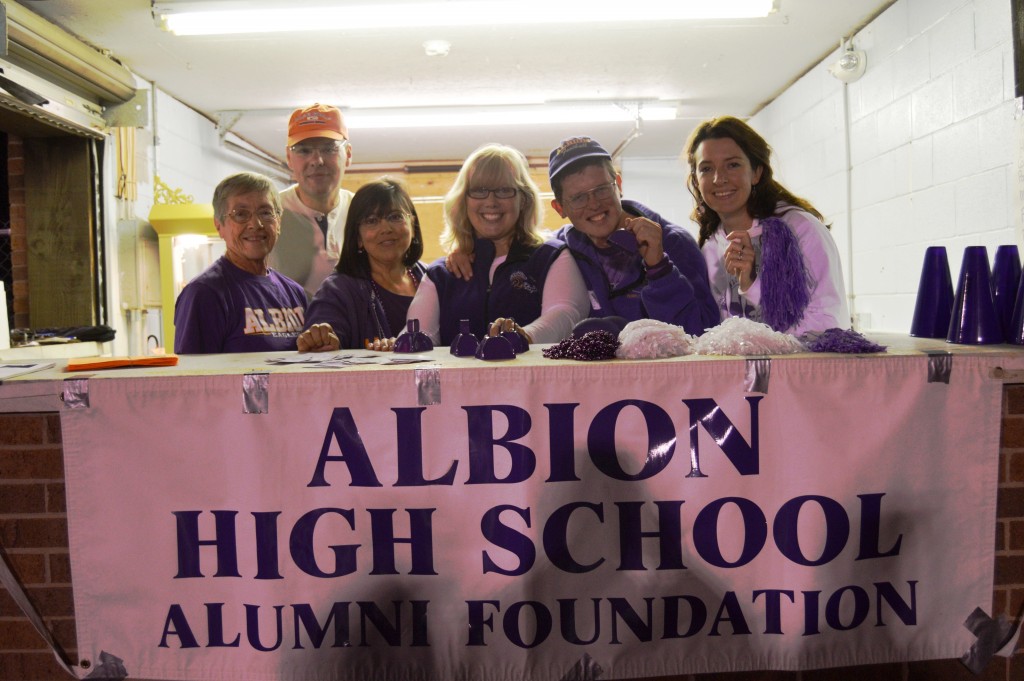 Just a few of several Alumni Foundation board members and volunteers that manned the booth and greeted the droves of alumni during Homecoming: (l-r) Jean Shervin (class of 1952), Ed Fancher (class of 1983), Sue Starkweather Miller (class of 1981), Laura Marek (class of 1979), Jonathan Doherty (class of 2003), and Marissa Minier Olles (class of 2000).
And, the winners were: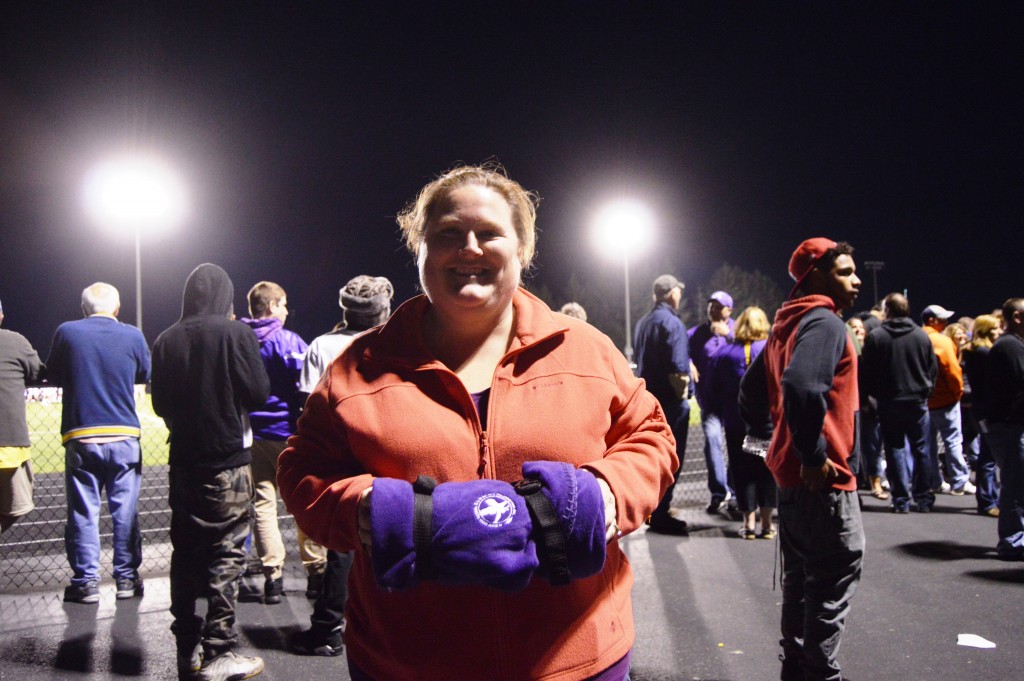 Kathryn (Snell) Schinaman (class of 1996) chose the purple fleece blanket with the AHS Alumni Foundation logo as her prize!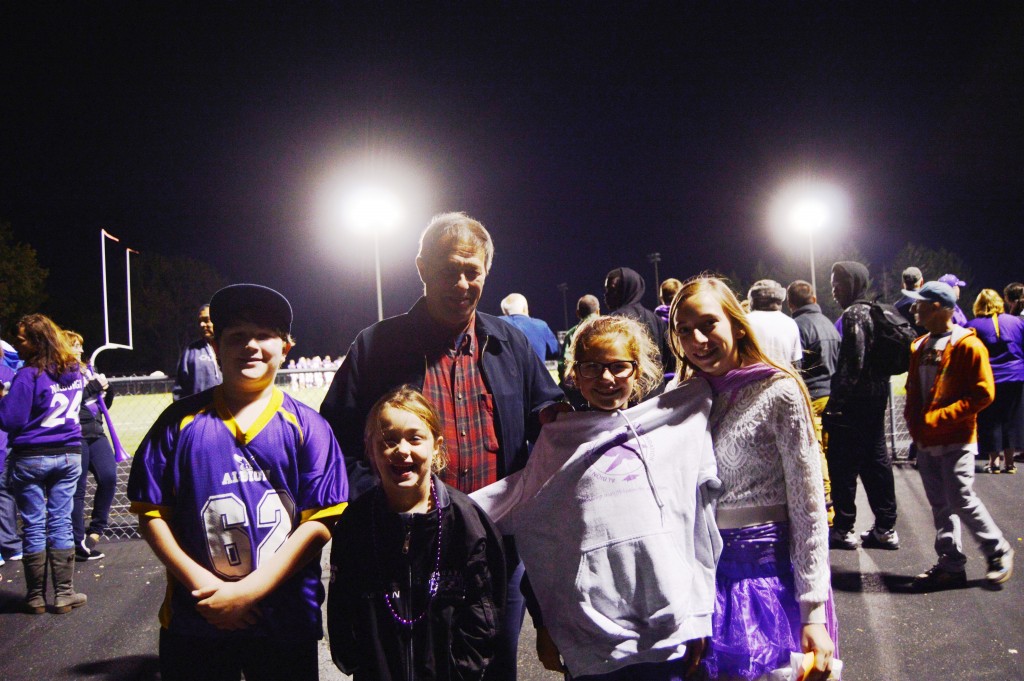 Richard Miller (class of 1966) chose the gray hoodie with a purple Alumni Foundation logo as his prize from the drawing. Pictured with Richard are (l-r) William Trambley, Kennedy Quest, Lydia Miller (holding the hoodie), and Kailey Fose.
The Alumni came out in full force: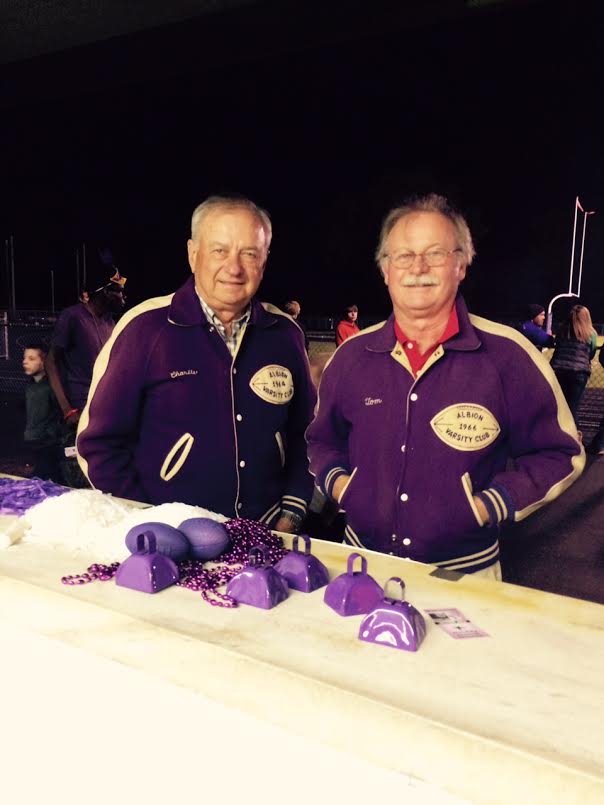 Brothers Charlie Nesbitt (class of 1965) and Tom Nesbitt (class of 1967) proudly wearing their Varsity Jackets!
Kelsey Schmitt (class of 2014) and her Mom, Cathy (Bencal) Schmitt (class of 1992) look really happy to be at the big game together!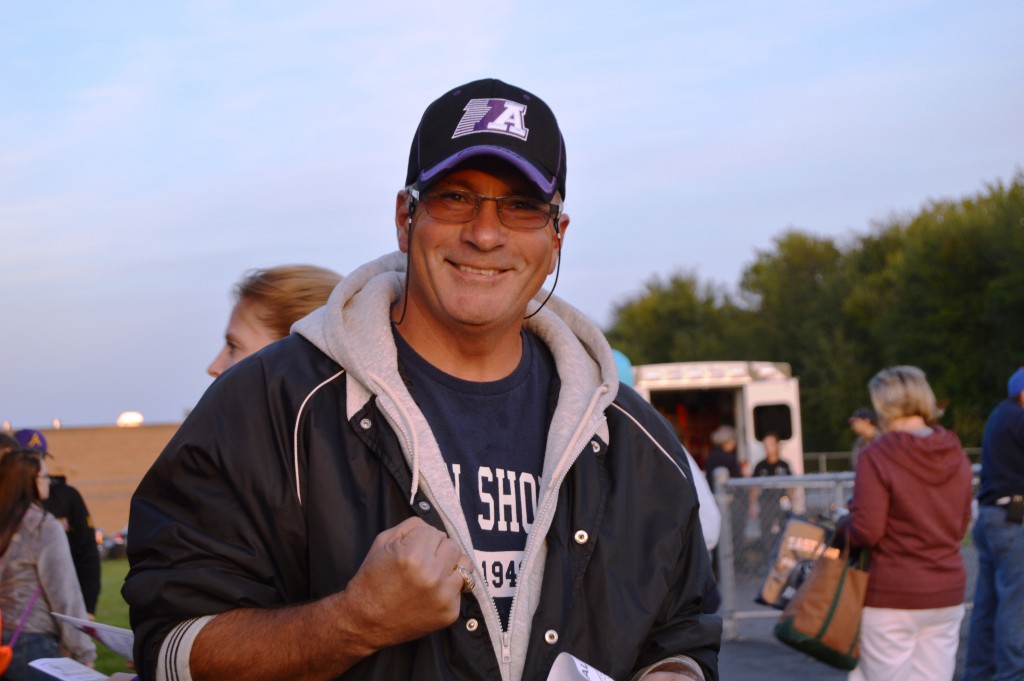 Ron Albertson (class of 1977) showing off his class ring!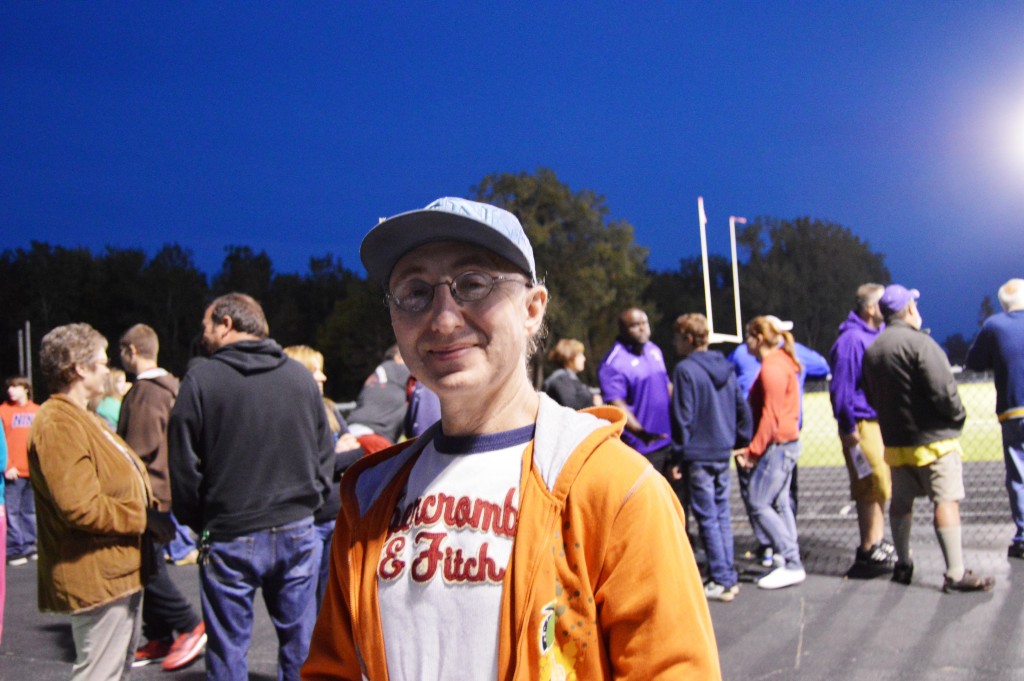 Robert Jay (RJ) Bannon (class of 1981) stopped by to say "hi"!
Tim Irwin (class of 1978) came out to enjoy the game!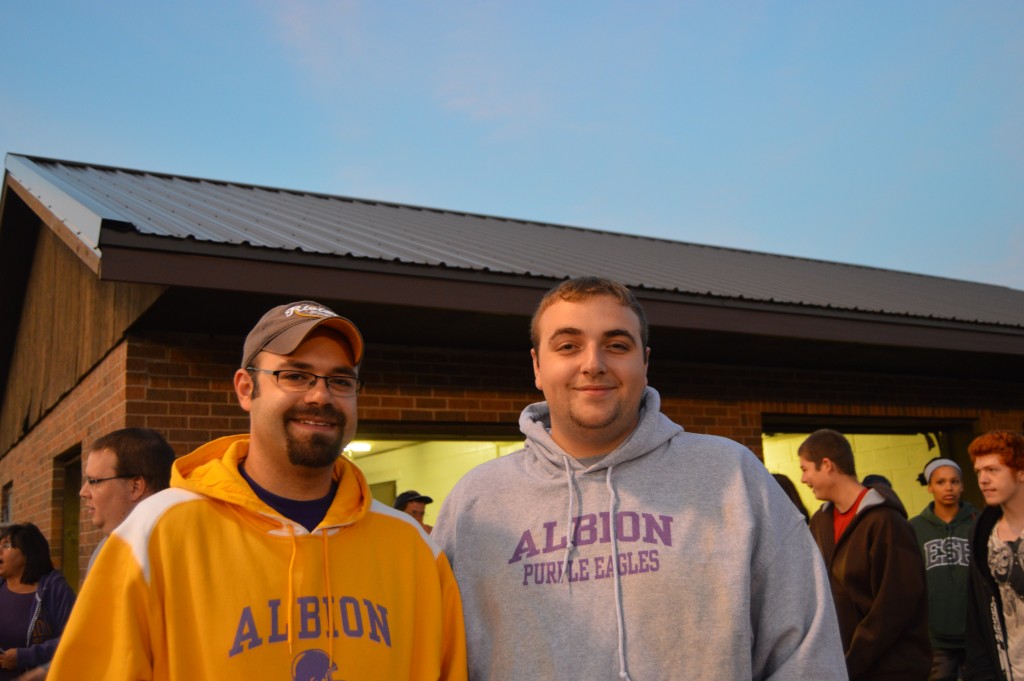 Rex Harvey (class of 2004) and Ray Laine (class of 2010) came out to cheer on the home team!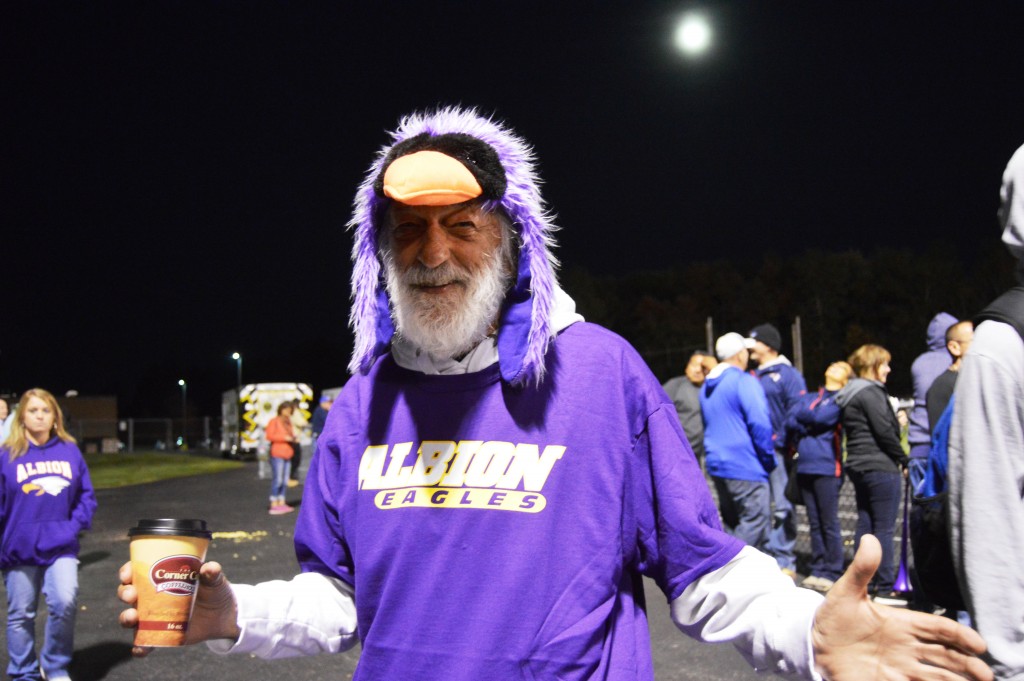 Jim Knight (class of 1965) was out in all his purple eagle glory!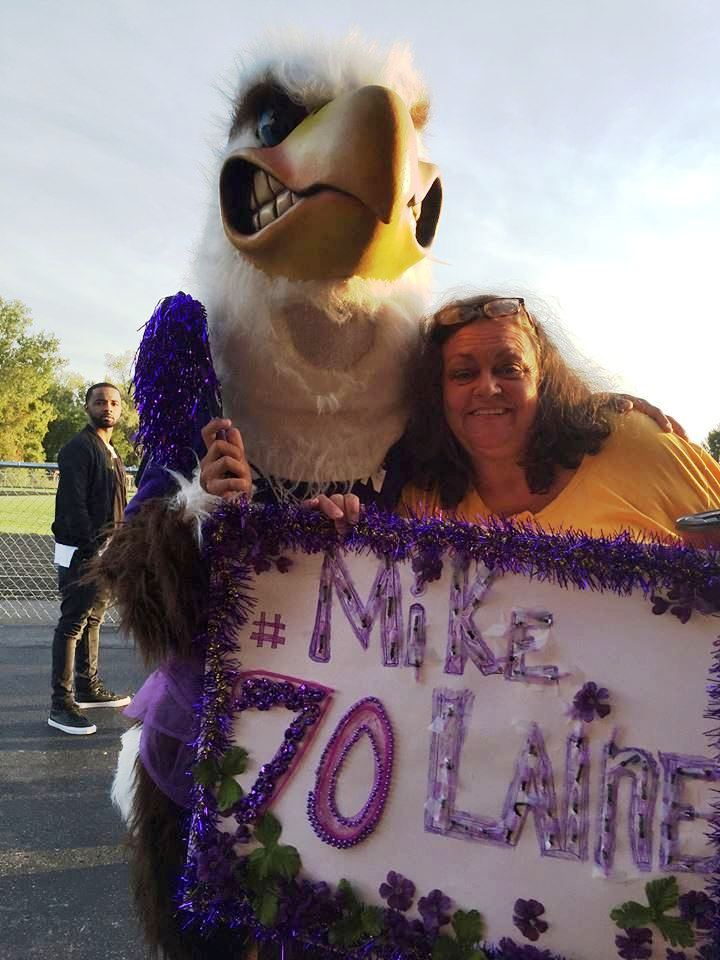 Lori Laine, mother of Varsity player, Mike Laine (# 70) with the Purple Eagle Mascot and her lighted sign showing her support for her son!
Our team may not have won, in the end, but they put up a valiant fight and it was a great and exciting game: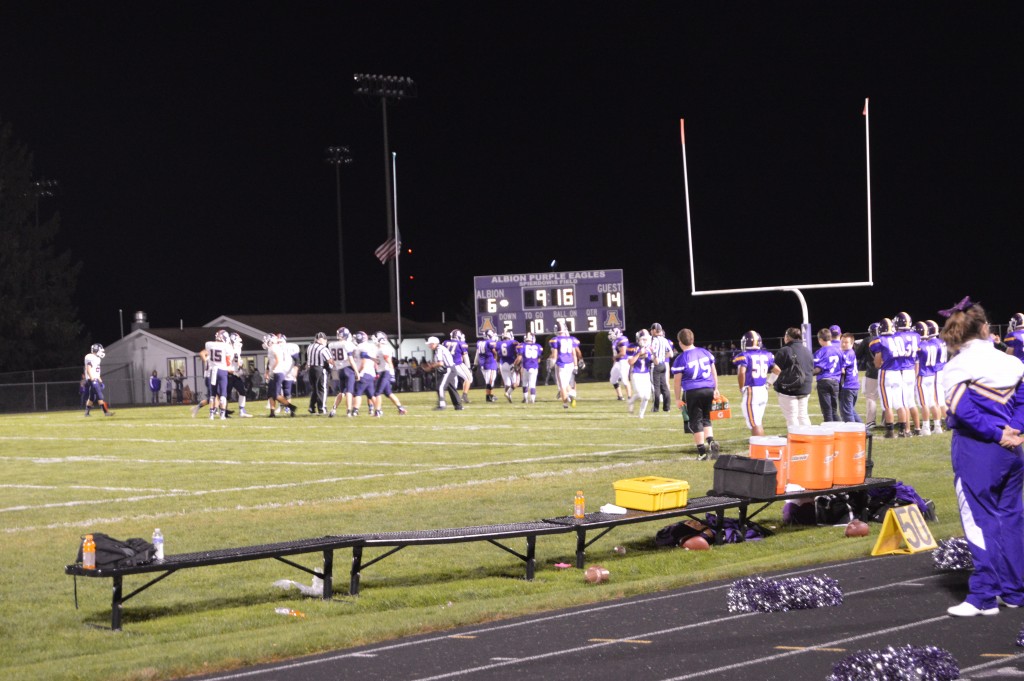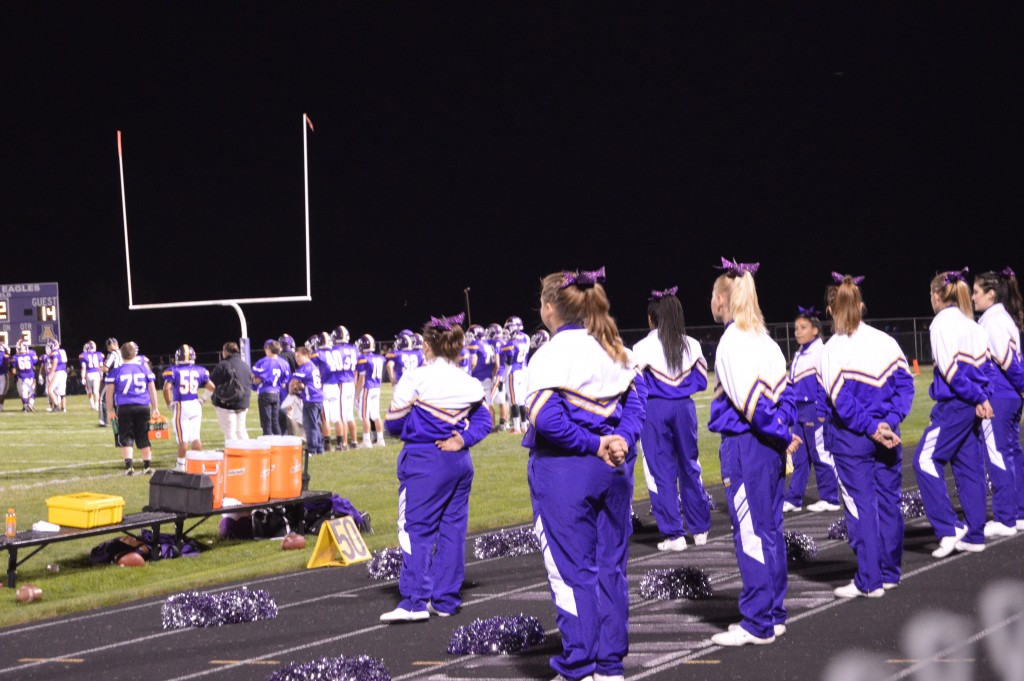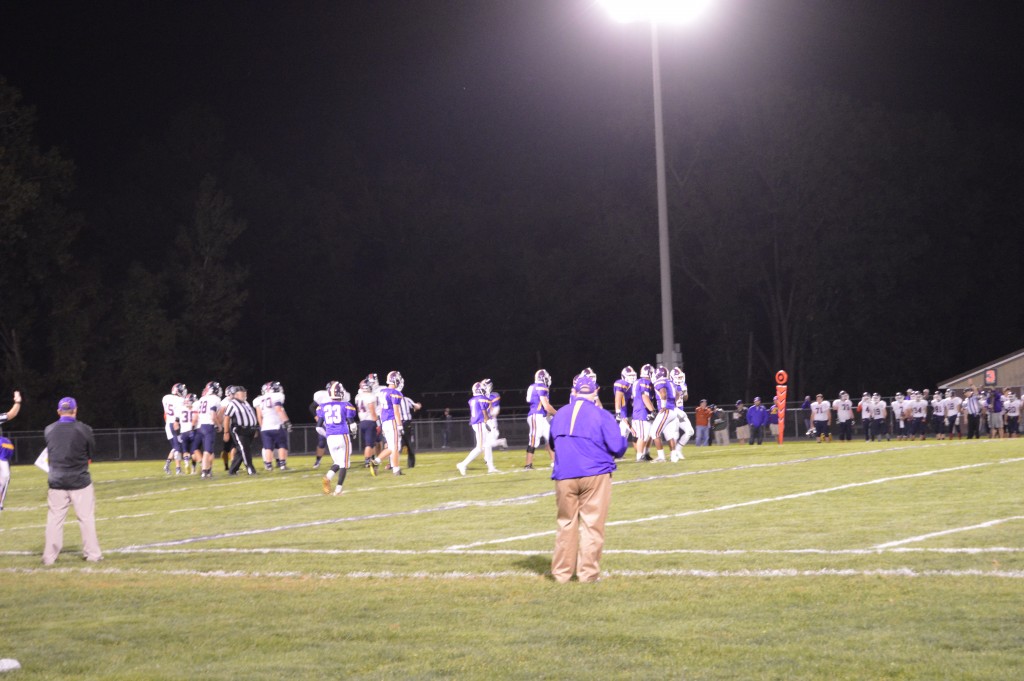 Congratulations to all our students, teachers, alumni, and the community on a wonderful Homecoming week!!! Can't wait until next year!!!
For more info about the game, click here, for the Orleans Hub coverage.
For more photos of Homecoming, click here, to see them on The Hub.