Today, we Take Five with
Kim Martillotta-Muscarella
AHS Alumni and local artist, art gallery curator, and writer
I met with Kim twice to see her gallery – Marti's On Main – and to do this interview. Kim is an incredibly talented artist who cares deeply about the Orleans County artist community and in ensuring Albion has access to their work. I spent the better part of a Tuesday afternoon with her for the interview and then hung out with a few of the members of the Art Circle group that meets at her home every Tuesday. We talked, they painted, and we listened to Kim's sister, Nicki, read short stories she wrote about her memories of growing up in Albion. It was a delightful afternoon. Here is the interview and photos that resulted from my time with Kim.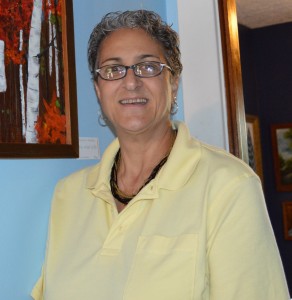 BIO:
Kim Martillotta-Muscarella graduated from Albion High School with the Class of 1975. Kim lives in Albion with her husband, Neal Muscarella – AHS Class of 1969. Kim has three children – two daughters, Rebekah, who is also an artist and a teacher, and Dana, and a son, Jeremiah, an artistic woodworker and owner of Knight's Pride Woodworking studio/shop in Albion. She also has seven granddaughters. While she has done extensive traveling across America and abroad, she has lived in the Albion area her entire life. She is currently the Owner-Curator of Marti's on Main Art Gallery on North Main Street in Albion.
Kim is a member of a long standing Albion family – her father and uncles owned the elegant Marti's restaurant and night club back in Albion's hay day, her brother, Joe – AHS class of 1969, renovated the old Club 469 into the beautiful Crooked Door restaurant, and her son, Jeremiah – AHS class of 2000, showcases his amazing wood working in his shop on Main St, Knight's Pride.
As a single mom, Kim worked hard to raise her children and put herself through college, where she eventually earned her BS degree in Studio Art, at age 35, from the State University of New York (SUNY) Brockport in 1993. It wasn't until 2002, when she married her current husband, Neal, that she could pursue her art full-time. Having worked in several mediums since 1986, her body of work consists of well over 900 pieces. She is a sculpture, writer, photographer, painter, and has also done some work in ceramics and welding. In 2006, she had 52 assemblage sculptures, 66 collages, and many art boxes. These pieces became part of The Elizabeth Collection at Artisan Works in Rochester, NY. The Owner-Curator, Louis Perticone, purchased 20 years worth of work all at once – a dream come true for any artist. With the money she received for her work, she fulfilled a lifelong dream and opened an art gallery.
Kim says art is something she does simply because she must! It is who she is and it is in her soul. "Without art and writing in my life, I may have taken a different path. But here I am! I hope that I can inspire people to find their own inner artist. My work has been a great outlet for life's tough blows."
Kim's husband, Neal Muscarella, is also an AHS graduate – class of 1969. Neal has been a mason for over 40 years with an impressive career in masonry and the art of tile work. He is currently specializing in historic preservation work – he is doing some pointing work at the Pullman Universalist Church and will be working on their steps and other work, as well. He created the beautiful new sign for the Mount Albion Cemetery and is working on the main entry arch. He has also worked on an historic church in Holley and mansions in Rochester and on Long Island. Neal is very supportive of Kim's work and they even collaborated on an amazing new mosaic column in front of their home and gallery on North Main Street.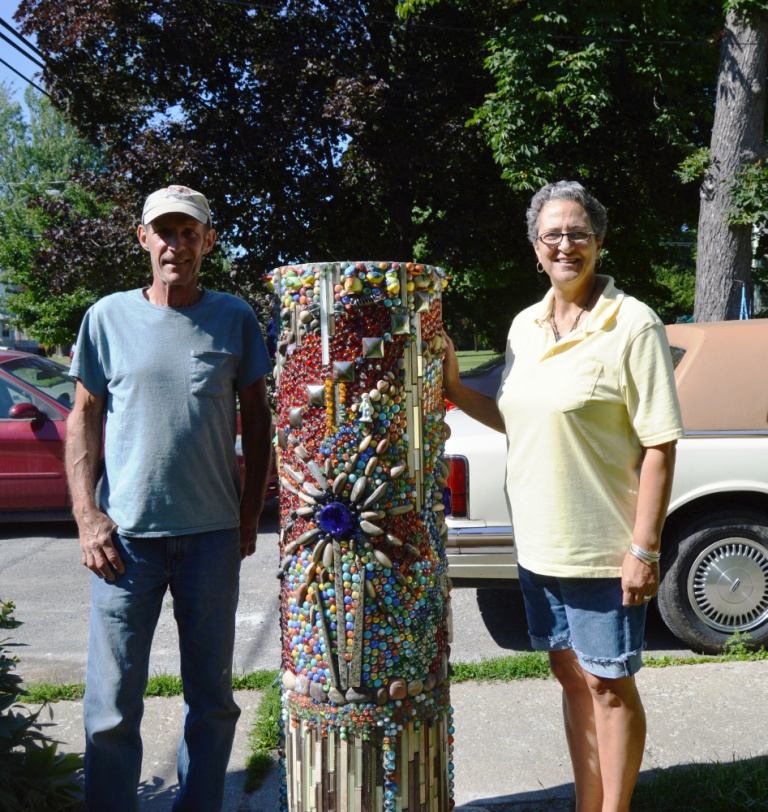 Kim and Neal stand by the mosaic column they created together in front of their home and art gallery on North Main Street. This was taken prior to it being finished. See below for a photo of the finished product.
INTERVIEW:
1) When and how did you get into art and writing? What inspires you?
Kim told me that even as a little kid, she felt like an artist. She'd sit and look out the window at the trees and saw their beauty and thought they gave her strength. She felt a kinship with nature's artistry. "As a youth, I wrote poetry, mostly my observations of nature or people. I had a whole folder, it was stolen."
"Bill Lattin is the reason I'm an artist. He was my art teacher in high school and told me 'Who cares what others say? If you feel like an artist in your heart, do it!'." So, she did! However, Kim says "the biggest push was all the turmoil in my life and negative influences that made me want to do something positive". Her art became the healthy outlet for all that turmoil and negativity – once she started letting it out in a positive way, it just flowed and the result was her art.
"I am an artist. My grandmother and mother were artists. My sister, 14 years older than me, is an artist. These three amazing women were instrumental in inspiring me to become an artist, too. When I was about three years old, my grandmother – with incredible patience – started teaching me cutting and gluing skills. We made Easter eggs and Christmas decorations every year. Birthday and Christmas cards were always hand made. In college, I specialized in sculpture, but it was one of my design classes that gave me the boost I needed to start cutting and pasting once again. I have come full circle, back to what my grandma taught me so long ago."
"I have always been someone who keeps a journal. When I was young, it was a great way to keep track of myself. Even now, at 58 years old, I write when I need to work things out; I write as a necessity. While my children were growing up, I wrote down all the great, and not so great, things that were going on in our lives. It was a great catharsis."
Now, Kim finds the other artists she works with as inspirations. She loves water color as a medium and finds painting to be a source of relaxation and peace.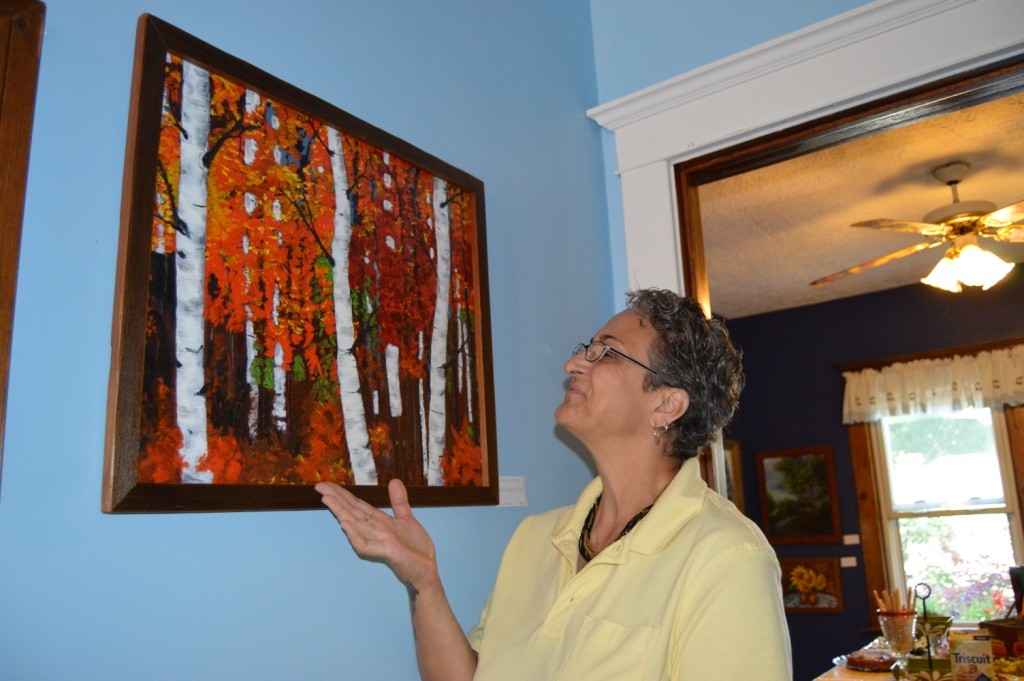 This is Kim showing one of her paintings – her favorite – titled, "The Birch and Sugar Maples".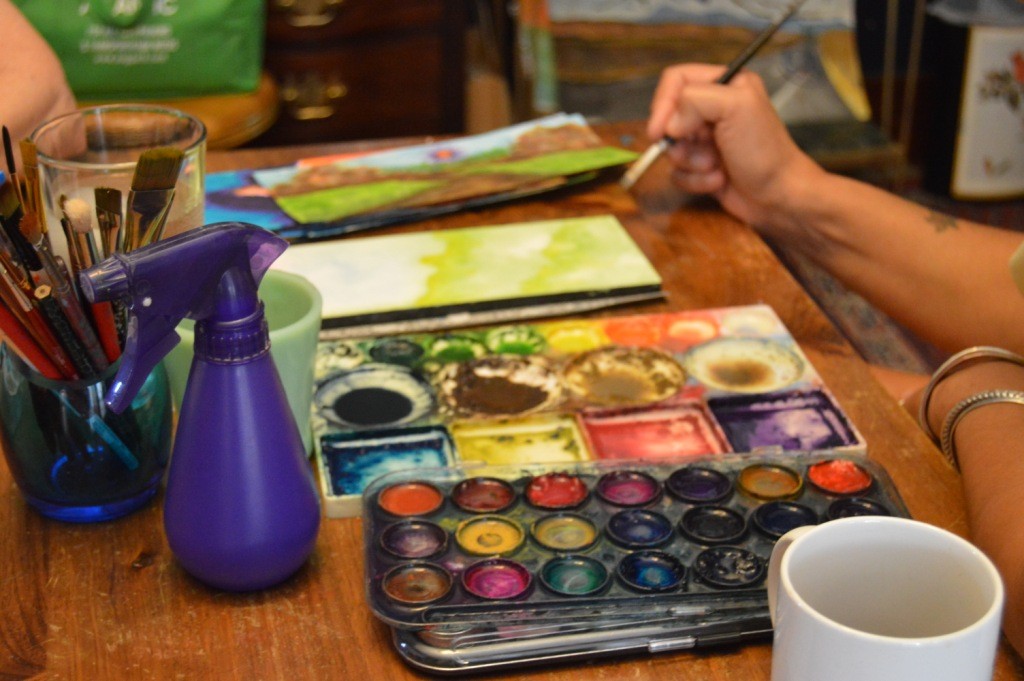 Kim working on a water color painting at her dining room table with a stack of finished work beside her.
2. Tell us about your gallery – Marti's on Main.
"Marti's on Main opened in May 2009 and began as a place for local Orleans County artists to showcase their work and to raise public awareness of fine art. Seven years later, it has helped cultivate a strong group of 25 talented local artists. The group schedules parties on the first Friday of every month, April through December, featuring as few as two and as many as 17 artist's work. I consider my fellow artists and these shows a source of great inspiration for me."
Kim told me that she started attending meetings of AMSA (Albion Main Street Alliance) some years ago. A consultant spoke to the group and essentially said that art is critical to the cultural growth of a town. Kim knew that she could make a difference in that respect, so she took the money she received from the sale of a large collection of her work and opened the gallery.
The gallery not only showcases art, it also showcases local musicians and writers. During her regular First Friday events and in other special events throughout the "season" – April through December – Kim features local artists work and includes musicians and poetry readings. She said, "the arts together – art, music, poetry – are spectacular!".
According to Kim, the best part of the gallery is that it inspires people! "We've had people come that have never done artwork and something here inspired them and now they are prolific artists. We've had artists who never showed their work outside of friends and family and after showing here, they regularly show their work in other places. It has created a strong, supportive artist community – before, artists didn't know each other, now they do and they feed off each other's creativity and ideas."
The gallery is open the first Friday of every month – April through December – from 5:30-9:00. It is also open for special showings and events – stop by and pick up a season brochure. The gallery is also open whenever someone wants to take a tour – just call to be sure Kim is home and she's more than happy to welcome you in, give you a tour, and talk about the incredible local artists that can be found throughout Orleans County!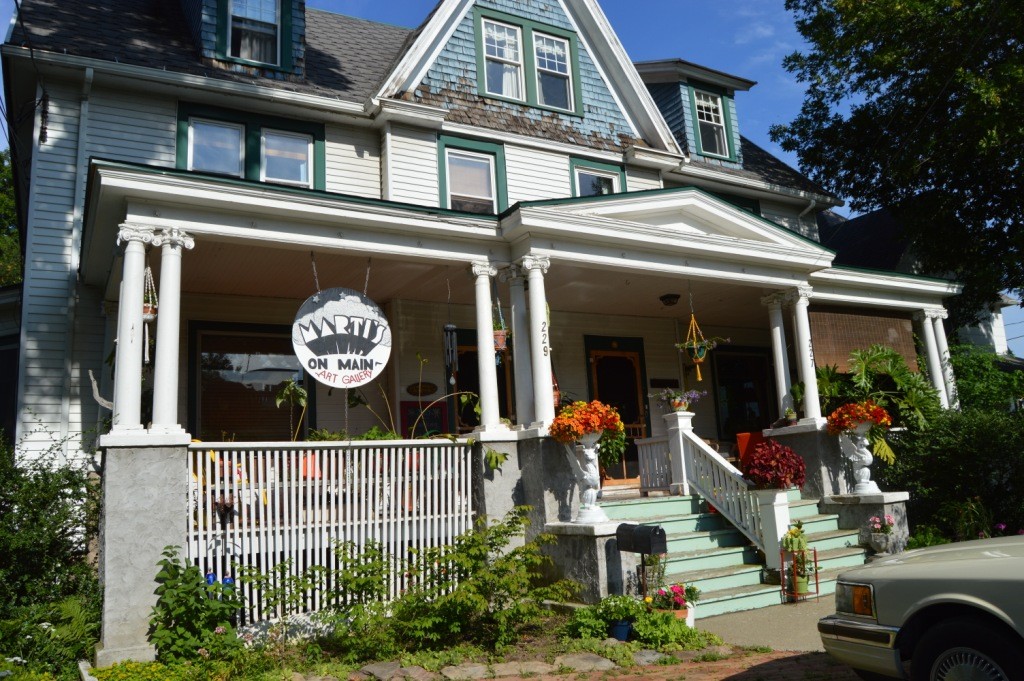 Marti's on Main Fine Art Gallery – 229 North Main Street, Albion NY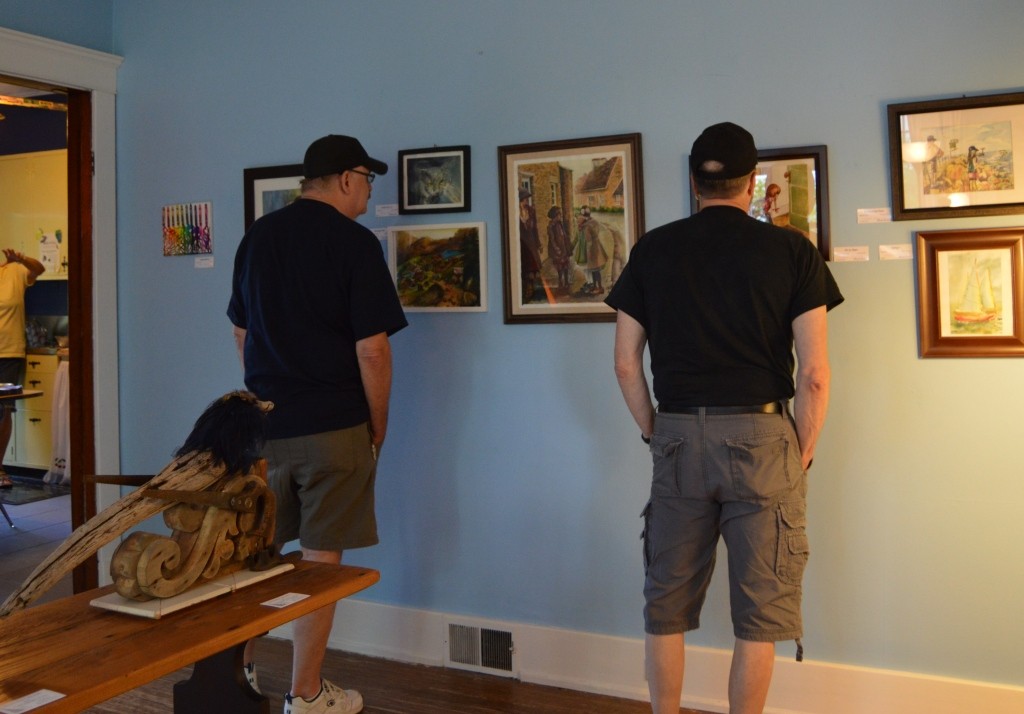 Guests admiring the work of Laura Genagon Kemler – one of the featured artists during the July First Friday event. Standing on the right is Bill Lattin – Kim's HS art teacher and mentor. Bill is also an AHS Alum from the class of 1963 and former AHS teacher.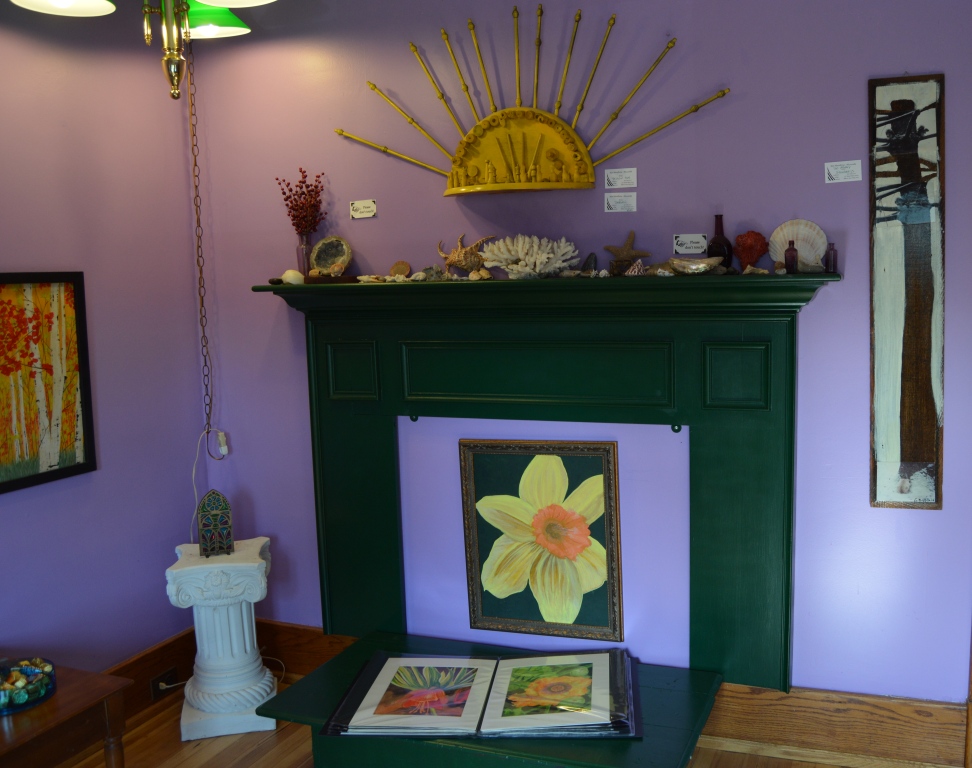 Art can be found throughout the house and gallery – downstairs is mainly the monthly featured artists and location of events and upstairs is dedicated to Kim's work – as seen in this room – and other local artists who display their art on a regular basis.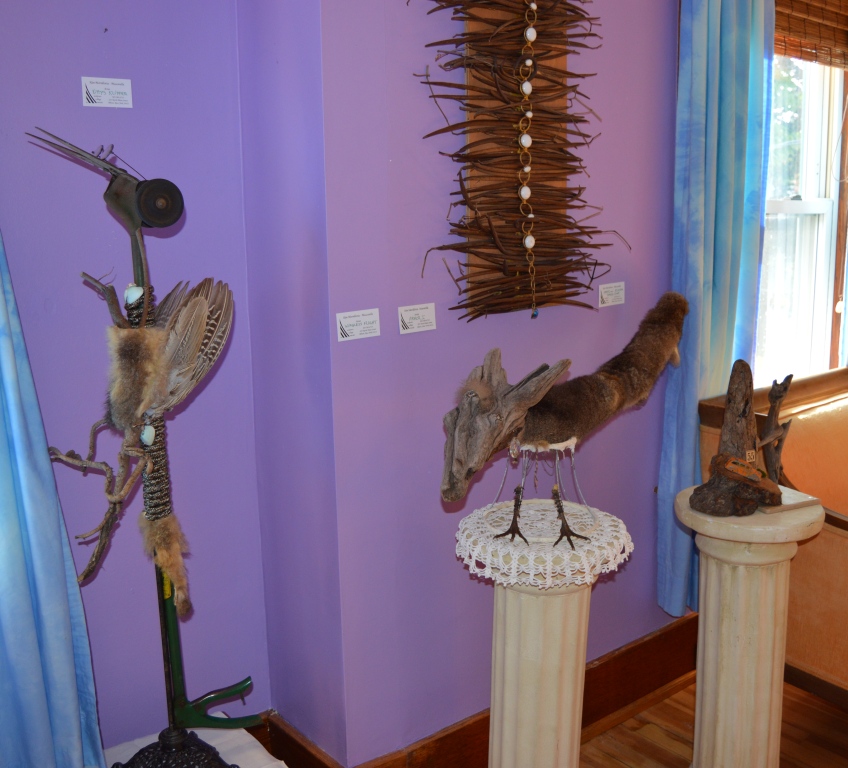 Some of Kim's sculptures on display upstairs. Kim often takes items that remind her of friends or family and incorporate them into her art as a way to honor their memory. The piece on the right is created from the fur lining from her aunt's raincoat and the piece on the left is created from the garden shears that her grandmother used to use.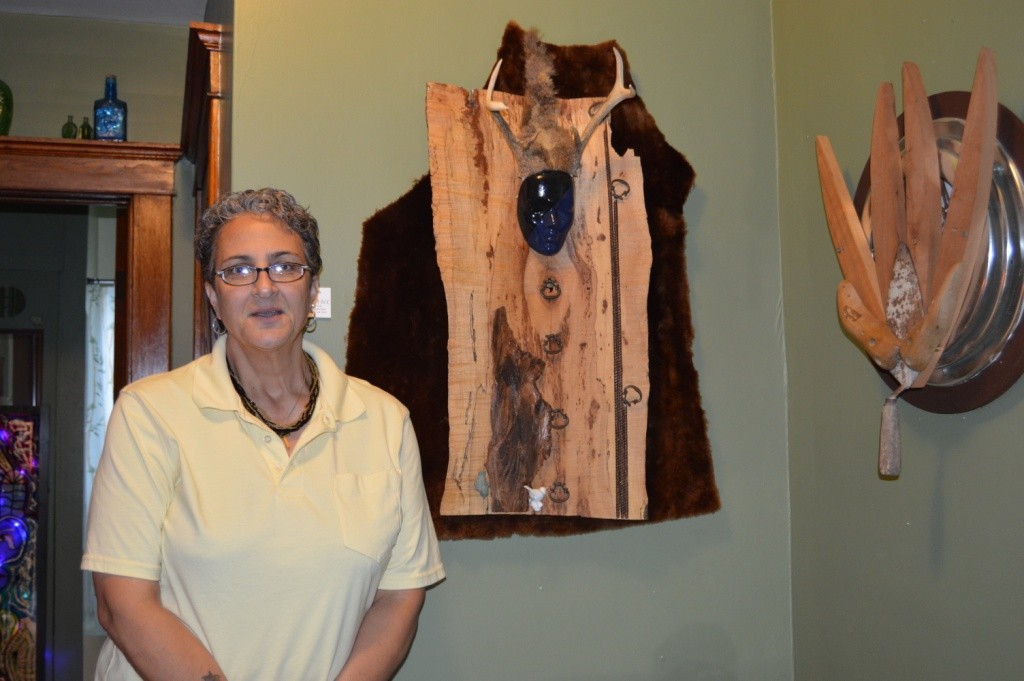 Kim at the top to the stairs by two of her pieces on display.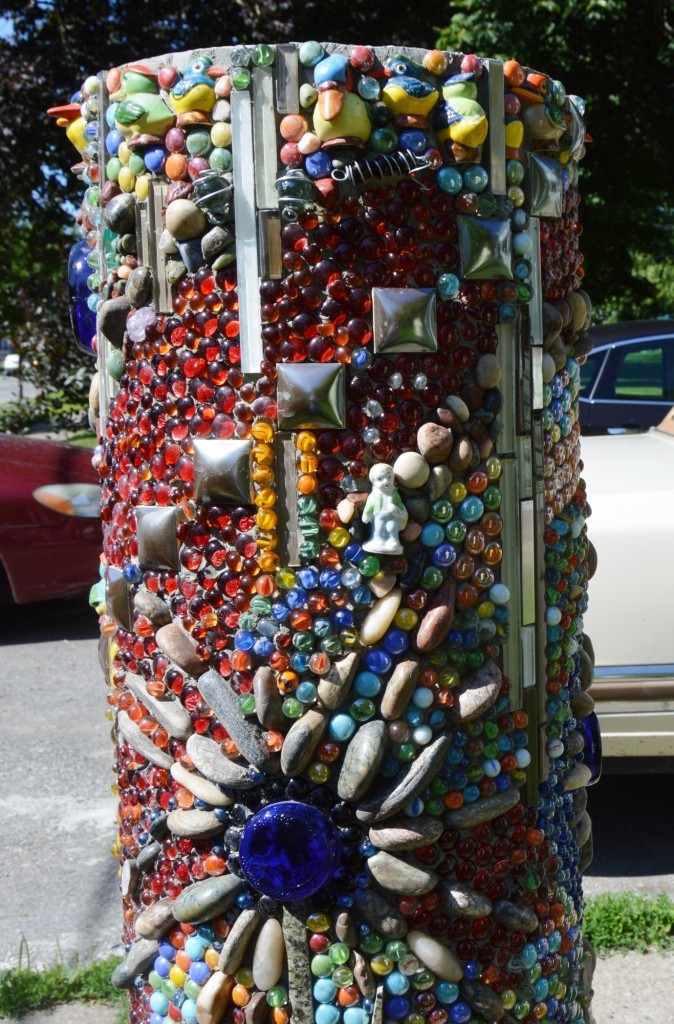 A close up of the detail in the mosaic column Kim created with her husband, Neal, which is still a work-in-progress and not quite finished.
And, here is the finished product: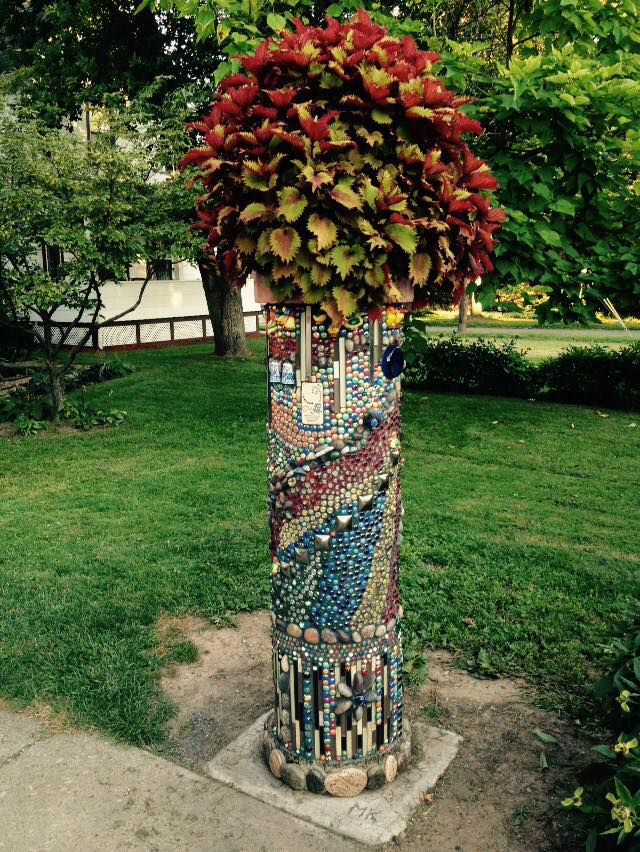 3. You have written a children's book – tell us about it.
"It is written from my granddaughter's point of view when she was just four years old. She would look out my kitchen window so curious and inquisitive about everything. One day she asked me 'How many flowers are in your garden?' and wanted to know all their names. There were many! This small question spurred me on to write "My Grandma's Kitchen Window" and seven light poems. I just sat at the kitchen window and wrote for a few hours and the book was born. I hope this book will inspire young children. I have always felt very close to nature and I wanted to portray it in a way that children could understand. My grandchildren (7 girls) all just love the book! And I am thrilled!"
Over the course of about 10 years, Kim worked to get the book illustrated and is currently trying to get it published. After talking to several illustrators, she finally decided to work with local artist, Laura Genagon Kemler. She considered self publishing her book, but has decided to try to get a publishing company to pick it up, first.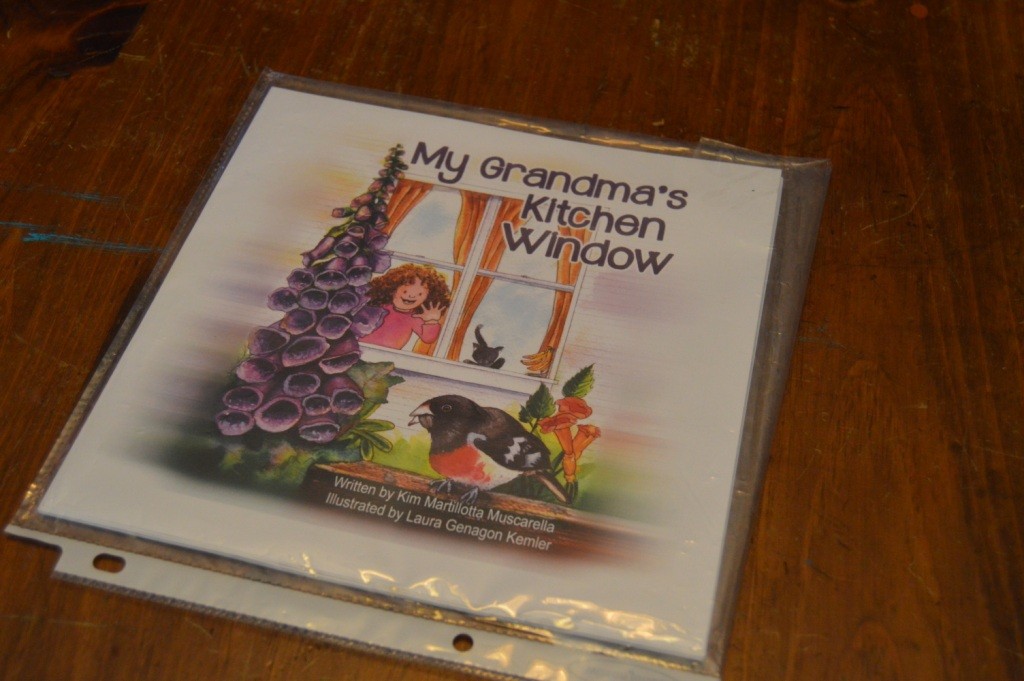 The cover of "My Grandma's Kitchen Window" written by Kim Martillotta-Muscarella and illustrated by Laura Genagon Kemler.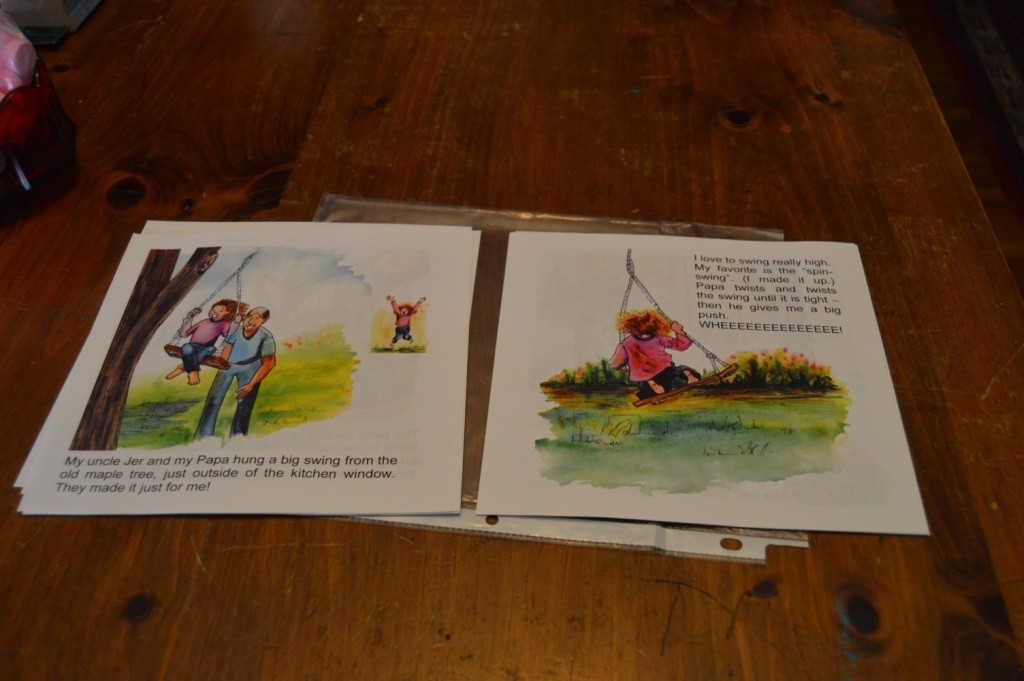 Inside the book.
4. Tell us about the Art Circle Group.
The group has been an evolution and has gone through three different names. It started out seven years ago this past January with Kim Martillotta-Muscarella and Carol Culhane and an idea to form an artist group in Orleans County. They got about 17-18 artists together and called the group Artist Alliance of Orleans County. The group went through some changes and the name changed to Artist of the Oak. After a while, the group became a much more casual group that now call themselves the Art Circle.
Kim really enjoys the group. "Artists come and go from the group. We have about 10 that are tried and true and about 17 that still participate on some level. The group feeds off each other – we support each other, share ideas and critiques, boost each other's egos – all the important things artists need and want from an artist community. It is a really amazing, inspirational experience."
The group gets together every Tuesday at 2:00 to paint, chat, and enjoy each other's company. This past Tuesday, a handful of artists gathered just after this interview to paint and listen to Kim's sister, Nicki Martillotta McFarland, read stories she wrote about growing up in Albion and a few of her poems.
There are other AHS alumni in the Art Circle, including, Stacy Kirby – class of 2003, Suzanne DiLaura Wells – class of 1967 and former AHS art teacher, Terry Francis Vick – class of 1973, and Jeff Benfer – class of 1995.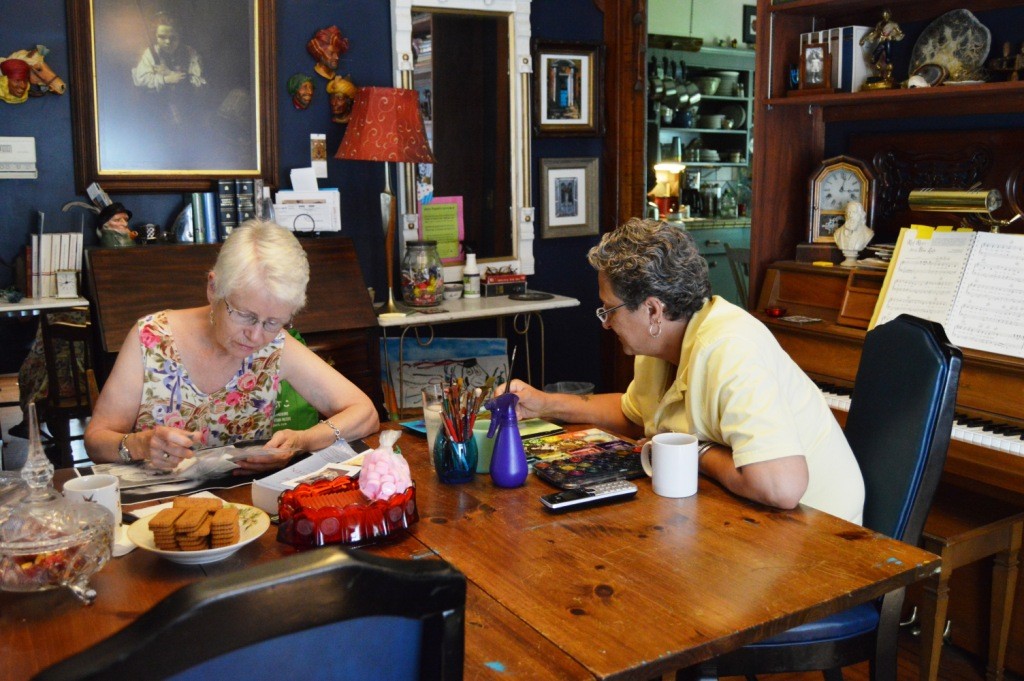 Kim Martillotta-Muscarella and Chris Versteeg working on their art during this past Tuesday's Art Circle gathering.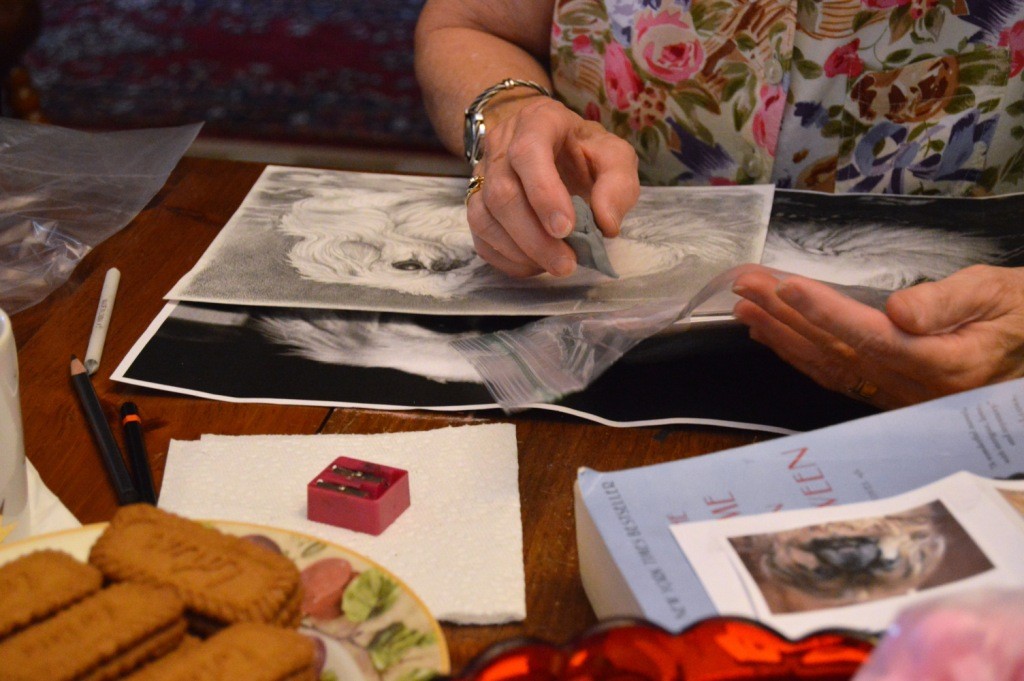 Chris Versteeg working on a pencil sketch in preparation of a painting she was commissioned to do for a client.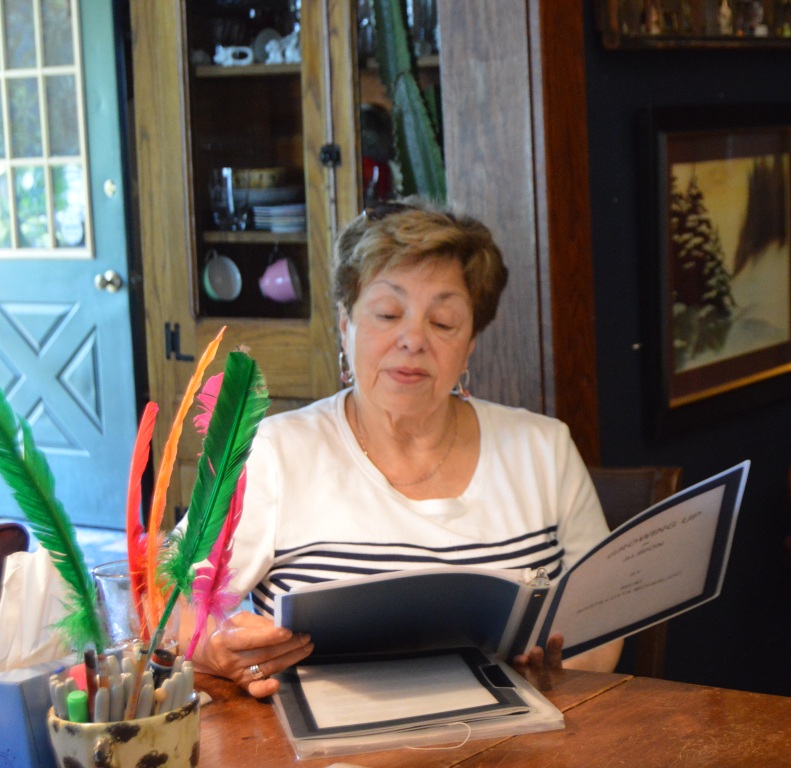 Nicki Martillotta McFarland – Kim's older sister – reading stories she wrote about growing up in Albion. Nicki was a member of the AHS Class of 1960, although she did not graduate with the class.
5. What words of wisdom or advice do you have for current AHS students and recent graduates to help them find their way in the world outside HS and to find their inner creative voice?
"I'd tell them just what Bill Lattin told me many years ago: 'If you feel like you're an artist in your heart, don't worry about what others say – do what's in your heart!' Discover your inspiration and let it out – find a way to do what you love and put it out there. It is OK to have a day job if you make time to do what you love."
For more info and photos of Kim Martillotta-Muscarella's gallery and First Friday event, click here to read a blog post I wrote on my personal blog.