Today, we Take Five with
Jonathan Doherty
AHS Alumni and Community Volunteer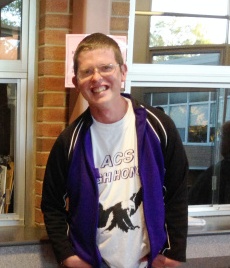 Jonathan Doherty is an Albion High School graduate of the Class of 2003. Jonathan, 31, can be found just about anywhere around town doing a variety of volunteer activities and promoting various organizations and the Village of Albion, as well as posting on Facebook about upcoming events around town. Jonathan comes by his pride in Albion and desire to give back to his community naturally – his parents, Kevin and Linda Doherty are very active in the community and his grandfather, Hamilton Doherty, Sr. was a well-known and highly respected attorney, District Attorney, and Judge in Orleans County. Jonathan is the oldest boy in his family with two younger brothers, two older sisters, and one younger sister – his siblings are Megan, Liz, Spencer, Brendan, and Allison – and he just recently became an uncle for the fourth time – his sister, Megan, has 3 boys and his sister, Liz, just had a baby boy in January. He also comes from a long line of AHS Alumni – his father, brothers, and sisters are all AHS graduates and his school aged nephews all attend Albion schools. The family also has a dog named Abbey and four cats.
Jonathan has worked for the ARC of Orleans for 11 years and, since 2004, he also works in the spring and fall at the Albion Central School grounds. He loves country music and is looking forward to seeing his favorite artist – Garth Brooks – in concert in March for the second time – the first time he saw Garth was in 1998. When asked what he does for fun, Jonathan said that between work, scouting, and all his volunteer activities, he doesn't have a lot of free time, but does really enjoy working with the organizations he volunteers with.
So, now…….let's Take Five with Jonathan:
1.  Tell us about your scouting experience and being an Eagle Scout.
I am a member of Scout Troop # 164. I used to meet with the scouts at the Albion First United Methodist Church, but now I meet with them at the Albion Presbyterian Church. I am now an assistant Scout Master and I give scouts who want to be Eagle Scouts the information for their projects. I am also the "Media Guy" for scouts – I contact the Orleans Hub and the Batavia Daily News when we have news to share. I became an Eagle Scout in 2004. My Eagle Scout project was for Camp Rainbow. I attended Camp Rainbow for 18 seasons with ARC and wanted to give back to them. I noticed while I was there that there weren't a lot of places to sit outside, so for my project, I built them ten wooden benches. I was also involved in 4H when I was younger, too.
2.  What other organizations do you volunteer with and what do you do for them?
I volunteer at scouting events. I also volunteer for the Albion HS Alumni Foundation – I work at events, I am on the Visibility Team, and attend board meetings. I am also on the Eastman At Albion Courthouse Square Concert Series committee that is sponsored by the Alumni Foundation.
I am a member of the Self Advocacy All-Stars with ARC of Orleans. We advocate for people with disabilities. We have fundraisers, like car washes and other events to help raise funds to support our cause. In 2010 we had a big jamboree at the Legion and went to speak to the Orleans County Legislature to ask them to ban the "R-word" (retarded) from all county paperwork. They did and the campaign was so successful that the rest of the state of NY followed their lead.
NOTE: Jonathan was one of the founding members of the SA All-Stars in 2006 and has served as the group's fundraising chairman.
Click here for an article on The Orleans Hub about the group's effort to eliminate the "R-word".
Click here for an article on The Orleans Hub reporting on one of the SA All-Stars fundraisers.
Click here for an article on The Orleans Hub reporting on an event where the SA All-Stars hosted a group of disabled cyclists who stopped in Albion on their canal bicycle trek.
3.  What is it you like most about living in Albion and what did you like most about going to Albion High School?
Albion is a GREAT little town to live in. It is cool. It has the Erie Canal and the courthouse with 8 churches around it. I like the Strawberry Festival in June, too.
I really liked school in general. My favorite teacher was Kathy Winans – she was the Special Ed teacher and our senior class advisor. I especially liked a fundraiser we did for Special Olympics and being in SAG. And, my favorite school lunch was turkey chunks and gravy and stuffing – I really liked that a lot!
4.  What are you most proud of?
I am proud to still be in scouts, to be an Eagle Scout, to be on the Alumni Foundation committees, and to be an SA All-Star all so that my voice will be heard.
5. What advice do you have for our current students and recent graduates?
I think they should join the Alumni Foundations and sub-committees and help out in the community. You went to school in Albion, you should be heard, get a new look on your future, and give back to the community.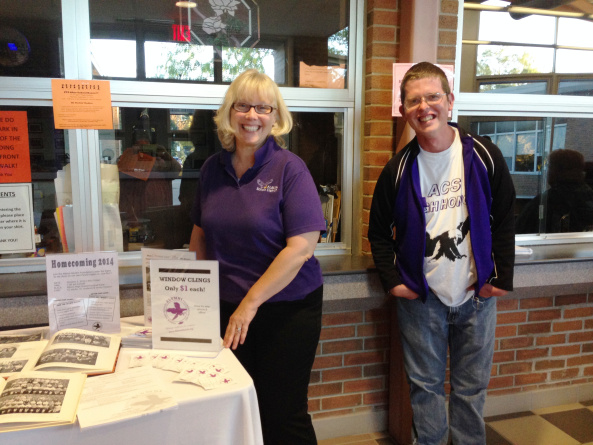 Jonathan working at the Alumni Foundation booth with Laura Marek at the ACS 2014 Ghost Walk
Jonathan working at the Alumni Foundation booth with Marissa Olles at the 2014 AHS Class Night