Today, we Take Five with
Adam Krenning
AHS Alumni and AHS Teacher, Advisor, and Coach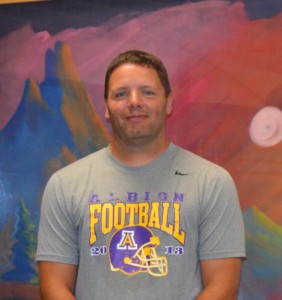 I sat down with Adam Krenning to talk about the AHS Agriculture and FAA Programs. It was a very interesting conversation and it didn't take long to figure out that the programs will never have a more dedicated and enthusiastic advocate than they have in Adam Krenning. Albion has the oldest active FFA program in New York State and under Adam's administration, it has grown into a productive, active, and award winning program that the students can be proud to be a part of and Albion can be proud to support.
Read on to see what I learned while sitting in the Ag classroom at the Albion High School this afternoon.
BIO:
Adam graduated from Albion HS with the Class of 1993. He went on to college to study agriculture at Ohio State and later finished up his formal education at Buffalo State and Empire State for Ag Education to earn his teaching credentials. After college, Adam returned home to the family hog and peach farm in Knowlesville, where he worked for the next seven years. After the farm went through a brutal year, financially, Adam switched careers and started his current teaching position. This will mark Adam's sixteenth year at Albion High School, where he is the Agriculture Teacher, FFA Advisor, Assistant Varsity Football Coach, and Technical Club Advisor.
Adam and his wife, Betsy, currently live in Albion just about 100 yards from his childhood home and family farm. They have three children together – Seth (8), Olivia (10), and Kyle (17). And his big news is that his step-daughter, Kristen, is about to make him a Grandpa in October!!! While spare time is a premium for ultra-busy Adam, he does make time to go camping with his family. They recently purchased a camper and have been enjoying it immensely.
THE INTERVIEW:
1. What are your best memories from your time as a student at AHS?
I have to say it was my Senior Year! All of it! Playing football – I played tight end and defensive end – and being with all my friends.
2. Who or what influenced you or mentored you in your decision to become a teacher?
As far as teachers go, I'd say that Dick Contant influenced me in the business courses I took. Dick Diminico, of course, through football. And, Sue DiPalma helped me a lot during school and beyond.
But, what really motivated me to become a teacher? I love farming, but we went through a really bad patch on our family farm and I wanted to help kids see that farming isn't that bad. Farming can be fun and a great way to bring up a family. I was lucky that Ron Sodoma took a chance and hired me to teach Agriculture and advise the FFA group. So, here I am sixteen years later helping our students understand that Ag Ed and FFA isn't just milking cows and harvesting crops – it is so much more and has so much to offer if they just open their minds to the possibilities. And, I love it! I often joke that if I won the Lotto, I wouldn't quit my job! I love what I do – I get up every day and ask "what's next"?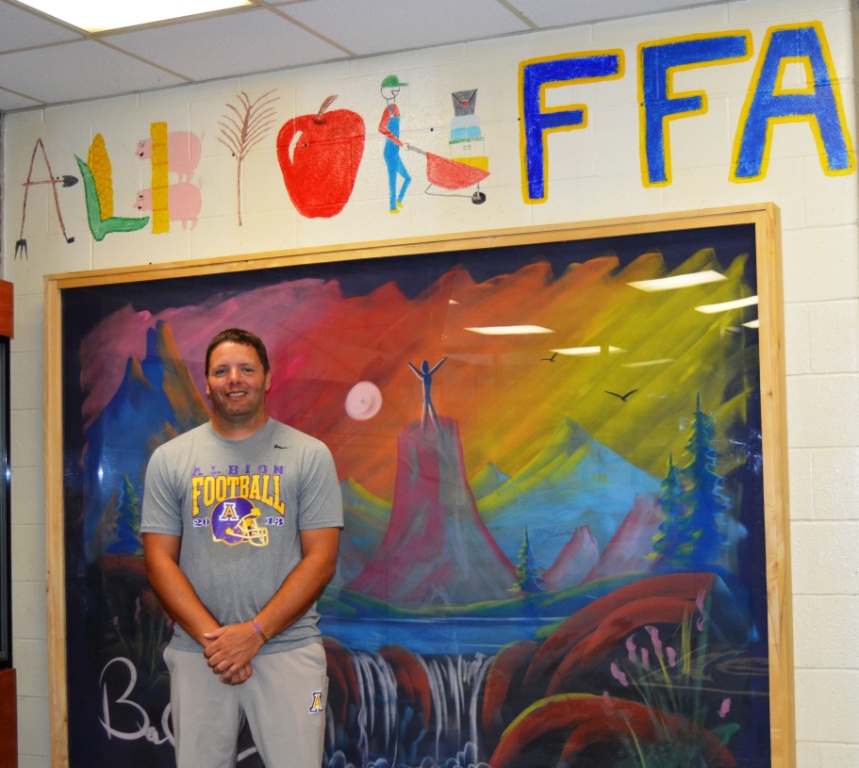 3. Let's talk about the Ag / FFA program at AHS.
The biggest credit for the program's success and growth goes to my students – all of them! They are enthusiastic and work hard to get all they can out of it – there wouldn't be an Ag Ed program without them and it is great because of them. I also owe a lot of thanks and appreciation to our great local farmers and agriculture businesses – they want to see the program succeed and are always there to help in one way or another. Most of the time, I don't even have to ask for what we may need – they contact me and say "what do you need?" and, for example, if I say I'd like 1000 pounds of onions for the annual food drive, they come in with 1500 pounds and more. And, if they can't give in that way, they give their time, which is just as valuable to us.
When I started here in 2000, we had about 7 kids in Agriculture Education and less than 30 in FFA. Today, we have 120+ in Ag Ed and over 80 in FFA. We've had several from our program go on to serve in NYS FFA leadership positions, including this year's NYS FFA President, Sara Millspaugh, among others. Sara represents a growing trend of females joining the program – currently, the percentage of female students in the program is higher than male students. Women weren't allowed in FFA until 1969 and it took a while for their participation to catch on, but this year NYS FFA has their first ever all female officer team at the state level, that's an impressive message about females in FFA.  (Blogger's Note: Click here to check out this Throwback Thursday post from last year highlighting the FFA, including an article from the 1929-30 Chevron announcing the beginning of "The Farmerettes' Club" that "promotes scientific housekeeping, experience in cooperation, and to improve social rural life", showing a very different view of a woman's role in farming than we have, today.)
Are Ag Ed and FFA two separate programs?
No! This is one of the hardest things to get people to understand! Ag Ed/FFA is intra-curricular – they go hand in hand – together they complete the whole experience and education.
Agriculture Education and FFA is not just traditional farming, anymore. We teach Vet Science, Ag Science, Leadership, Mechanical Science, and even Landscaping. We build leadership qualities that can be used in many different careers. We prepare our students for college and life and we have fun doing it. Our students learn hands-on experiences through our land lab and another 60 acres that the Panek Family Farm rents from us, as well as other activities and competitions throughout the year. And, it is a year round program – we don't leave at the end of the school year and don't come back until the new school year starts in the fall – many of our activities and studies occur in the summer months. We also teach our students to give back as much as possible – to not just think of giving back financially, but mostly to give of their time. Our annual food drive is a good example – last year, alone, we took in 27,000 pounds of food that was distributed to local food pantries (click here to read more about the 2014 food drive).
A lot of kids are skeptical about what they can get out of the program – I was one of them! In school, other than an Ag Science course I took to get my science credit, I never stepped foot in the Ag class rooms and didn't join FFA, even though my family had a farm and my plans were to work on that farm after school. But, I tell those kids to just try it – if they don't find something they like and can relate to, then leave, but if they find at least one thing to like about it, they should stay and discover more. And, most do! Take Sara Millspaugh, for example. Three/four years ago, I wouldn't have seen her in a state leadership position, but something clicked with her and she got more and more active and involved and here she is – one of many success stories from our program! (Blogger's Note: Sara is the winner of the 2015 John Panek Memorial Scholarship, 2015-16 NYS FFA President, and headed to Cornell University for Agriculture Business and Marketing in the fall.) And, there are so many others who came out of curiosity and found their niche and blossomed in our program.
I'm proud to say that the Ag Ed / FFA program won "Program of the Year" for New York State in 2014. It was a hard application to write up because there was so much to tell about the program, what we do, and what we've accomplished. They recognized our work by awarding us with this honor.
4. What is the Land Lab and how did it begin?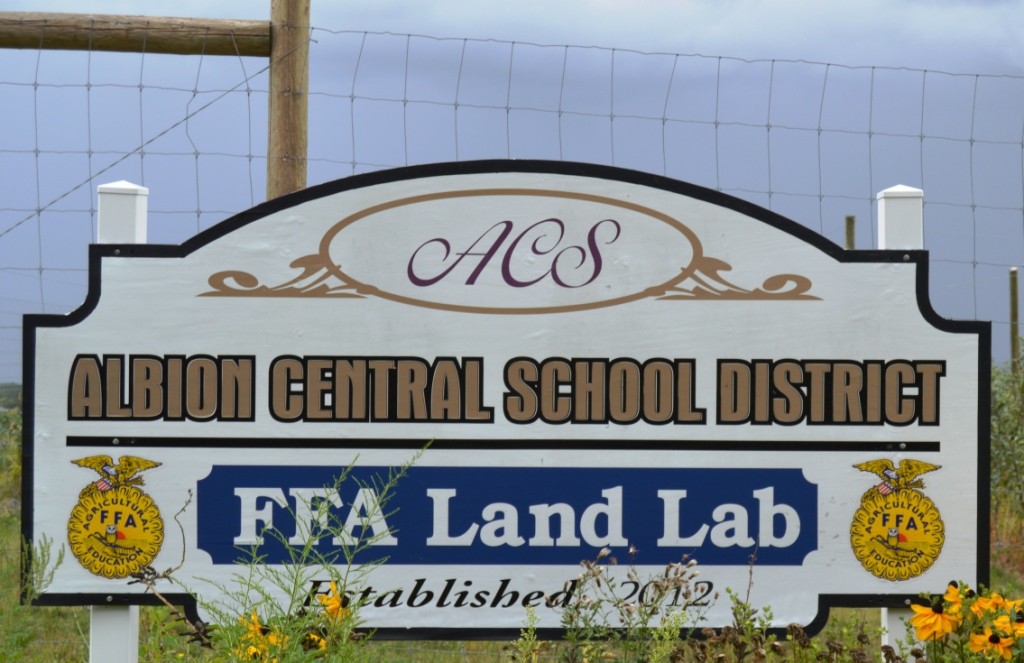 The FFA Land Lab is a five acre parcel of land that the Albion Central School District owns and set aside for FFA use. The land was originally used to plant corn. Then, last year, we added apple trees to a portion of the land. Nesbitt Fruit Farms donated 560 apple trees and Kast Farms donated the posts and helped install them to ensure the trees grow straight. Students, with the help of some of our local farmers, planted the trees. Kast Farms also donated a Kubota RTV so the students can easily get to, from and around this and our other parcel of farm land to do their studies. The students not only plant and harvest various crops on the Land Lab, they also study the crops and perform tests to learn the science behind farming.
Another 60+ acres, also owned by ACS, adjacent to the Land Lab is rented by the Panek Family Farm. They rent the land and provide the seeds/plants, equipment, and manpower, in addition to the work of the FFA students, to farm the land. They, then, donate the proceeds after their expenses back to the Albion FFA and Ag Ed program.
The Land Lab and the land that the Panek Family rents from us have made the program what it is today – the generosity of so many of our local farmers in making all this possible is overwhelming – we couldn't do it without their support.
Go to the Orleans Hub and search "FFA Land Lab" and "Albion FFA" for more details and photos of various accomplishments, events, and activities associated with the Albion FFA program.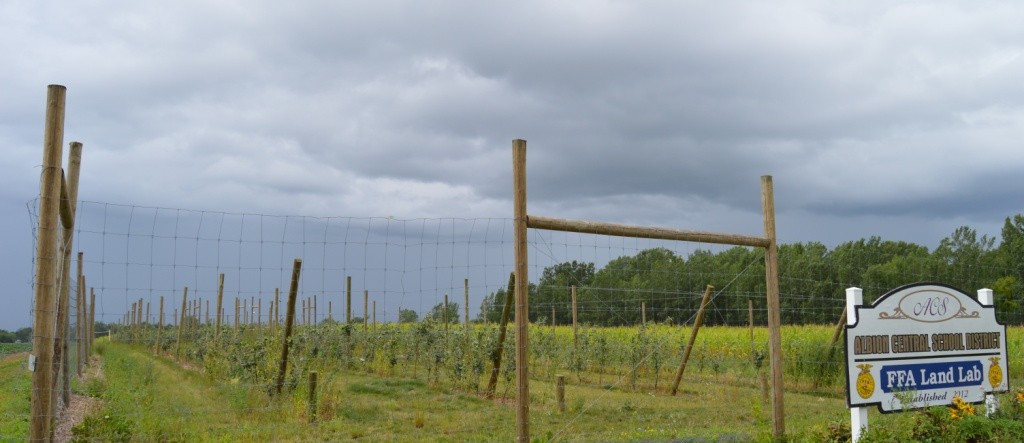 Apple trees on about 1/2 acre of the 5 acre FFA Land Lab. Corn is planted on the other side of the section of trees.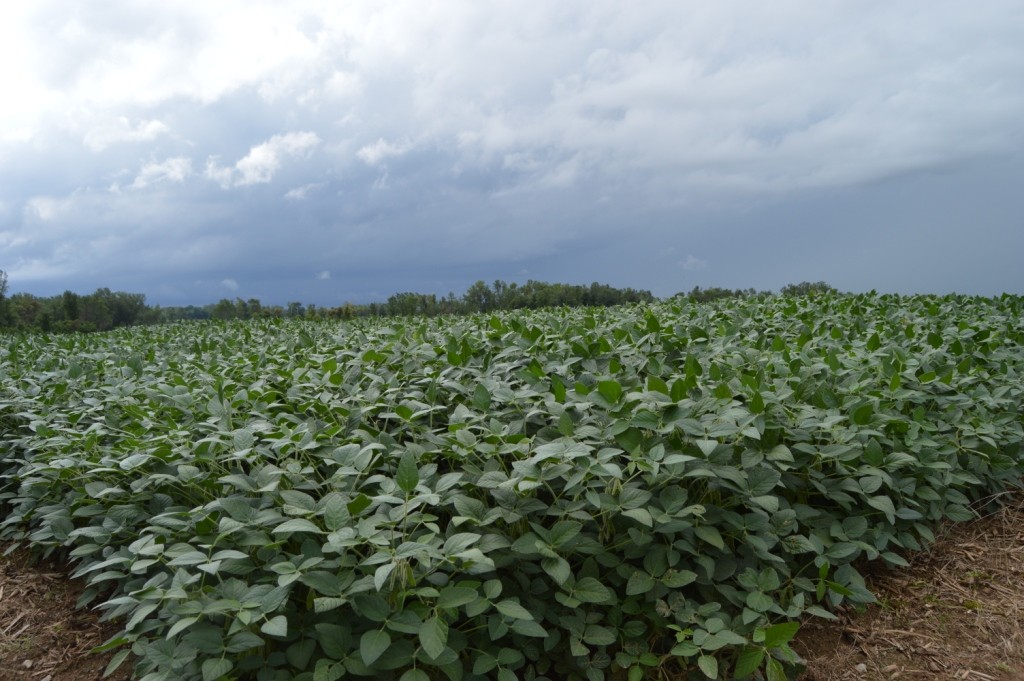 Soy beans planted on the 60+ acres currently rented by the Panek Family Farm adjacent to the FFA Land Lab.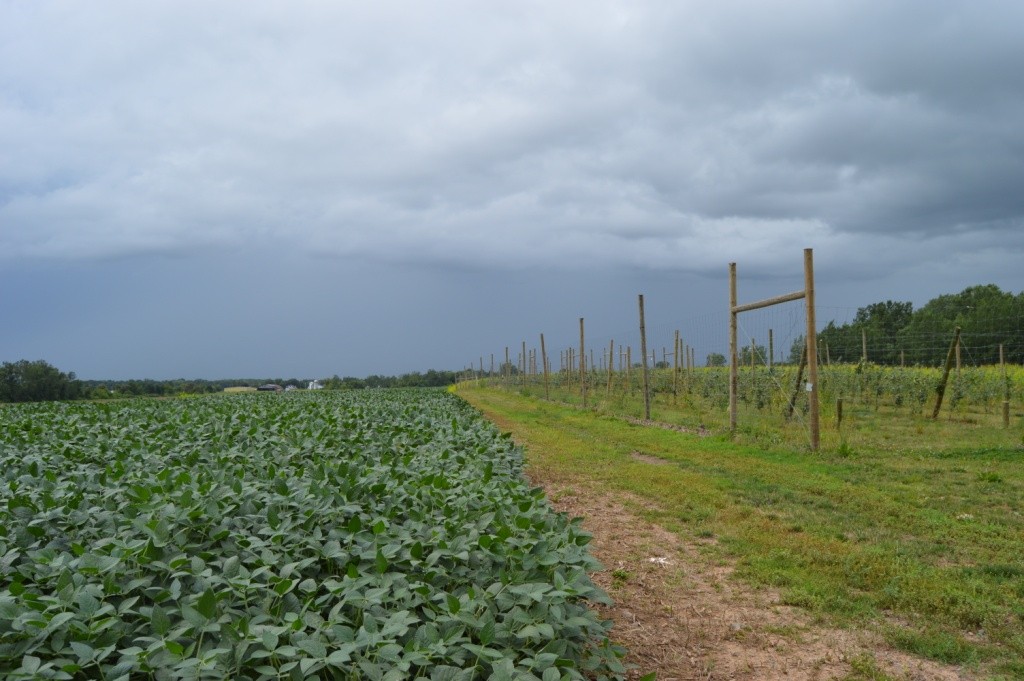 View of the two parcels of ACS land on Clarendon Road behind the schools that is dedicated to FFA use.
5. What advice or words of wisdom do you have for our students and recent graduates?
Live life to the fullest – 100%! Take advantage of everything that comes in front of you. Do what you like! Do what you love! And, love what you do! If you're not happy, change! Also, give back as much as possible – if not money, then time, but give back!