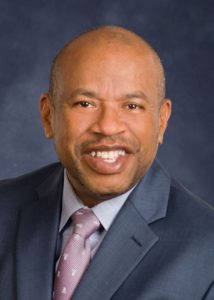 Today we "Take 5" with Tony Wynn, AHS Alumni Foundation Board Member
When two director seats recently became open on the Albion Alumni Foundation Board, the search was on for alumni that were tied to our community and committed to the Foundation's vision of making a difference for a lifetime for Albion students. The board is pleased to welcome Tony Wynn (Class of 1981) as one of our newest board members. Tony's outgoing personality, skill set and relationship building skills make him a great fit for our Foundation. When asked why he wanted to be a board member he stated, "I am all about the kids. I want to help in any way I can."
Tony is a successful businessman with a 35 year career in the office supply industry, currently working for Indoff Business Products. He is also a busy associate real estate broker at Snell Realty using his skills to help people find the homes of their dreams. Tony has extensive foundation experience; he served for 17 years as a board member on the Orleans Community Health Foundation. His knowledge and experience will benefit the alumni foundation as we continue to grow.

To get to know Tony a little better, we asked him 5 questions. Below are his answers.
1. Thank you for joining the board of directors. What do you hope your roll will be in the Foundation?
I would like to contribute and be an ambassador for the Alumni Foundation; to continuously learn and build partnerships within the organization and the community.
2. What sparked your interest in being a part of this board, and what do you like most about what the Foundation does and your involvement in it?
I personally had teachers and mentors to help push me to be the person that I am today and to want to give back to my school and community. This Foundation gives the seed money needed to develop these young minds to be future leaders in Albion and abroad.
3. Tell us about your experience at Albion High School and how your experiences influenced you either in school or in your life after school.
Driving by the school or going to an event there takes you back to a simple innocence. From the laughter in the hallways, the teachers prepping the students for a final exam or to a Friday afternoon football pep rally in the gymnasium, these moments stay with you for a lifetime. It's my opinion Albion High School represented life-long friendships, pride and excellence!
4. What motivated you to go into the career you chose?
At a very young age I had the inherent ability to develop relationships. From this I instinctively was able to build rapport with people and businesses to catapult my sales career.
5. What advice/words of wisdom do you have for our current students and recent graduates?
Whether you decided to stay or move away from Albion, Albion High School made you a better person. After walking across that stage and receiving you diploma, please remember that someone from this school system helped get you there. "Go and make the world a better place to live and do it with class and integrity.