The seventh annual Mt. Albion Ghost Walk took place the evening of Saturday, October 3rd. The Ghost Walk is a Service Learning project of the Albion High School Drama and Music Departments. A total of 55 students work to put the program together by researching a variety of residents of Mt. Albion Cemetery, writing their own scripts, and performing roles as ghosts, tour guides, singers, and tech crew. This year, approximately 425 people participated in the tour that featured 13 ghosts, including war heroes, prominent citizens, two nationally publicized murders, and even Santa Claus.
Congratulations to all the students involved in this year's walk – they did an amazing job and deserve high praise! Here are photos of the actors and the musical performers……..many others served as speaking tour guides and technical crew members. Enjoy these and other photos of the 2015 Mt. Albion Ghost Walk…..and, if you weren't there and haven't attended one of these events in the past, make plans to attend next year! Note: Details on the ghosts included below was provided in the handouts each attendee received at the Ghost Walk.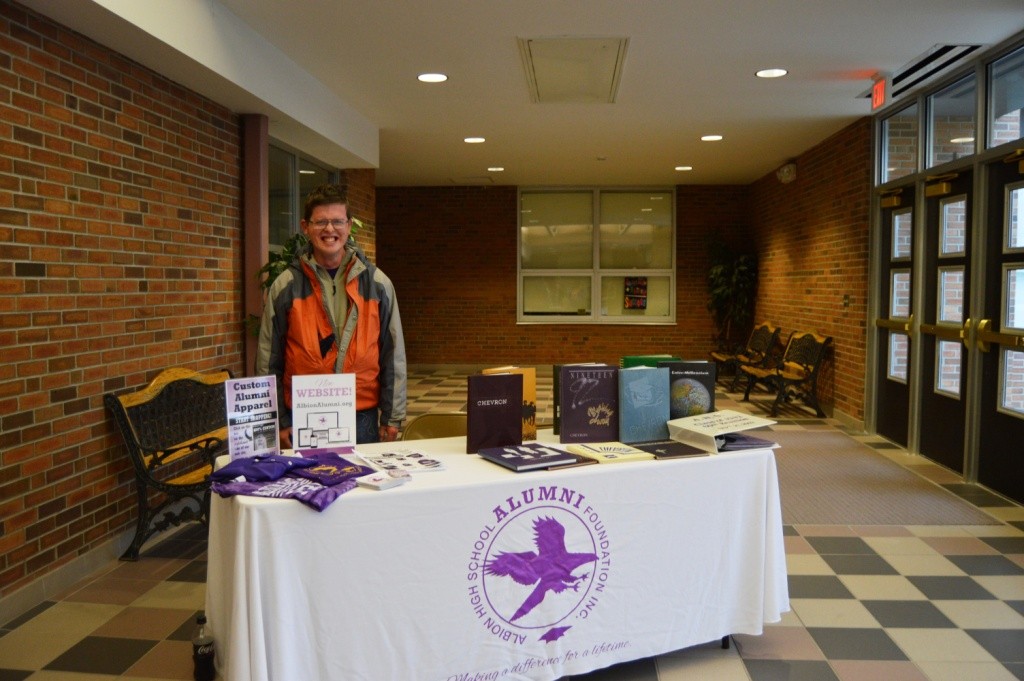 The AHS Alumni Foundation was there with old Chevrons and examples of our customizable alumni apparel.
Pictured is Jonathan Doherty, Class of 2003
Tours left by bus from the Elementary School every 15 minutes – pictured is the 6:00 group boarding their buses.
Tours lasted approx 45 minutes.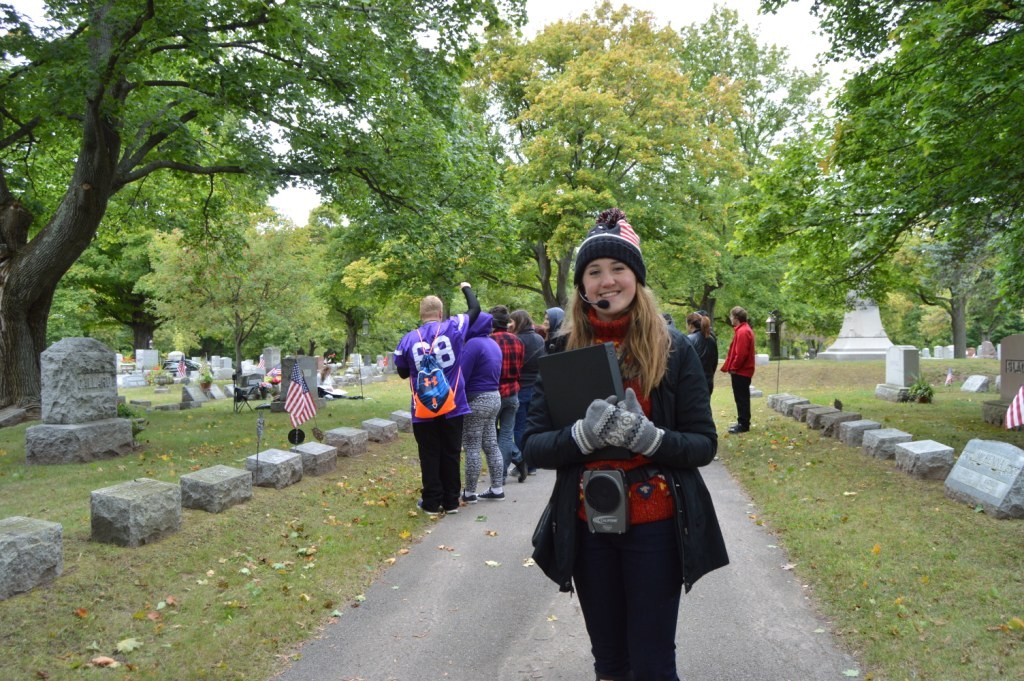 Alyce Miller served as one of the Speaking Tour Guides. She is pictured here at rehearsal earlier in the day.
When asked about her experience, she had this to say: "I am very interested in all the people and what they've done for the community – all the great inventions, suggestions, and impact they have made."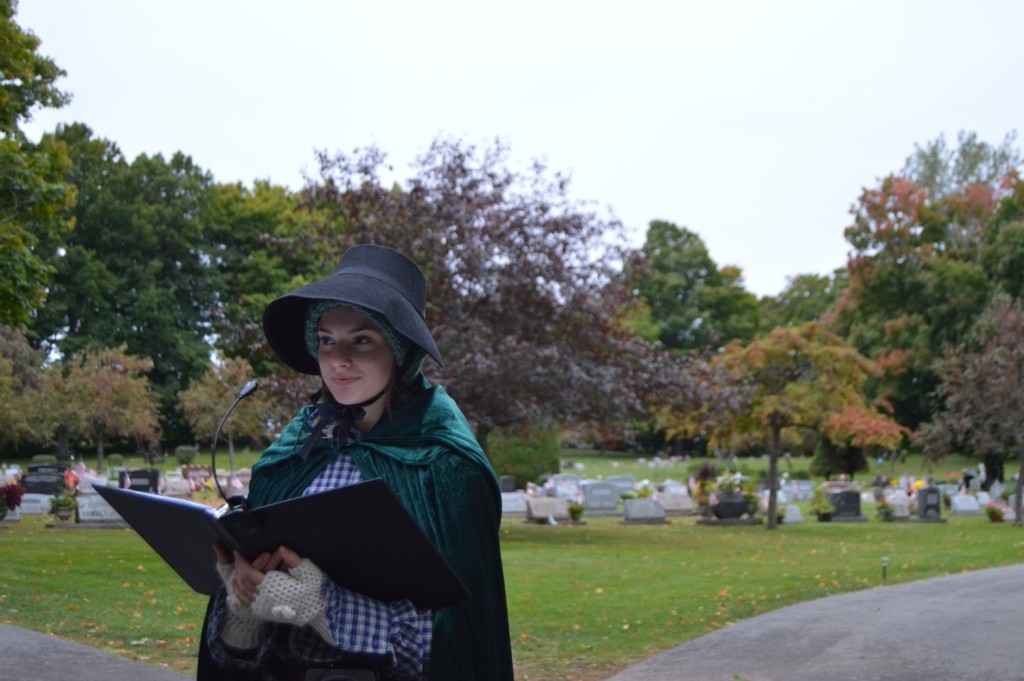 I did the 6:16 tour – this was our Speaking Tour Guide, Meredith Patterson. Meredith told us the history of the cemetery and other bits of historical references along the way.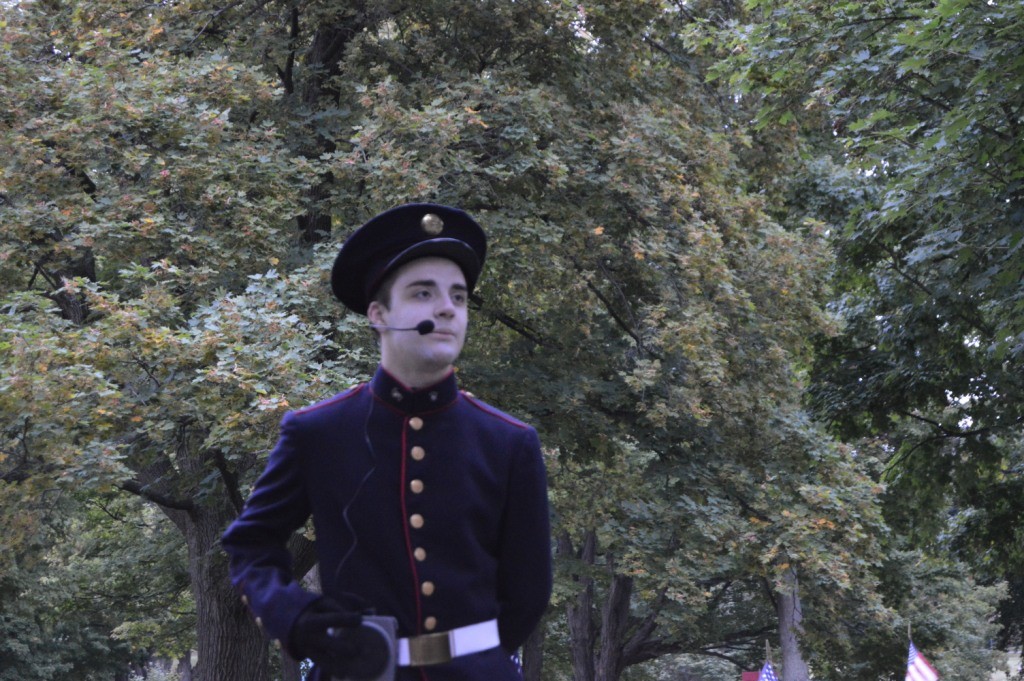 The first ghost we encountered was James Sheret – portrayed by Elijah Van Epps.
James Sheret (WWI) 1892-1918 – James was honored for heroism in several single handed attacks against the enemy. He and his brother, Egbert, were both killed in action on September 29, 1918 in Rossnoy, France. Their unit broke through the Hindenburg Line. Their other brother, Andrew, was severely wounded. Albion's American Legion Sheret Post # 35 is named in his honor.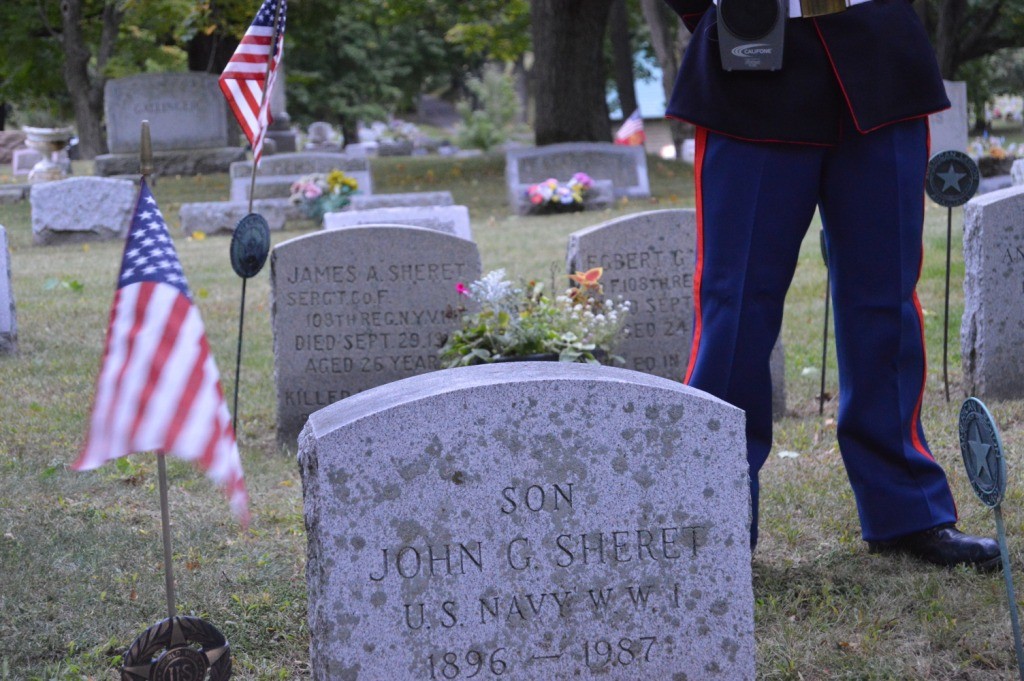 James Sheret's head stone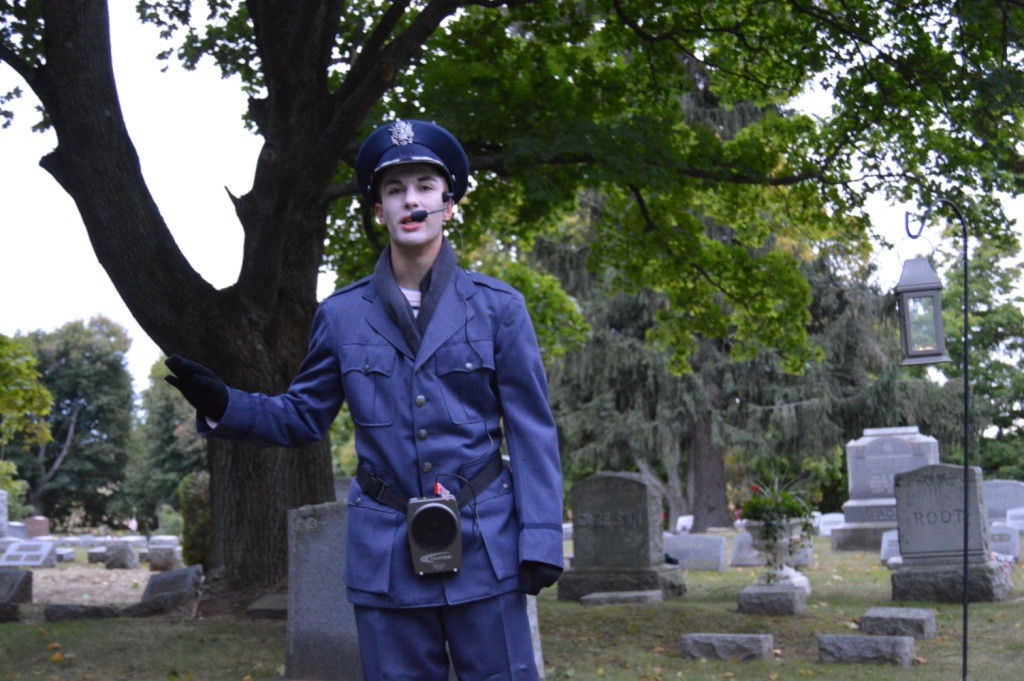 Our next ghostly appearance was Eugene Barnum. Eugene was portrayed by his great-nephew, Kyle Thaine!
Kyle was very enthusiastic about getting to showcase his great-uncle, "It was an honor playing my Great Uncle Gene. I didn't know him, but I've heard many stories about him from the time I was a little kid from my grandmother. I love history and I love my family and it was so cool to put them both together in one place."
Eugene Barnum (WWII) 1917-1944 – Cpt. Eugene E. Barnum Jr. was killed in action. He was responsible (confirmed) for shooting down two German planes during the war. On December 2nd, the squadron was sweeping the airspace ahead of bombers heading towards Cologne and Frankfurt on a "Ramrod Mission" (short range attack on ground targets). Eugene's plane went down due to a mid-air collision. His brother, William, was also killed in action July 14, 1944.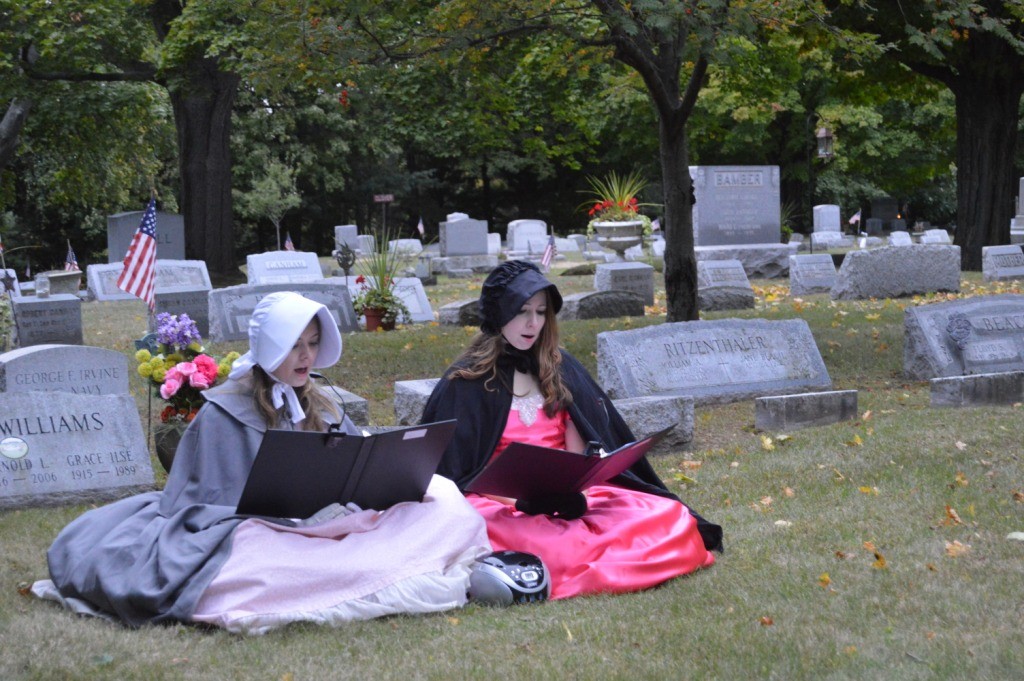 One of three musical performances of period songs.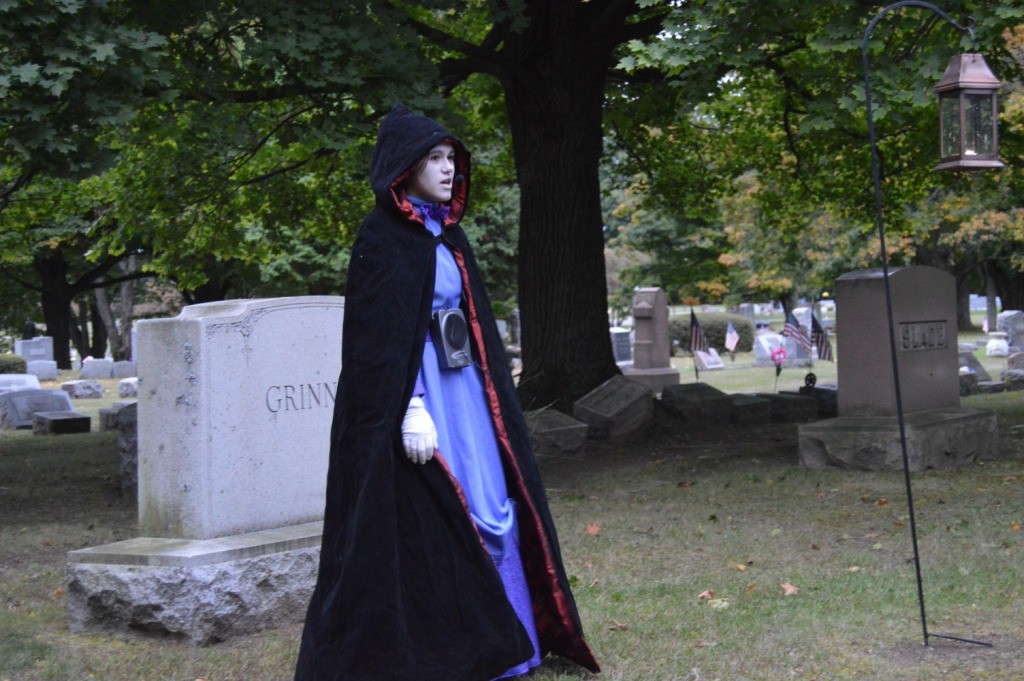 This young lady was one of two nationally publicized murders highlighted on the tour. Her name is Alice Willson and the student telling her story is Cheya Eagle.
Alice Willson 1853-1887 – Alice told the story from the grave of Ben williams, attorney for her husband, George Willson. Willson was convicted of murdering his wife. He was the only man executed in Orleans County; he was hanged outside the courthouse in 1888.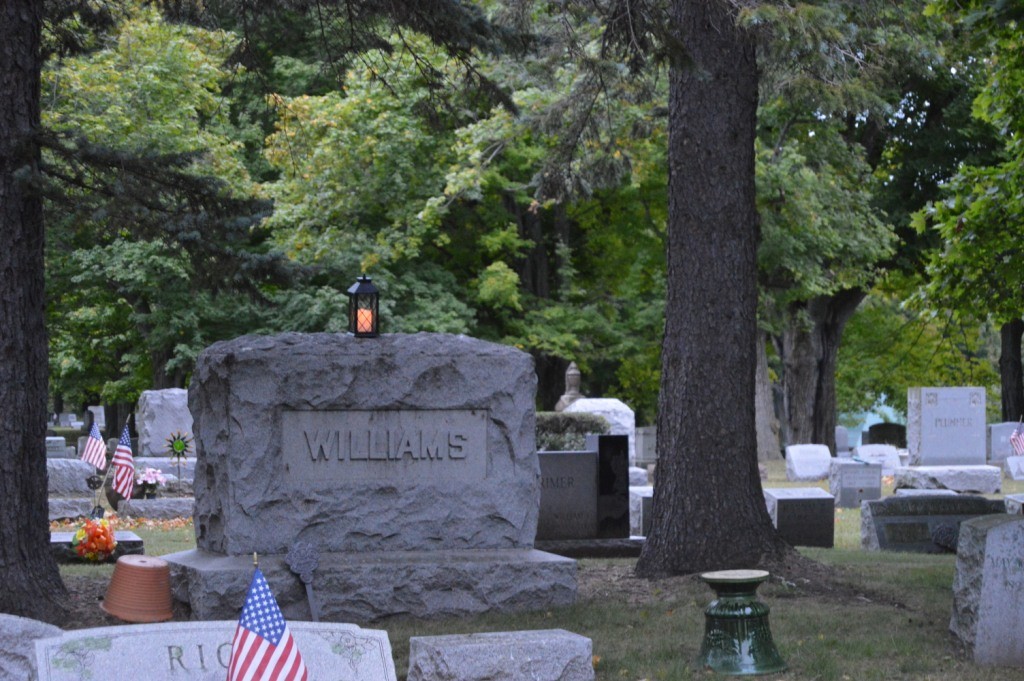 Attorney Ben Williams' monument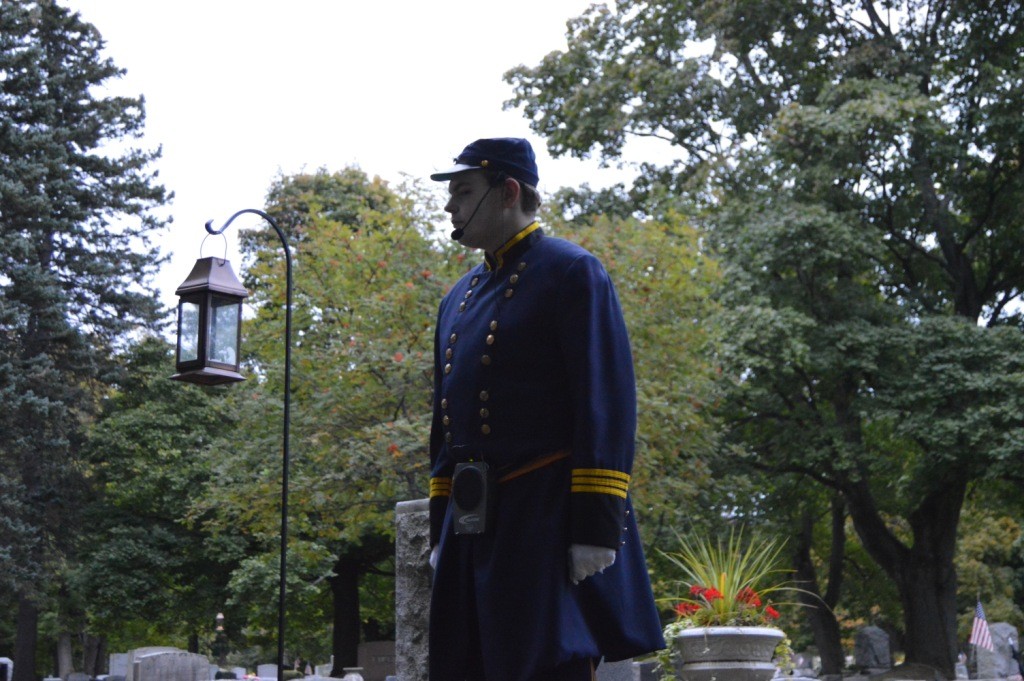 The ghost of Robert Canham was portrayed by William Pecorella.
Robert Canham (Civil War) 1837-1938 – Robert Canham lived to be 100 years old. He fought in the civil War and was a member of Battery F, 3rd US Heavy Artillery and was allegedly present for Gettysburg, Cold Harbor, and Fredricksburg. "Big Grandpa" was well known in the area. He was the oldest and last surviving Civil War vet "wearer of the blue".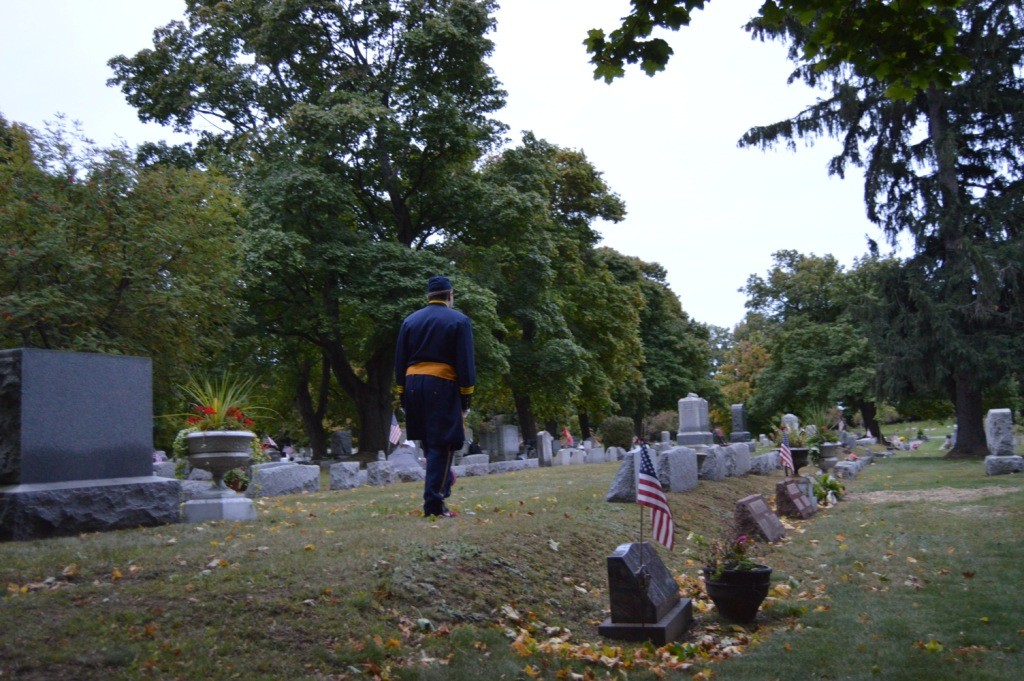 Each of the soldiers were seen marching along the area near their grave site, as Robert Canham is here.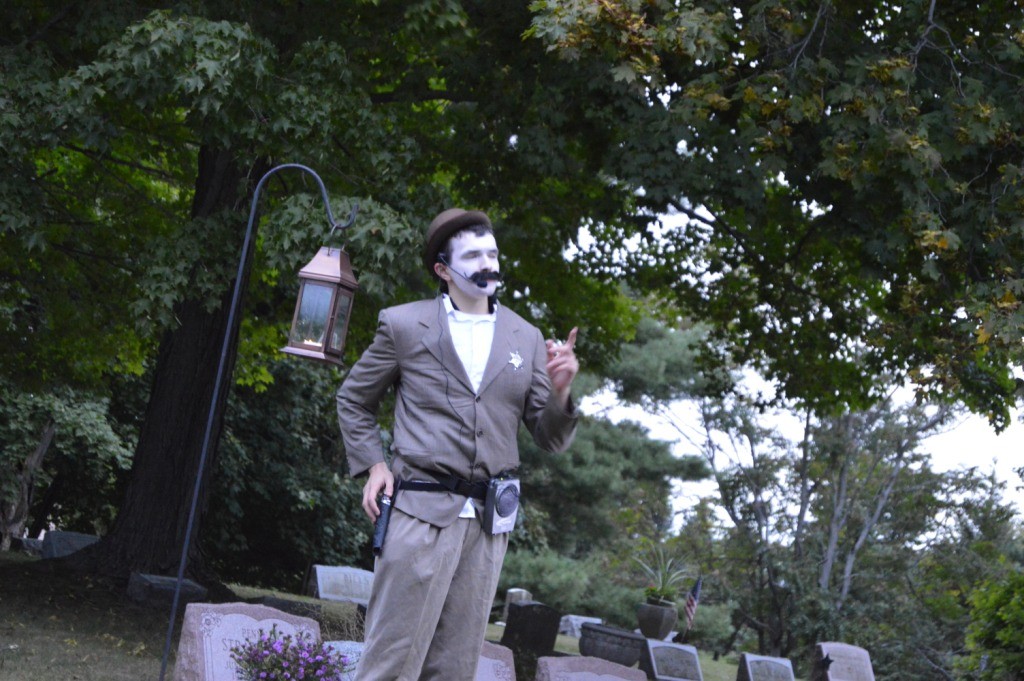 This interesting character is John G. Rice, brought to life by Zach Shaffer.
John G. rice 1849-1917 – John rice was the Orleans County Sheriff during the 1894 murder of Emma Hunt by William Lake. Sheriff Rice organized a posse to find Lake, who his after the murder. He evaded police for a few days, but was eventually caught in a barn and confessed willingly. He was one of the first in NYS to be executed by electrocution.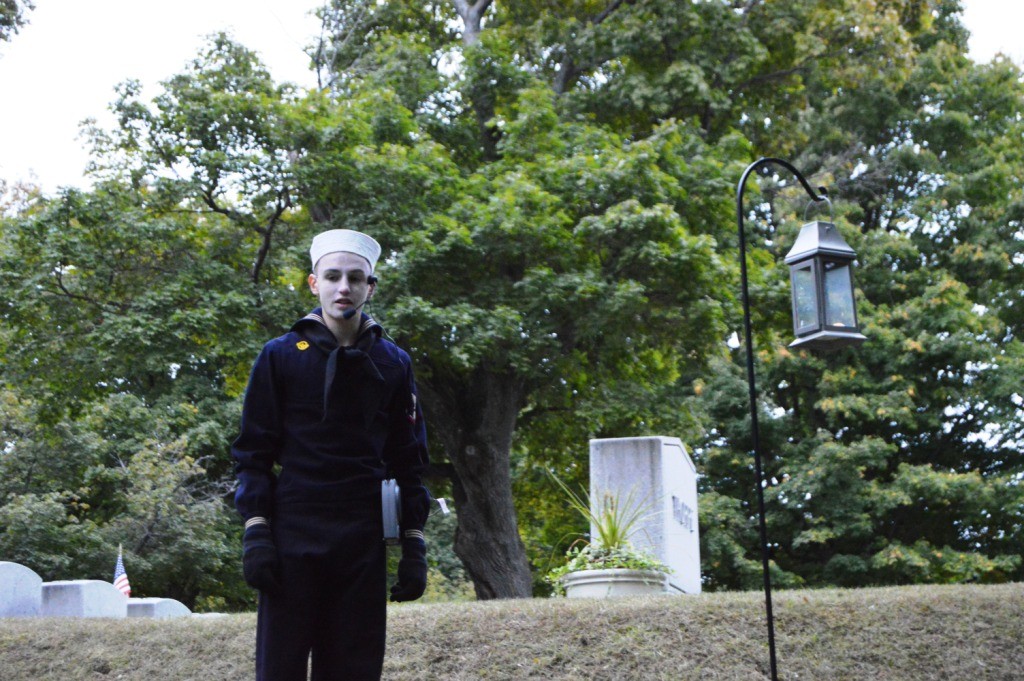 This is Sidney Eddy – portrayed by Evan Steier. Sidney is the most recently deceased on the tour and remembered by many who live in Albion, today.
Sidney Eddy (WWI) 1894-1989 – Sidney was a member of the ambulance corps during the First World War. He was stationed in France and kept a diary from 1917-1919 that shared his experiences during the war until his return home.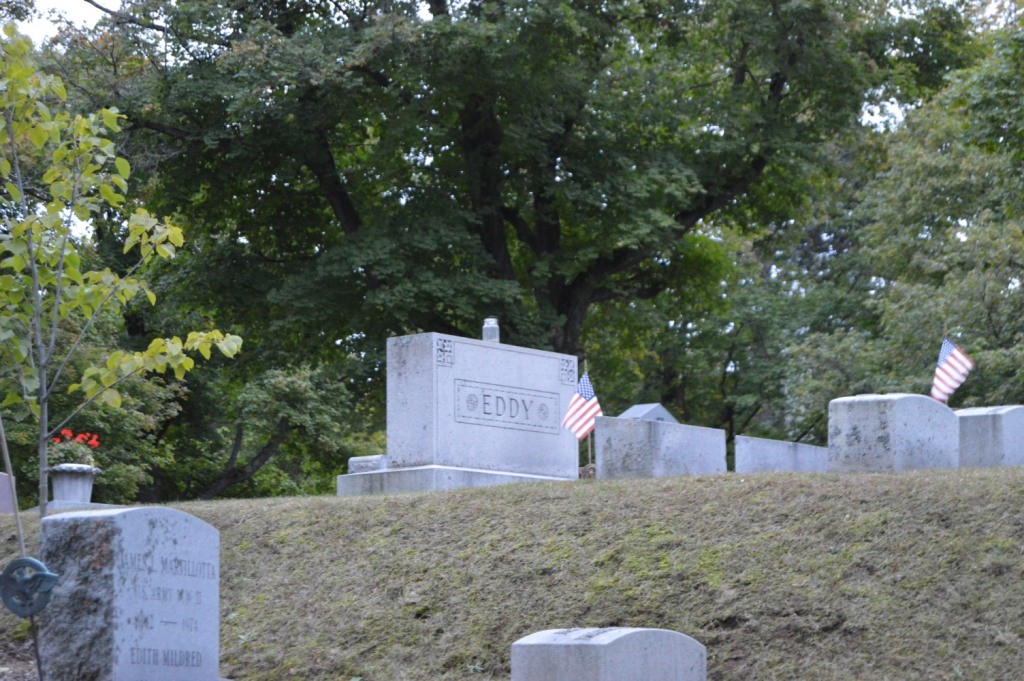 The Eddy family monument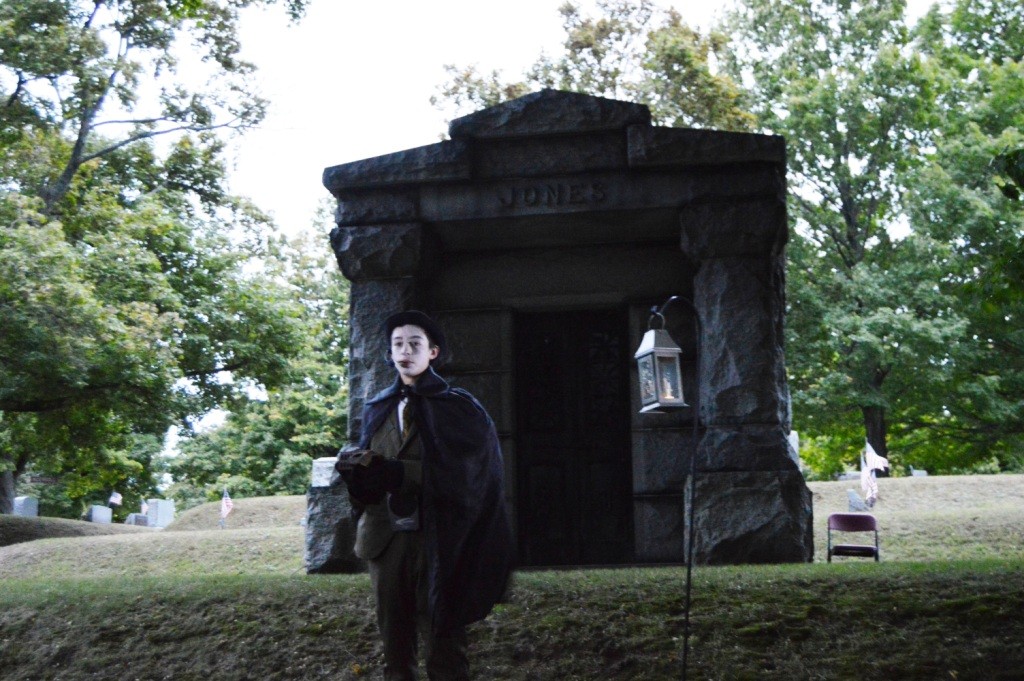 David Jones stands in front of his mausoleum and is portrayed by Evan Allen.
David Jones 1842-1898 – David and Claudius Jones, originally from Kendall, patented the mouse trap and manufactured them in large numbers. In 1878, they contracted for two million to be made at a rate of 1,000 each day!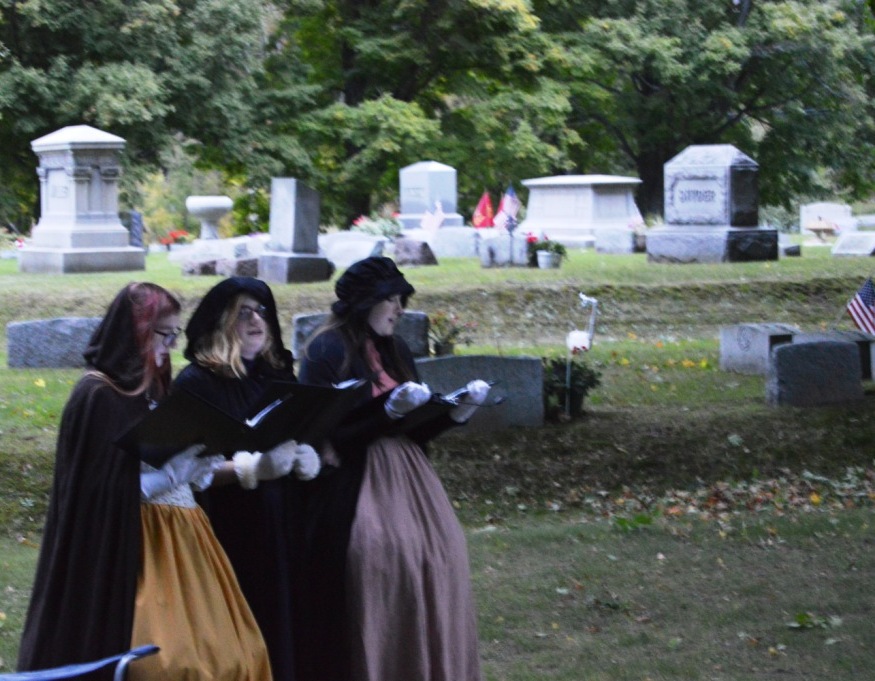 The second of three musical performances of the night.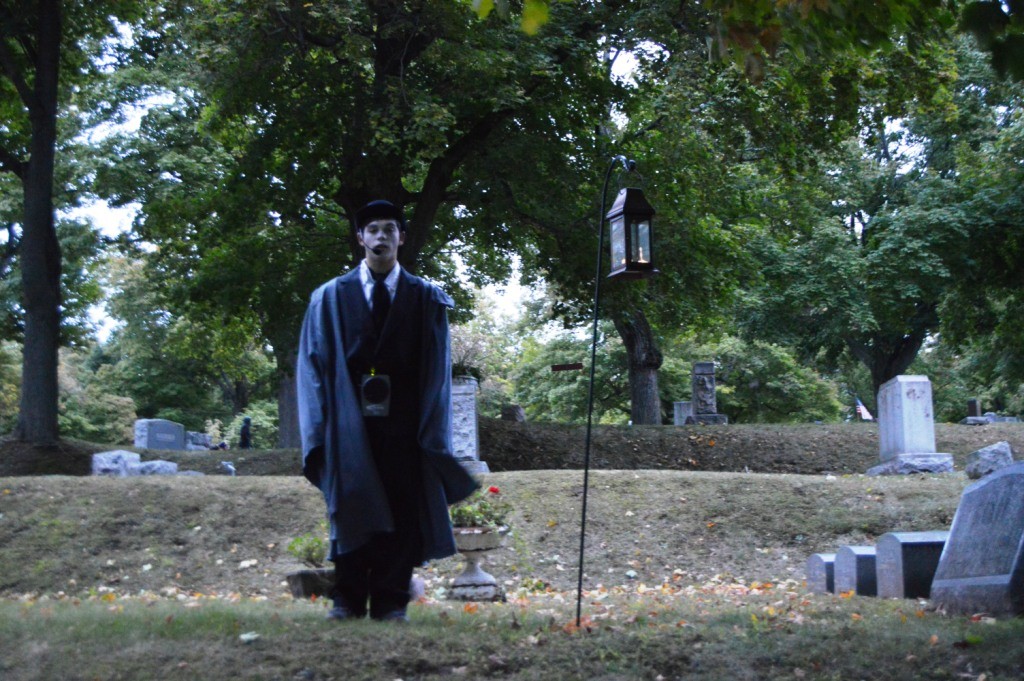 The ghost of Isaac S. Signor is channeled by Nick Arieno.
Isaac S. Signor 1842-1935 – Signor was Orleans County district Attorney and County Judge. He wrote the book, Landmarks of Orleans County, which is still widely used today as a local historic resource. He was co-executor of William Swan's will and instrumental in establishing the Swan Library as a public library. He was a member of the Albion Central School District Board of Education and created the Signor Prize, which awards high school students for excellence in rhetorical work.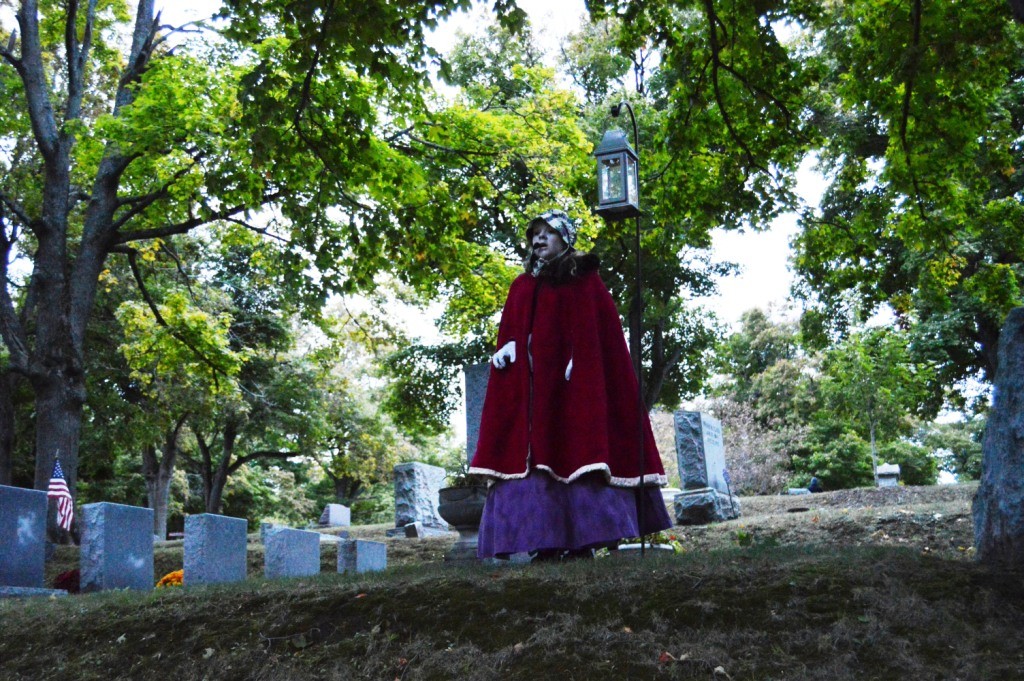 The story of C. Royce Sawyer is told by his wife, Fannie Moore, portrayed by Hanna VanEpps.
Lt. Col, C. Royce Sawyer (WWI) 1871-1924 – Sawyer was a 30-year member of the Dye Hose Company (Albion fire Department). As Fire Chief, he worked to have the entire company motorized. Sawyer was a cashier at Citizen's National Bank. He served as County Treasurer and was a delegate to the Republican Convention in Rochester. During WWI, Sawyer was commissioned by the War Department in the Quartermaster Officer's Reserve Corps. There he served as finance officer of Camp Sheridan in Alabama.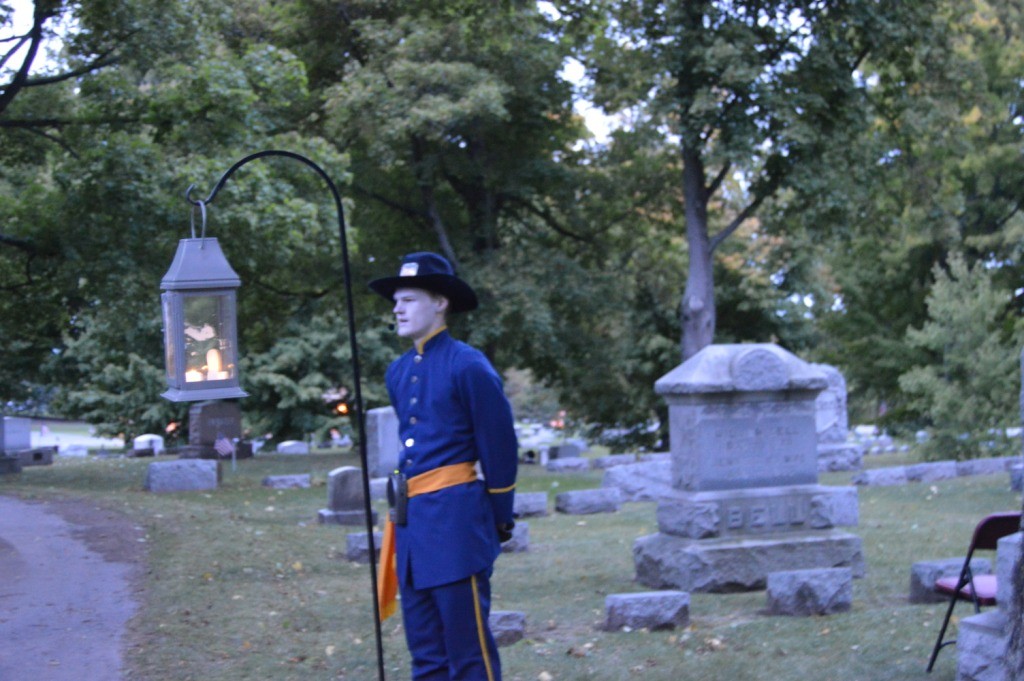 The next ghost we encountered was Jerome Gumaer, brought to life by Enoch Martin.
Jerome Gumaer (Civil War) 1843-1913 – Gumaer served as a Union soldier in the Civil War. He was a sergeant in the 8th NY Heavy Artillery. He fought at Cold Harbor, Petersburg, and was wounded at Hatcher's Run. At one point during the war, he was captured and spent five months in Libby Prison.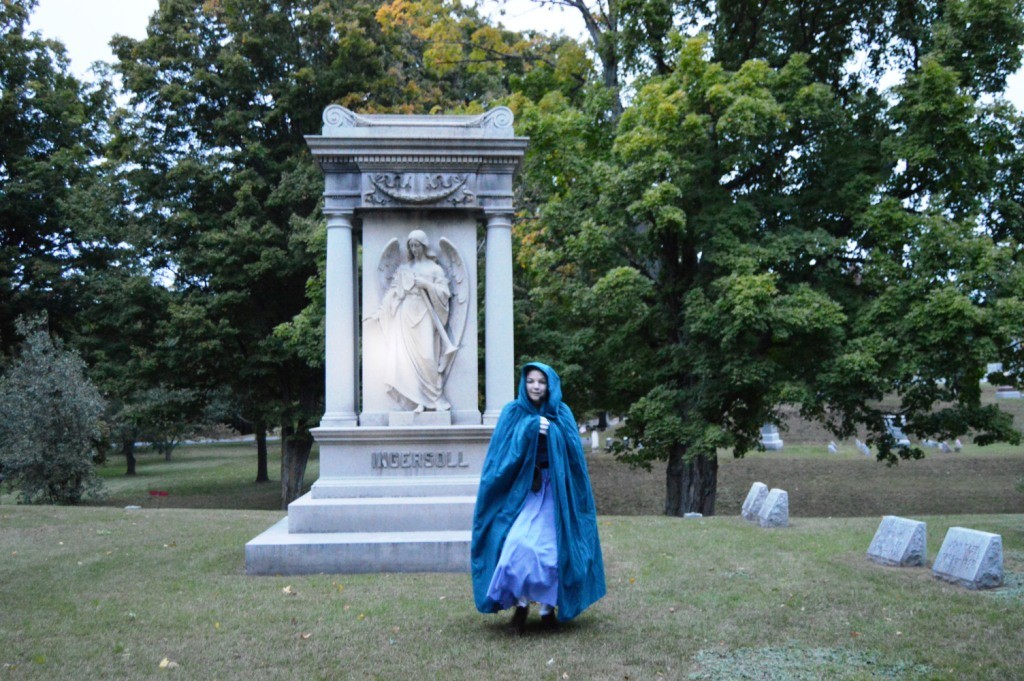 The ghost of Emma Ingersoll, portrayed by Riley Seielstad
Emma Ingersoll 1839-1911 – Mrs. Ingersoll's husband, Francis, was the son of Nehemiah Ingersoll. Upon her death, she bequeathed the beautiful Ingersoll Fountain and bench, located near the entrance of Mount Albion Cemetery, to the Village of Albion with the stipulation that they must pay fo rthe water to run the fountain.
Robert Chapstick's story is told by the ghost of Sarah Harling, portrayed by Shannan Broda.
Robert Chapstick (Civil War) 1834-1907 – Robert Chapstick fought in the Civil War. He was present at the second battle of Bull Run, Anteitam, and Fredricksburg and was wounded at Chancellorsville. He was also imprisoned in Andersonville Prison. He returned to the Albion area destitute and was taken in by Sarah Harling who nursed him back to health. He gave her a George Washington button – his prized possession – as a thank you for her kindness.
Note: the third musical performance was the next stop – unfortunately, the photo was extremely blurry!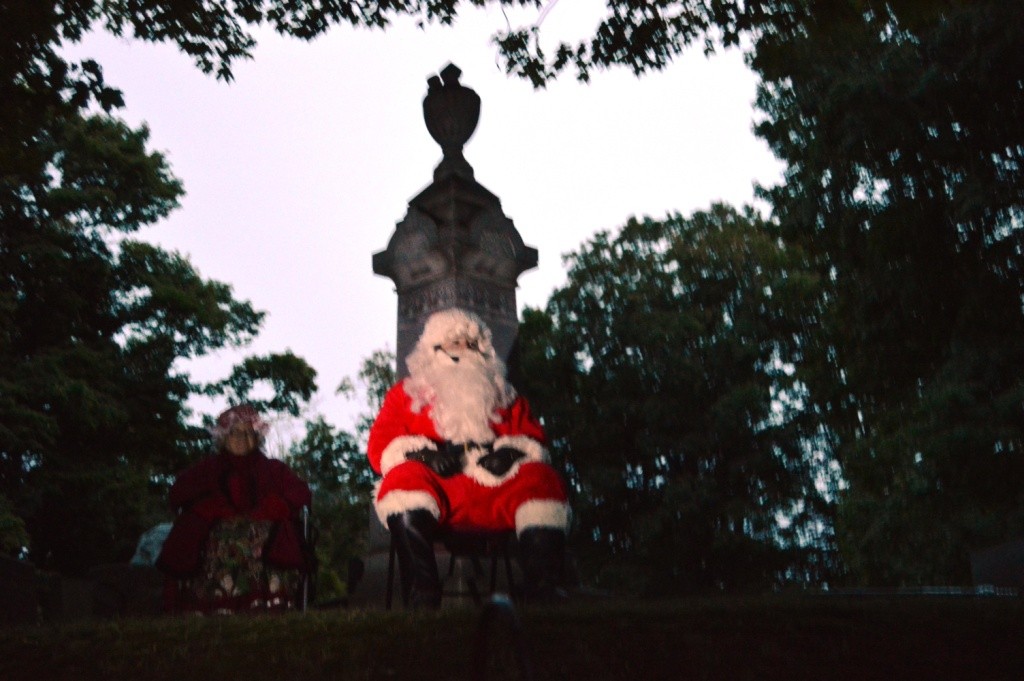 The ghost of Charles Howard as Santa was portrayed by Nate Trembley.
Joining him is Valerie (Elwell) Rush (class of 1975) as Mrs. Claus.
Charles Howard 1896-1966 – World renowned as Santa Claus, Howard opened his Santa Clause School in 1937. There he taught people from all over the world how to play Santa. In addition, he opened Christmas Park which included many attractions and a toy shop. The park attracted over 80,000 people each year. He was the Macy's Thanksgiving Day Parade Santa and a consultant on the movie Miracle on 34th Street. Howard's legacy continues to this day with his Santa School (now located in Michigan.
This was my favorite stop — it was very emotional and magical to look up onto the terrace by the Howard family monument and see Santa sitting there in all his glory!!! It was a bit overwhelming!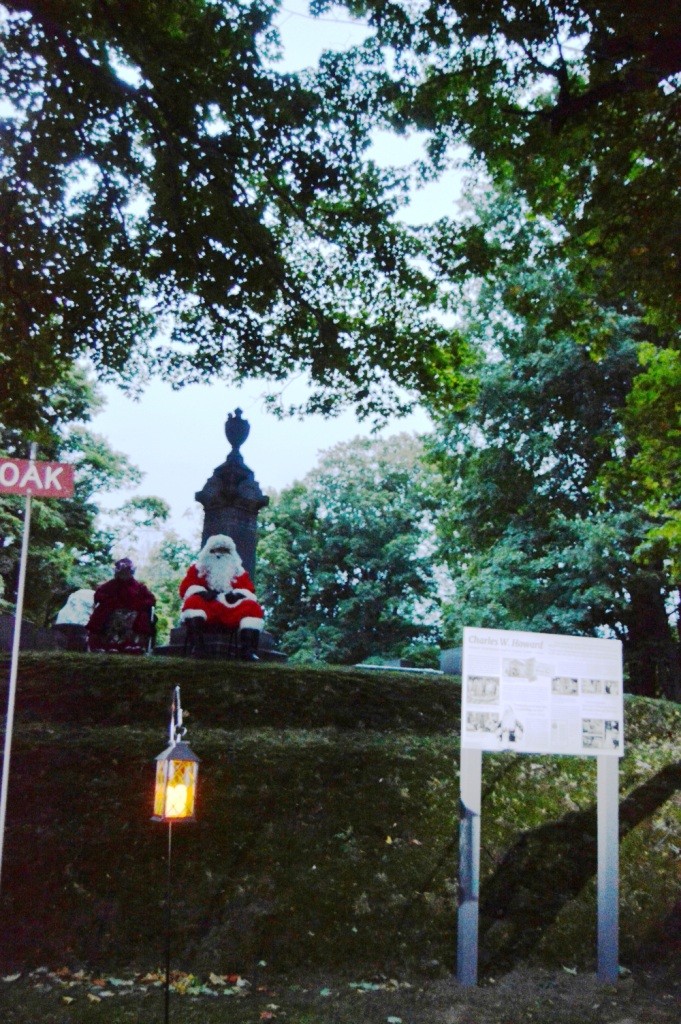 The new interpretive panel – the Charles Howard Panel – is dedicated to Charles Howard in front of his grave site. Mount Albion Cemetery crew installed the sign on October 1st. Monies for the sign were paid for with proceeds from last year's ghost walk. Students in the Advanced Placement US History Class researched and wrote the information presented in the panel. Organizers hope to develop more of these panels in the cemetery highlighting the different areas and famous people that left their mark on our community.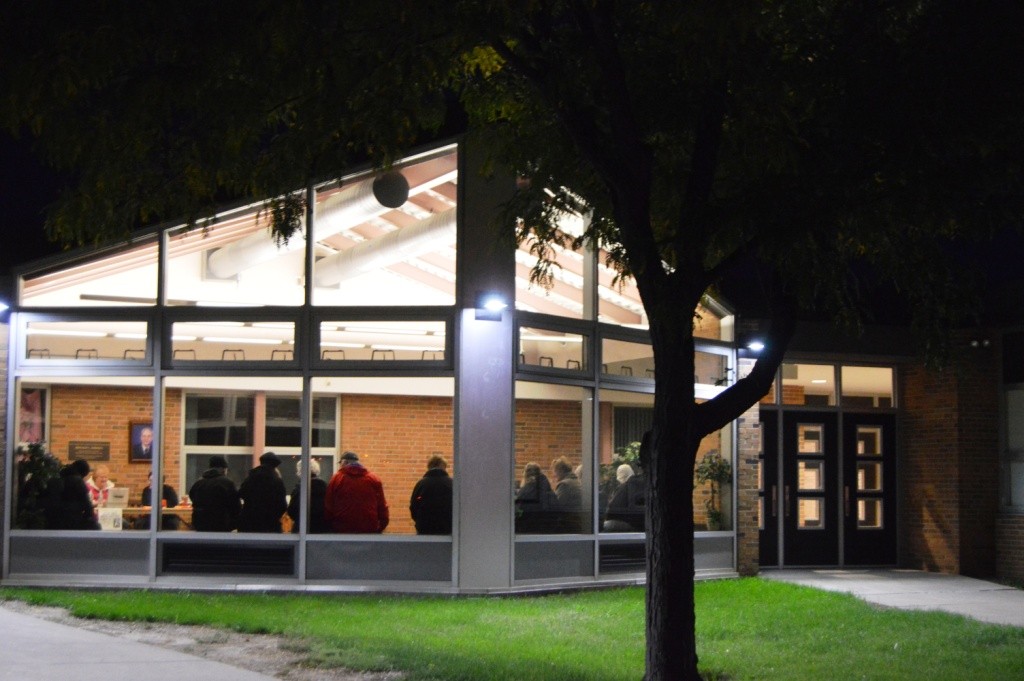 When my bus returned me to the Elementary School, I captured this photo of the next group waiting for their turn to take the walk!
Again, congratulations to all involved……it was an awesome tour and a fantastic job by the amazing students who participated in the event.